Lawyer Gao Zhisheng in Prison for 'Subversion,' Says Chinese Foreign Minister
March 16, 2010 3:20 pm Last Updated: October 1, 2015 8:34 pm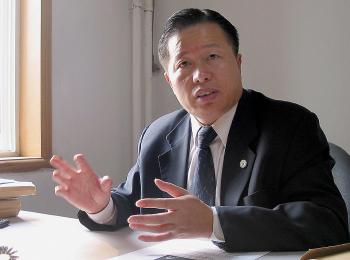 Chinese human rights lawyer Gao Zhisheng has been sentenced to prison on charges of subversion, according to the Chinese foreign minister.
Yang Jiechi, the foreign minister, failed to elaborate on the details of the putative crimes Gao was charged with or the length of his sentence, according to AP. It was also unclear whether Yang referred to a suspended five year sentence Gao was given in 2006, or a new charge.
At a joint news conference with visiting British Foreign Secretary David Miliband, Yang is reported by AP as saying: "Gao Zhisheng has been sentenced for committing the crime of subverting state power."
The Chinese foreign minister also asserted that Gao had not been tortured, contrary to Gao's own accounts and the views of a number of Chinese legal experts who have taken an interest in Gao's case.
Gao is well-known for the length of his state-enforced disappearance, his published account of torture at the hands of Chinese security forces, and the unusual official silence that has surrounded his case.
Gao's latest disappearance has lasted for more than one year. Yang's statement is the fourth time the authorities have attempted to clarify his status. Previously Gao was said to have been "where he should be," later that he had "gone missing" while out walking, then that he was gainfully employed in the remote western Xinjiang Province, a claim his family were skeptical of, and now he is said to have been sentenced to prison.
Previously crowned one of the 10 "Best Lawyers" in China by the Ministry of Justice, Gao suffered the wrath of the Communist Party's security forces after taking on the hypersensitive subject of the persecution of Falun Gong.
After conducting his own investigation into the persecution of Falun Gong practitioners, Gao began writing letters to the communist leadership demanding an end to the brutality. He was tailed by agents from the public security bureau, and eventually kidnapped and tortured. His account of torture includes having his eyes burnt with cigarettes and his genitals electrocuted and pierced with toothpicks.
He said the jailers told him they used against him the techniques they had perfected on the Falun Gong practitioners he sought to defend.