'Game of Thrones' Season 5 Characters Revealed; Episode 1 Spoilers
May 26, 2014 12:18 pm Last Updated: May 26, 2014 12:20 pm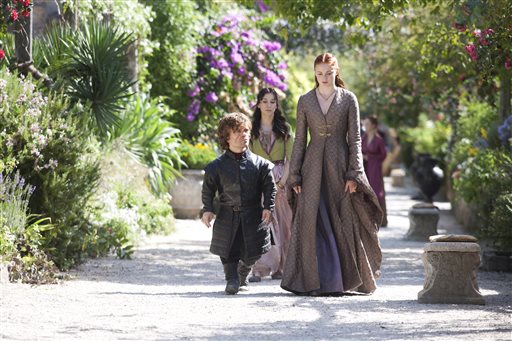 According to a recent post on fan news website, "Winter is Coming" the characters for the upcoming season of "Game of Thrones" Season 5 have been drafted. Although HBO has not confirmed the news, the following are some casting predictions. 
Prince Doran Martell: major new player, a prince in his 50s, moves around in a wheelchair, reclusive and wise. 
Prince Trystane Martell: the handsome young fiancé of Princess Myrcella.
Areo Hotah: Prince Doran's bodyguard.
Obara Sand: the eldest and most athletic Sand Snake with a major fight scene with a veteran character in the new series.
Nymeria Sand: the "mixed race" daughter of Oberyn Martell who had a darker skinned mother, she is the second oldest of the Sand sisters, beautiful, emotional, and strong. 
Tyene Sand: youngest Sand sister, has to use wit and seductive powers with poison as her deadly weapon.
High Sparrow: the pious head of a religious movement.
Septa Unella: the show is still looking for someone to fill the role of the septa.
Lollys Stokeworth: the "dimwitted" Lollys who Bronn said he will marry.
Yezzan: a sly Meereenese slave owner.
The Waif: strange child that Arya encounters who will most likely be played by a teen of East Asian descent. 
Season 5 of the HBO series will resume on June 1, 2014. In the premiering episode, "The Mountain and the Viper" unexpected visitors will arrive in Mole's Town. Littlefinger's motives will be questioned and Ramsay will try to prove himself to his father. Also, Tyrion's fate will be decided.