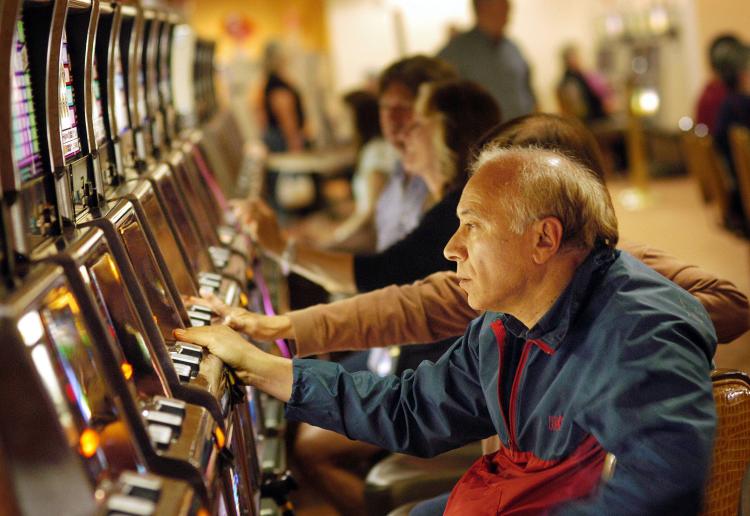 A Vancouver Island man who was denied winnings of $42,500 because he had asked to be banned from casinos is suing the British Columbia Lottery Corporation.
In an effort to control his gambling, Michael Lee of Victoria signed onto BCLC's Voluntary Self-Exclusion Program in 2007, entering into an agreement with the gaming company that he not be allowed to play at casinos in his area.
However, he was able to gamble anyway, and won $42,484.67 on the slot machines. But BCLC is refusing to pay up. In April 2009, the company made a new rule stating that those who sign self-exclusion agreements would forfeit their winnings.
"My client never agreed to that," says Lee's lawyer Josh Weiszner, adding that Lee had played and won numerous times after joining the self-exclusion program.
"When he won small amounts of money he was not asked to leave. However, when he won the large jackpot of $42,500 he was identified and asked to leave, and his winnings were withheld by the BC Lottery Corporation," Weiszner says.
"He was identified when he won these small amounts and [BCLC] didn't rely on enforcing this rule on prior occasions. Therefore it's our argument that the agreement that he signed was breached and therefore no longer applicable."
One of the terms of the self-exclusion program, which offers free counselling, is that if gamblers who sign on are identified, they are supposed to be asked to leave. They can also be fined up to $5,000.
"It seems unconscionable to allow them to have a program where there was minimal enforcement in place other than when my client won a large jackpot," says Weiszner.
Lee's is the second lawsuit announced recently related to BCLC's lack of enforcement of its self-exclusion program. Joyce Ross of Langley, B.C., has filed suit for $300,000—the amount she claims to have lost at casinos over the three years she was in the program.
In Ontario, Peter Dennis is suing the Ontario Lottery and Gaming Corp. for $3.5 billion after going through hundreds of thousands of dollars on slot machines while in the self-exclusion program.
Dr. Robert Williams, a professor at the University of Lethbridge and a researcher with the Alberta Gaming Research Institute, says the "main deficiency" with self-exclusion programs in Canada is that ID is not checked at the casino door, as is the practice in most European and several Asian countries.
"It was manageable in the beginning, but as numbers increased it became unmanageable and the provinces have been unwilling to adopt the systems that are used in other countries so as to make them effective," Williams says.
Privacy concerns and viewing requests to see ID as too intrusive are among the reasons for the provinces' reluctance, he says.
"Fact of the matter is, when you open your purse it's jam-packed full of IDs and we use these things on a daily basis. So it's not true that it would be too intrusive. At least the Canadian public wouldn't for the most part have a problem with that, and the reality is that's the only way you're going to have an affective self-exclusion program."
While countries with more effective self-exclusion programs only allow long-term or even lifetime bans, most Canadian provinces offer six-month or yearly bans. BCLC's program ranges between six months and three years.
"It's equivalent to telling an alcoholic, 'OK, we don't want you to drink for six months, for one year.' The reality is that most people with severe addictions, regardless of what it is, should never be engaging in that behaviour again," says Williams.
BCLC is declining to comment on the specifics of Lee's case while it is before the courts. But in a statement Tuesday the company said that the Gaming Control Act gives BCLC "the power to make rules establishing qualifications for entitlement to prizes."
On its website, BCLC says its self-exclusion program provides "tools that can help you, but ultimately the choice and responsibility to gamble or not is yours."
Weiszner takes issue with this, saying the onus shouldn't be on self-excluded addicted gamblers to rely on themselves to stay away from casinos.
"If it was solely based on someone making up their mind to not gamble there would be no need for the program. What's the point of entering into an agreement with another party if it's just based on personal affirmation that they're not going to gamble any more."