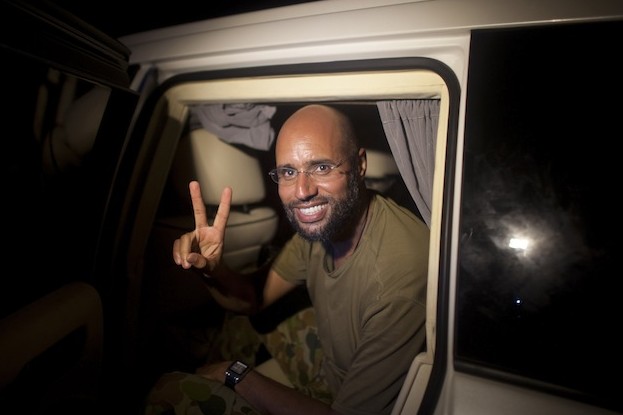 The son of ex-Libyan leader Moammar Gadhafi refused to appoint a lawyer in his defense, it was reported.
Saif al-Islam Gadhafi is accused of murder and torture during the crackdown against a popular uprising against his father's longtime rule.
Libyan Deputy U.N. Ambassador Ibrahim Dabbashi said, "This matter has mainly got to do with Saif al-Islam Gadhafi, who until now refuses appointing an attorney to defend him," he was quoted as saying by Reuters. "Hence the matter is not in the hands of the Libyan authorities but rather the defendant himself, but there are no obstacles toward hiring an attorney to defend him."
Saif al-Islam is being held in the city of Zintan by the military council, under the National Transitional Council of Libya.
"Whenever the Libyan government requests Saif for the prison they are currently preparing for him in Tripoli, we will be ready to hand him over the Libyan government," Abdelhamid Abouderbala, head of the military council in Zintan, told Reuters.
Human rights groups are concerned that Gadhafi has not had contact with a lawyer or legal team.
The International Criminal Court (ICC) has told Libyan authorities they should hand him over for crimes against humanity.
The ICC confirmed on Wednesday that Libyan authorities want to try Gadhafi in Libya, and the ICC is considering this request.
"This is the first time in the short history of the International Criminal Court that a state is requesting jurisdiction to conduct a national investigation against the same individual and for the same incidents under investigation by the International Criminal Court," the ICC said in a statement.