Actress Gabrielle Union has revealed the reason why her husband Dwyane Wade won't let their children believe in Santa Claus.
In an interview with talk show host Tamron Hall for O Magazine, the 46-year-old said that when she asks, her husband refuses to let her tell their children that their Christmas presents are from Santa.
"I'll say to my husband, 'Let's tell the kids their Christmas gifts are from Santa.' And my husband is like, 'There's no way in hell I'm letting these kids think that old white man is sneaking into our house and doing anything for them," Union said.
The reason why goes all the way back to the former basketball player's childhood, she explained.
"Because he didn't grow up believing in Santa Claus."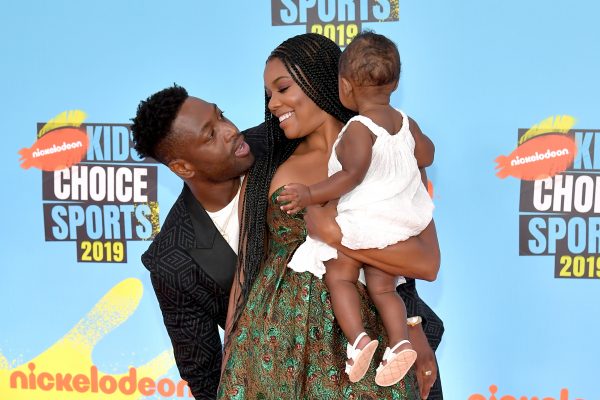 The pair, who have been married for five years, have a 10-month-old daughter together, named Kaavia James. Dwyane also has three sons: 17-year-old Zaire Blessing Dwyane, 12-year-old Zion Malachi Airamis, and 5-year-old Xavier Zachariah.
"We have these conversations when it comes to raising our children about where to draw the line between fantasy and 'Hey, that's not how life works,'" Union said.
Union and Hall went on to discuss the difficulties of modern parenting as "parents of color."
"We have to talk about not only 'Are we gonna say Santa exists,' but also 'Is Santa black?' Something as simple as Santa Claus could cause a big debate, so why not have a conversation with real parents of all backgrounds talking about how they approach Santa Claus, and what race he is?" added Hall, 48.
Gabrielle Union Recalls Emotional Birth of Her Daughter
Earlier this year, the 46-year-old shared a heartwarming photograph of the moment she saw her daughter, Kaavia, for the first time.
Alongside the photo which she shared on Instagram on Mother's Day this year, the actress wrote, "I've cried so many times today for so many reasons, mainly because I'd gotten accustomed to heartbreak and disappointment."
"I think a lot of us live in that space. I set up shop there. This moment reminded me that miracles do happen," she added.
Union continued to express her well-wishes to all those who are looking after others.
"You can't age out of joy. You are worthy. You are worthy. You are worthy. Sending so much love today to all the mamas, stepmamas, grandmas, aunties real and play, daddies, friends, and anyone who has taken the time to nurture another living soul. I see you, I gotchu," she wrote.
"And to those who have lost their mamas, grandmas, mother figures, sending extra love and light and hugs your way."