The foreign ministers of G7 states and the European Union's top diplomat condemned the arrest of Russian opposition politician Alexei Navalny, and expressed their concern over the detention of protesters that were demanding the freeing of Navalny.
The diplomats called on Russia to immediately and unconditionally release Navalny.
The foreign ministers of Canada, France, Germany, Italy, Japan, the United Kingdom, and the United States, and the high representative of the European Union condemned the detention of Navalny in a joint statement issued on Tuesday, calling it "politically motivated."
The statement says Navalny has been detained "in relation to court decisions which the European Court of Human Rights determined in 2017 to be arbitrary and manifestly unreasonable. "
"Russia is bound by its national and international obligations to respect and ensure human rights," the statement says.

G7 ministers also expressed their concern about the arbitrary detention of thousands of protesters and journalists who covered the demonstrations that took place in around 100 towns and cities in Russia on Jan. 23 to demand the release of Navalny.
"The violent suppression by police forces of the right of individuals to express their opinion is unacceptable," the statement said.
Navalny, a prominent critic of Russian President Vladimir Putin, was arrested on his arrival at Moscow airport after he flew home to Russia from Germany for the first time since he was poisoned last summer. He has been detained due to the alleged violation of a suspended prison sentence for embezzlement, a 2014 case Navalny says was trumped up.
The European Court of Human Rights stated that Navalny's convictions for fraud and money laundering by the Russian court were based on an unforeseeable application of criminal law and that the proceedings were arbitrary and unfair. The court ruled that Russia must pay damages to Navalny.
Navalny could be jailed for three-and-a-half years for allegedly flouting the terms of the suspended prison sentence.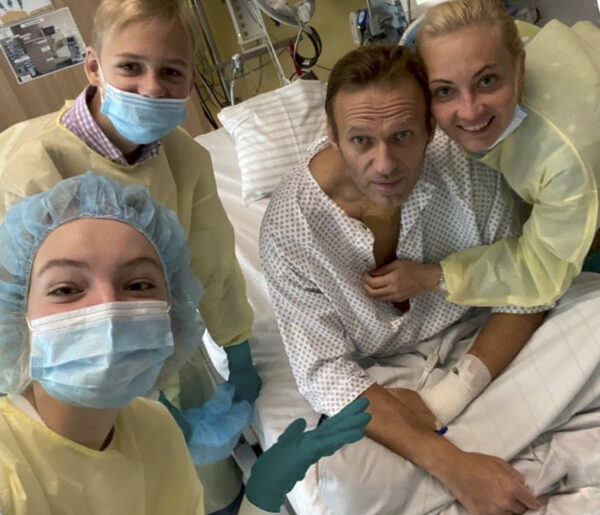 The G7 foreign ministers reiterated their "condemnation, in the strongest possible terms, of the poisoning of Mr. Navalny in August 2020 with a chemical nerve-agent of the "Novichok" group, a substance developed by Russia," the statement says.
The signatories urged Russia "to investigate and credibly explain the use of a chemical weapon on its soil in the light of Russia's obligations under the Chemical Weapons Convention."
"The confirmed use of chemical weapons against an opposition politician, as well as Mr. Navalny's latest detention further undermine democracy, independent voices, and political plurality in Russia," the statement says.
The foreign ministers urged Russia to guarantee the civil and political rights of its people, including the right to freedom of expression, as it is obliged to by international treaties.
Alexander Zhang and Reuters contributed to this report.