G Train Service Improvements on the Horizon
July 15, 2013 9:44 pm Last Updated: July 15, 2013 9:44 pm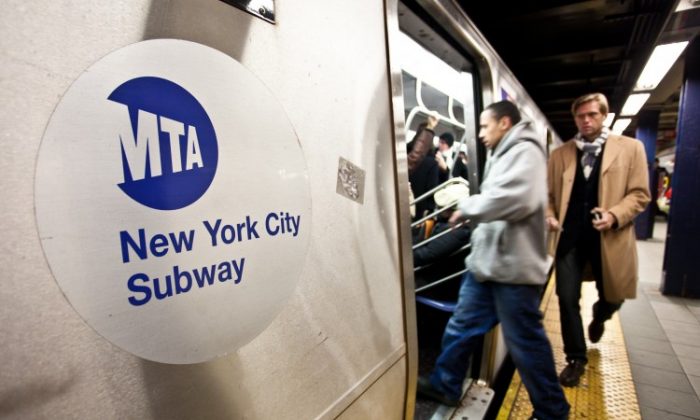 NEW YORK—Much-needed improvements are likely for the G line, following a transportation authority review. 
Officials and concerned riders expressed their delight and gratitude at a press conference the morning of July 15.
Riders of the G train, numbering 125,000 per day during the week, have long been plagued by a variety of frustrations, including infrequent service, uneven arrival times, and crowded cars.
"I stand and I stand and the A and B and C trains fly behind me one after the other while I'm waiting for the G," said Tolani Adeboye, who takes the G train every day.
Alexis Saba, another rider, echoed these thoughts: "I waited half an hour today to get up here [to the press conference] for the G train, it was very hot and miserable. I waited for an hour for the G train last weekend, so it's a very frustrating service."
Worse, the train is only four cars long, much shorter than the length of the platform, forcing many a commuter to sprint dangerously along the yellow edge since there is no marked location on the platforms for the trains to stop.
"I just saw one over there, actually. Those girls are running to it. It stops in like the middle of the platform," said Brittany Albrechtsen, a 25-year-old resident of Queens.
In January, state senators Daniel Squadron and Martin Malavé Dilan asked the MTA to conduct a full line review of the G train's performance. Along with the Metropolitan Transportation Authority (MTA) and the Riders Alliance, the two senators announced the coming improvements.
Suggestions include rescheduling of trains so they run at more even, predictable intervals; increasing the service by 25 percent in the afternoon and evening; and implementing signage upgrades to end the notorious "G Train Sprint."
"G train riders will have to get their exercise some other way," joked Adeboye, who is a member of the Riders Alliance. "The improvements are going to make such a huge change for me, my colleagues, friends and community."
Some budget changes will be necessary for the improvements to be actualized in the near future, such as the 25 percent increase in service. 
"We're hopeful that that budget is going to get found and found quickly, we really are," said Squadron, adding that improving signage, and indicating where the trains stop and leave does not require budget changes. 
John Raskin, leader of the Riders Alliance, said "Many smaller changes that we didn't even think of, the MTA came up with. It's a comprehensive review, it's well done." 
Ivan Pentchoukov contributed to this report.