News Analysis
Tesla's mega plant in Shanghai faces strong headwinds moving into 2023 due to trends favoring the localization of global supply chains amid fierce competition with Chinese automakers.
The year didn't start on a good note for the automaker when earlier this month, disgruntled Tesla owners protested at its various showrooms around China, upset that they missed out on large price cuts now being offered.
The sudden price cuts are part of Tesla's efforts to maintain competitiveness amid declining sales of its Model 3 and Model Y, which dropped by nearly 20 percent in China after two rounds of price adjustment last October and this January, respectively.
Tesla announced its price reductions on Jan. 6, and they range from 20,000 yuan ($2,800) to 48,000 yuan ($6,703). Among them, the lowest-priced Model 3 was cut by 36,000 yuan ($5,027) to nearly 230,000 yuan (about $32,000); Model Y has lowed the price by 29,000 yuan ($4,050) to nearly 260,000 yuan (about $36,000).
Tesla initiated a first round of price cuts in late October, followed by a sales spike in November when the Shanghai plant delivered more than 100,000 electric vehicles (EVs) that month.
But by December, Tesla delivered only 55,800 EVs, a 44 percent fall from November, a roughly 20 percent drop from the same period of the year prior, according to a Reuters report.
The plummet in output is likely due to a decline in demand. Last December, the Shanghai plant sold nearly 42,000 EVs in China, a drop of 40 percent compared to December of the previous year. Tesla even suspended production at its Shanghai plant on Dec. 23, scaling back its production capacity.
According to Troy Teslike, who tracks Tesla's production and sales, Tesla's backlog of orders dropped by 85 percent in the six months from its high point in July 2022 to the end of the year.
As of the end of last year, the backlog of orders in North America had been cleared, and orders for delivery in China were close to zero, Teslike said via Twitter.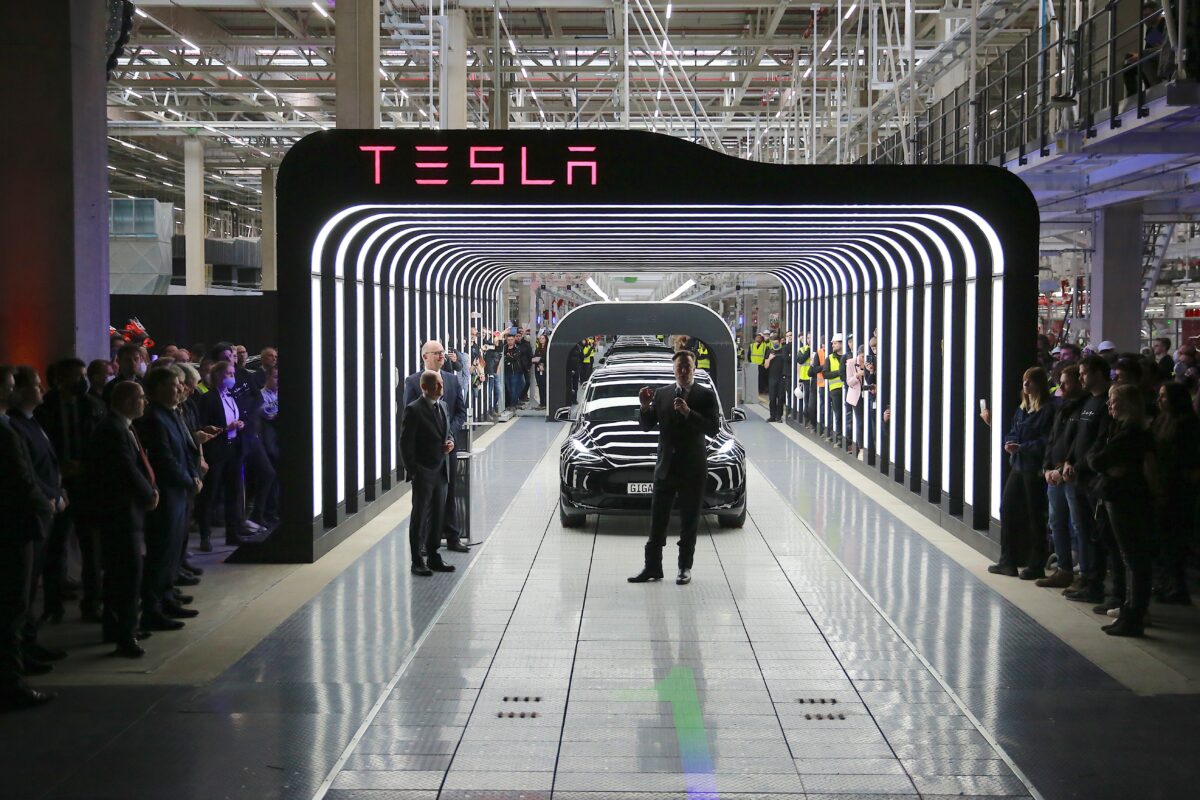 Localized Western Manufacturing
The European market is the main export market for Tesla's Shanghai plant, which may become limited due to Tesla's capacity expansion in the Berlin plant last year.
The output of the Model Y at its Berlin factory has exceeded 3,000 units per week, said Tesla via Twitter on Dec. 19. The volume tripled within six months, from 1,000 units per week in last mid-June.
The Berlin plant started production last March.
All of Tesla's EVs currently sold in the United States are manufactured there. Besides the California plant, Tesla will put into operation its second EV factory in Austin, Texas, in April 2022.
In addition to demand shrinkage caused by localization in the western market, EVs produced in China may find it hard to meet U.S. requirements.
The U.S. Congress passed the Inflation Reduction Act last August and updated it last December, requiring that at least 50 percent of the EV battery components sold in the United States be made or assembled there or in a country with which it has a free trade agreement (FTA); allowing the buyer to receive half of a $7,500 federal tax credit; and that the percentage increase by 10 percent each year starting in 2024 to 100 percent by 2029.
To receive the other half of the incentives, at least 40 percent of the key minerals for EV batteries must be extracted and processed in the United States, or in countries with which the United States has an FTA with, or from recycled minerals in North America by 2024; the percentage increases by 10 percent each year from 2024 to 80 percent by 2027, according to the Act.
Tesla's Shanghai plant sources almost all of its battery components from Chinese battery and EV makers such as CATL and BYD, which makes it completely excluded from the U.S. market.
Chinese EV Competitors
In China's market, Tesla will inevitably compete with local carmakers that have more advantages in productivity and market shares.
According to data released by the China Passenger Car Association, Tesla sold nearly 440,000 vehicles in China in 2022, a 7.7 percent market share, while BYD sold nearly 1.8 million vehicles in the year, a 32 percent market share, more than four times the number of Tesla.
But the rise of Chinese carmakers can be attributed to Tesla's entry into China. In early 2020, when Tesla first entered China, Sina, a Chinese portal site, said that bringing in Tesla would shape the entire vehicle industry chain for China, citing the weakest sector in China's EV industry chain as being manufacturing, which lacks industry chain support.
It is similar to how Apple provides a complete industry chain for the Chinese cell phone industry, that assisted with the emergence of many prominent Chinese companies such as Huawei, OPPO, VIVO, and Xiaomi, the report said.
According to a report from Chinese official media last August, the introduction of Tesla has led to the upgrading and transformation of the automotive industry chain in China, forming a full ecological chain in Shanghai, Suzhou, Ningbo, and Nantong in the Yangtze River Delta region that involves batteries, auto chips, autonomous driving systems, auto interiors, precision machining and so on,
Three years after Tesla entered China, its share of the new energy vehicle market declined as other Chinese rivals such as XPeng Motors, NIO, and Geely joined the race for the Tesla market in China.
Public data showed that Tesla's share of the Chinese new EV market remained at around 10 percent in 2020 and 2021 and drop to 7.8 percent in 2022.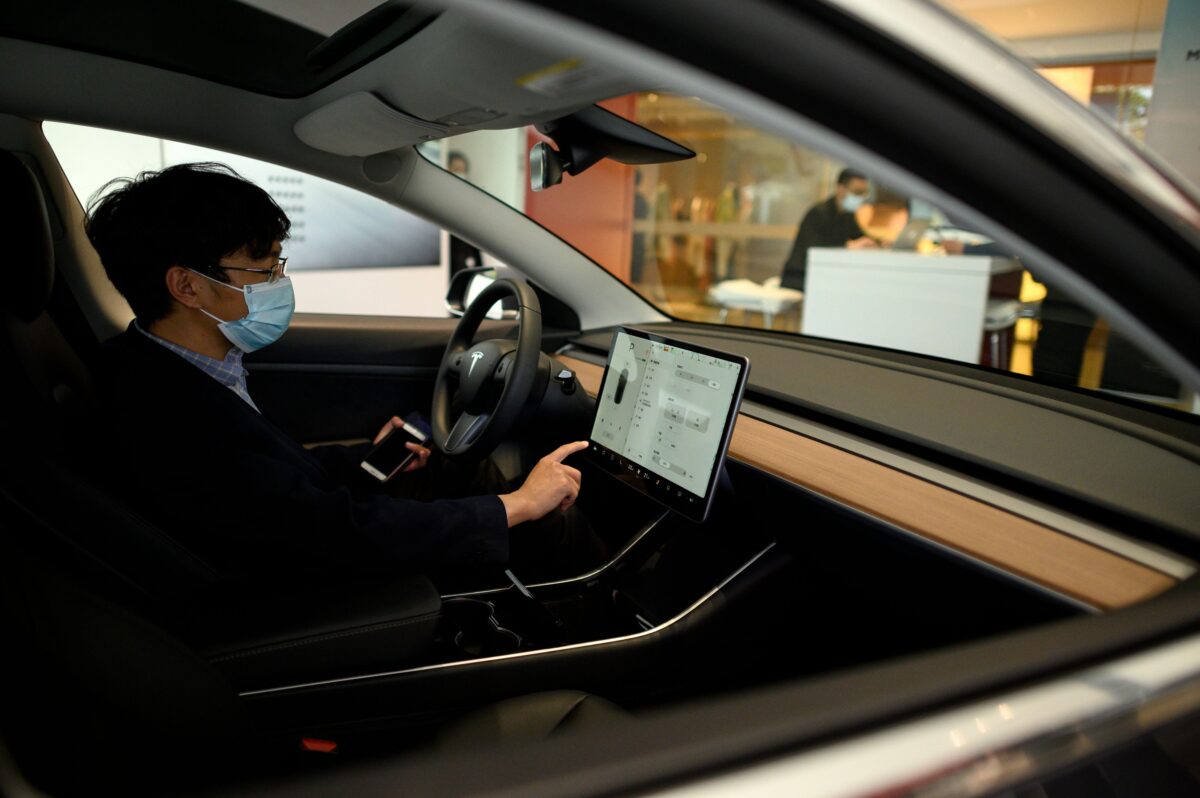 Big Database in Tesla's Hands
SpaceX's low-orbit satellite network, Starlink, a service hosted by Tesla founder Elon Musk, has provided Ukraine with tremendous communications support during the Russia-Ukraine war.
This has triggered the Chinese Communist Party (CCP) to fear that Starlink could one day be used to break the regime's information blockade in the future.
In June and August 2021, the CCP authorities released the Data Security Law and the Personal Information Protection Law, respectively, to strengthen overseas data processing activities within China and to restrict the cross-border flow of personal information.
In May 2021, Tesla stated that it would establish a data center to keep user data collected from the sale of EVs in China. Later that year, in October, Tesla announced that it had completed the data construction.
Although Tesla had promised to leave that data within China, it is managing it itself and has not handed it over to a Chinese state-owned enterprise, which apparently has upset the CCP.