The driver of a Porsche who allegedly fled the scene of a multi-car accident on a Melbourne freeway where four police officers were killed has been charged with two further offences.
Central Melbourne resident Richard Pusey has been charged with committing an act outraging public decency and behaving in an indecent or offensive manner by Victoria Road Policing Operations and Investigations Division.
If convicted, the 41-year-old will face penalties ranging from further fines to more jail time. It is alleged that Pusey took pictures on his iPhone and taunted a dying police officer before leaving the scene of a horrific crash that killed four officers.
He is currently remanded in custody and is expected to face Melbourne Magistrates Court on June 25.
These two new charges are in addition to the previous ten Pusey is facing. His existing charges are driving speed dangerous, reckless conduct endangering life, fail to remain after a drug test, fail to render assistance, fail to exchange detail, possessing a drug of dependence, destruction of evidence, and three counts of commit indictable offence while on bail.
Victorian police intercepted Pusey's black Porsche 911 on April 22 for allegedly speeding at over 140 kilometers (86 miles) per hour. Soon after, a semi-trailer driven by Mohinder Singh Bajwa veered into the emergency lane at 100 kilometers per hour and collided with the four officers.
At the time of the incident, Pusey was urinating on the side of the freeway, away from the others. He was the only person on the ground to avoid death.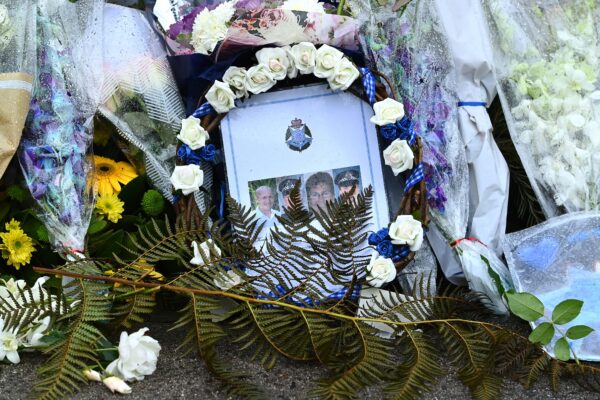 Leading Senior Constable Lynnette Taylor, Senior Constable Kevin King, Constable Glen Humphris, and Constable Joshua Prestney lost their lives that evening.
It was the biggest loss in a single day in Victorian police history.
Singh appeared in Melbourne Magistrates' Court on April 27 and was charged with culpable driving causing death. He did not apply for bail and is scheduled to return on October 1.
New South Wales and Victoria police have carried out multiple raids on properties related to the registered company involved in the crash on April 22.
Richard Pusey is due to face court next week.