Furious 7 has become just the fourth film in history to hit the $1.5 billion mark in worldwide box office numbers.
Furious 7, which hit movie theaters on April 3, has grossed $1,500,103,470 as of the most recent reporting.
Furious 7 trails only Avatar, Titanic, and Avengers on the list of the all-time, highest-grossing movies.
The latest installment in the popular franchise will likely pass Avengers, which grossed $1.51 billion worldwide in 2012.
But there's a long way to go to reach Titanic, which grossed $2.1 billion in 1997, and Avatar, which grossed $2.7 billion in 2009.
Another key contender is Avengers: Age of Ultron, otherwise known as Avengers 2.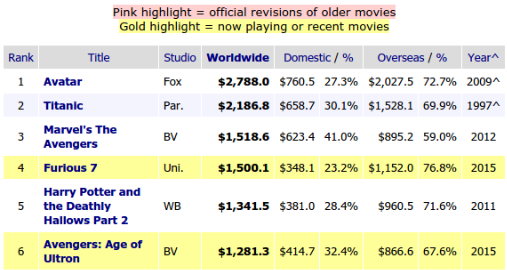 Avengers 2 has grossed $1.2 billion so far and is still going strong. It's fairly certain that it will also pass Avengers, and it could catch up to Furious 7 by the time all is said and done.
Still, fourth place on the all-time list is pretty good–and confirms that Fast & Furious movies should still be made, since they're so popular.