LOS ANGELES—A funeral service was held on Feb. 2 at Forest Lawn–Hollywood Hills for Los Angeles Police Department (LAPD) Officer Fernando Arroyos, who was shot and killed in a street robbery while off duty last month.
The funeral was held outside by the Hall of Liberty Mosaic Deck and joined by families, friends, and hundreds of police officers.
City leaders who mourned at the service to share condolences and support for Arroyos's family included Los Angeles Mayor Eric Garcetti, LAPD Chief Michel Moore, Los Angeles County Sheriff Alex Villanueva, Los Angeles City Council President Nury Martinez, and Police Commission President William Briggs.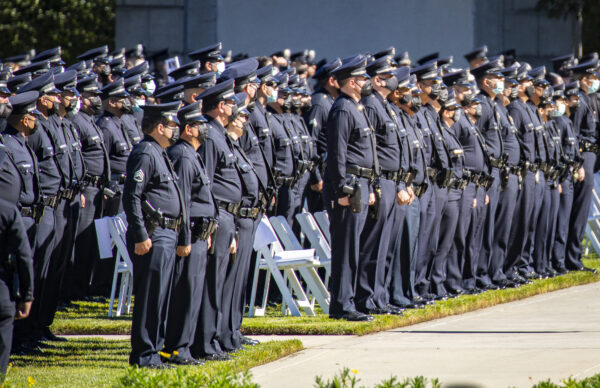 "When a police officer is killed, it's not just their family and the partners who suffer, but in our community a tear and a lasting scar occurs in the very fabric of our society," Moore said. "Fernando … [was] establishing a solid foundation as a young officer in this department. He also demonstrated his commitment to make his community a better place."
Moore also said Arroyos is the 237th LAPD officer killed in the line of duty.
Garcetti commemorated Arroyos as "a man with character" and told his mother that she is "an exceptional mother who raised a boy who became a hero to the city, not because he sought fame or fortune but because he sought to serve the community that you gave him."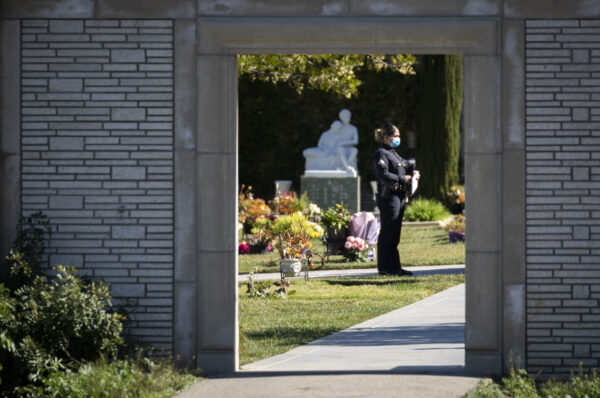 An honor graduate of the University of California–Berkeley, the 27-year-old Arroyos had served LAPD for three years and was assigned to the Olympic Division.
On Jan. 10, Arroyos and his girlfriend were house-hunting in the 1700 block of East 87th Street in South Los Angeles. While they were crossing the street, three men and a woman got out of a car and attempted to rob them at gunpoint.
As Arroyos directed his girlfriend to a safe place, the men already opened fire on him. He managed to return fire and shot one of the suspects. However, he succumbed to his injuries after being transported to a local hospital.
Arroyos is survived by his mother, father, grandfather, girlfriend, and stepfather.
All the suspects were found to be associated with Florencia 13 gang, according to the United States Department of Justice.
Luis Alfredo De La Rosa Rios, 29, also known as "Lil J"
Ernesto Cisneros, 22, also known as "Gonzo"
Jesse Contreras, 34, also known as "Skinny Jack" or "Flaco"
Haylee Marie Grisham, 18, Rios' girlfriend
Currently, all four people have been taken into custody and were charged with violating a federal racketeering statute. Rios and Contreras are set to be arraigned on Feb. 3, Grisham on Feb. 7, and Cisneros on Feb. 10 in Los Angeles federal court.