People attempting to use COVID-19 passes will soon need a booster shot, a top UK official said Monday.
Sajid Javid, the country's health secretary, told Parliament in a prepared statement that the emergence of the Omicron virus variant shows "two jabs are not enough to prevent symptomatic infection."
Multiple small studies performed on human samples in recent days suggest people with a primary vaccination regimen have little to no protection against Omicron infection.
Boosters, though, can protect against Omicron, Javid asserted, citing an analysis by the UK Health Security Agency that suggests boosters are 70 percent effective against symptomatic infection.
Other data also indicate boosters can help restore some of the lost protection, though none of the papers have yet been peer-reviewed.
"Because of the threat of Omicron, we are moving to Plan B in England, subject to the will of Parliament," Javid said.
If lawmakers approve, people must wear masks in indoor public places and work from home if they can.
To get into nightclubs and large events, meanwhile, people need a COVID pass.
Passes can be obtained by obtaining a negative test within the past 48 hours or getting "fully vaccinated," a term that now refers to getting two doses of a COVID-19 vaccine.
The latter requirement will change, according to Javid.
"Once all adults have had a reasonable chance to get their booster jab, we intend to change this exemption to require a booster dose," Javid said.
Lawmakers will vote on Plan B on Tuesday.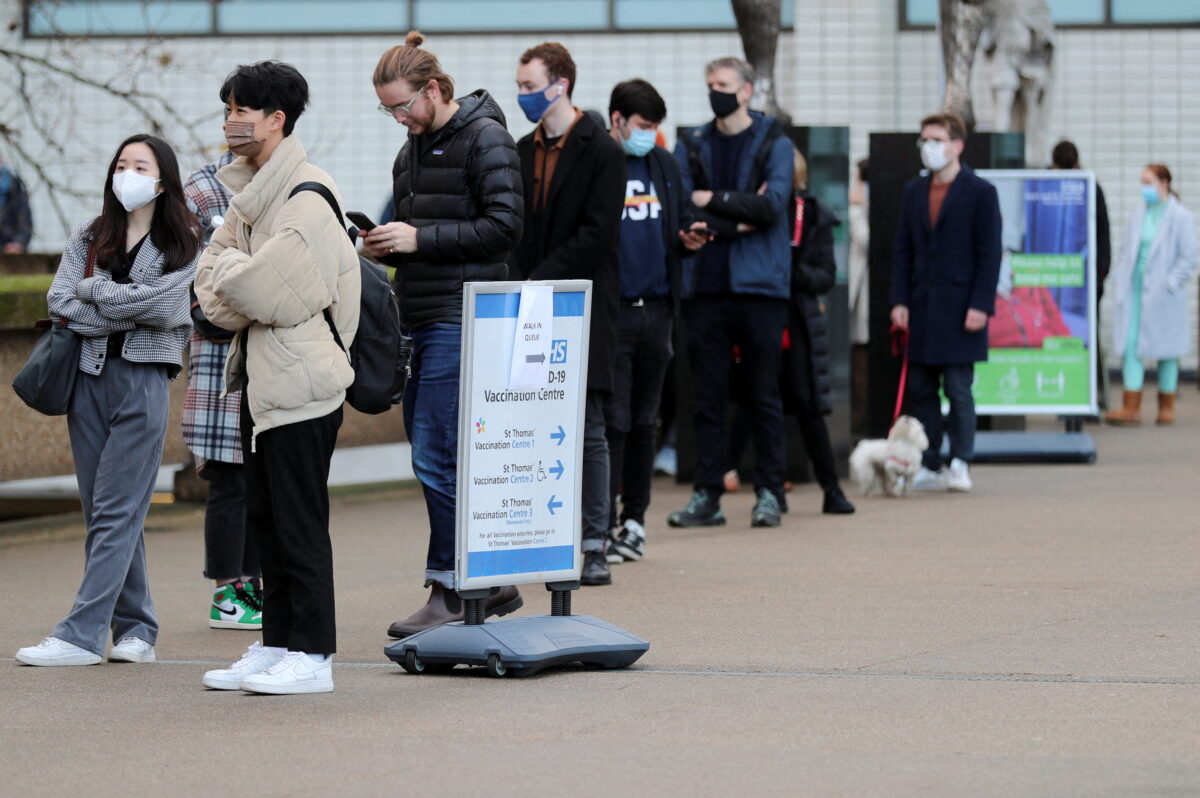 Some panned the new proposal, including MP Marcus Fysh, a British conservative.
"Reminder: vaccine passports don't actually work. They are a psy-opp to get people to get vaccinated. I'm all for vaccination. Just be straight with people about its benefits and safety – which are good – and stop playing these silly and dangerous games," he wrote on Twitter.
Javid said the passes are not passports, since they are available to the unvaccinated.
His statement came a day after Prime Minister Boris Johnson told the nation that due to Omicron, it's "now clear that two doses of vaccine are simply not enough to give the level of protection we all need."
Health officials and experts initially promoted the vaccines as being highly effective against infection and severe disease but a quickly-growing body of evidence shows the shots perform poorly against infection, particularly the Omicron variant.
They're holding up better against severe disease, but studies and real-world data show a drop from the initial months.
Omicron is a variant of the CCP (Chinese Communist Party) virus, the virus that causes COVID-19. The variant was first identified by South African scientists last month and dates back to at least October, according to genomic sequencing of positive tests in Africa.
People who got COVID-19 from Omicron have since been detected in dozens of countries, including the UK.
Health officials there have confirmed over 4,700 cases, including 10 people in England who required hospital care.
One person with Omicron died, officials said earlier Monday.
Most patients with Omicron in developed countries have been vaccinated; a small number have received booster shots.
Officials haven't released the deceased person's vaccination status, age, or other details yet. Most of the hospitalized patients, though, had received two doses of a vaccine, officials said.
Simon Veazey contributed to this report.