Embattled "Full House" star Lori Loughlin, accused of bribing school officials to get her two daughters into college, apparently won't appear in Netflix's "Fuller House" after production of the show resumed.
Days after she was indicted in the "Operation Varsity Blues" case, TVLine reported that Loughlin wouldn't return to "Fuller House." Hallmark series "When Calls the Heart" also officially cut ties with her.
Now, as her co-stars start to post on social media about filming, it appears that she is nowhere to be found.
"We're baaaaaack!" Jodie Sweetin, who plays Stephanie Tanner on the show, wrote on Instagram.
She stated, "Season 5 table read today and back to rehearsal next week! Woo hoo!! #fullhousefamily #season5 #fullerhouse #sogoodtobeback."
Candace Cameron Bure also posted about the start of production, showing herself in her dressing room, according to Entertainment Tonight.
"First table read of Season 5—our last first table read," actress Andrea Barber also wrote on Instagram. "As @scottweinger so aptly put it, it's like the first day of your Senior year. This one's gonna be bittersweet.  #fullerhouse."
"Some people that I love and will be fun to hang out with for @FullerHouse #Season5," the show's main star, Bob Saget, also commented on Instagram.
Some of Loughlin's co-stars have shown support for her amid her legal troubles.
"And this family has a lot of heart," Barber said.
"And where there's a lot of heart, there's a lot of love," Cameron Bure added to ETOnline. "And a loving family sticks together no matter what. They stick together through the hard times, they support each other, they encourage one another, they pray for each other, and they stand by their side, no matter how tough it gets. And a loving family that sticks together also celebrates the really good times together."
On the Today show, Cameron Bure said that the "Fuller House" stars "would never want to talk about someone that's such a dear and close friend."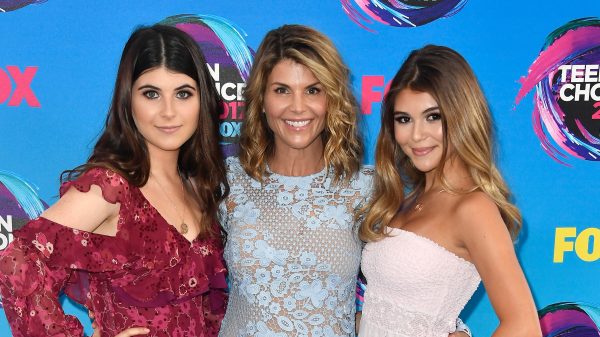 Cameron Bure added: "I've already said that we are family, and we stand by each other and pray for each other, and we'll always be there for each other."
Meanwhile, a source close to Loughlin and her husband, Mossimo Giannulli, said the two are confident they won't do any prison time for their alleged role in the scandal.
The two are accused of paying $500,000 to William "Rick" Singer to ensure their two daughters got into the University of Southern California. Both have pleaded not guilty to the charges.
"She doesn't want to spend time in jail," the source told People magazine in early May, "but she knows that any sort of plea or conviction at this point will include jail time. Her only chance of avoiding jail is to go to court and be found not guilty."