Full Restoration of New York Subway Still Months Away
November 26, 2012 11:21 pm Last Updated: September 29, 2015 5:28 pm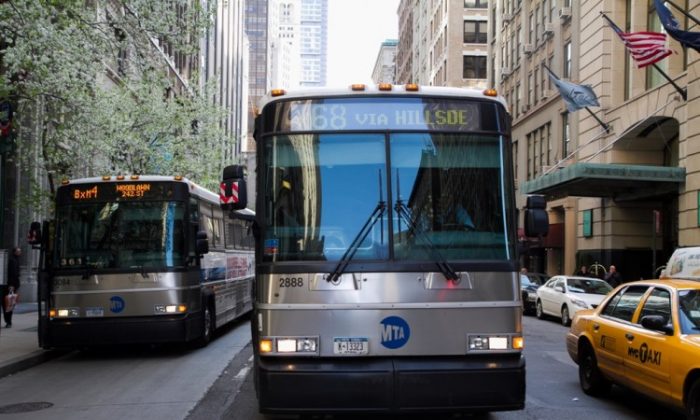 NEW YORK—The R train, still not running between northwest Brooklyn and Midtown Manhattan, will be up within two weeks, but the South Ferry and Whitehall stations and the A line in northeast Queens will take months to repair, said officials Monday.
Metropolitan Transportation Authority (MTA) managers detailed in the first public meeting since Hurricane Sandy tentative options to "harden" subway infrastructure—rails, electronic components, and stations worth $500 billion—but did not commit to any particular solutions.

The Lower Manhattan South Ferry station is near the southern edge of the island. It is connected to Whitehall Street, and serves commuters disembarking from the Staten Island Ferry. The station is an example of how much damage storms can inflict.
"You've got infrastructure that's damaged, you've got wall tiles that are down, you've got railings that are damaged, you've got possible damage behind wall surfaces," Thomas Prendergast, president of MTA's New York City Transit, told reporters. Equipment that came into contact with saltwater has a decreased lifespan, he added.
While MTA officials cope with the remaining restorations they are also relishing praise from advocacy groups, commuters, and elected officials for getting the majority of the system up and running quickly after the storm, including calls from Republicans for CEO and Chairman Joseph Lhota to run for mayor. Yet, in the minds of all are what will happen if another storm similar to Sandy arrives.
The storm demonstrated for doubters that "if you don't have a working subway and bus system in New York City, the city cannot function," said Prendergast. His words are backed up by anecdotal accounts along with research released Monday by NYU's Rudin Center for Transportation that shows some commutes on Nov. 1 and 2 doubled, or even tripled, in length. Staten Island commutes, in the most extreme example, went from on average 84 minutes to 240 minutes, according to a survey the center took of 315 commuters.
Other changes included more people biking while telecommuters leapt from 2 percent to 22 percent.
The impact to both commute times and the subway system could have been even worse, said Prendergast. "Had we got heavy rain it would have been even worse in terms of flooding," he added, speaking to the New York City Transit Committee. "The tidal surge of 14 feet—13.97—on top of an astronomical high tide and a full Category 1 did this level of damage. Can you imagine what a [Category] 2 or a [Category] 3 would bring?"
Eight flooded subway tunnels delayed the reopening of portions of the system as much as anything else. One possible improvement? Purchasing two or three more pump trains (subway trains that drain flooded tunnels), adding to the three the authority currently has, said Prendergast. Additional generators, installing floodgates, and bringing in prebuilt enclosures to cover grates are other options the authority is considering, without prioritizing anything at the moment.
What officials at the cash-strapped transportation authority are looking at is preventing flooding across the entire system and from the perspective of "where can we expend resources to get the biggest bang for the buck," said Prendergast. He stressed preparation. "We cannot sit back and wait and say 'Well there may be another one of these in 15 or 20 years,'" he said.
Prendergast said management is in support of, but doesn't currently have the funding to consider some measures, such as the inflatable stopper, a giant plug being developed by the Department of Homeland Security's Science and Technology Directorate that acts like a rubber stopper. The MTA will likely reach out to the team that is working on developing the plug to see if can be brought to New York for testing.

The project team is still running tests on the plug, such as trying to inflate the plug solely with air (it has been tested with a combination of air and water inflation), in a test tunnel in Morgantown, W.Va., according to Dr. John Fortune, program manager with the directorate. The team is also polishing designs for how the device can be folded, packaged, and stored properly in containers near subway tunnels so the plugs can be ready for swift deployment in case of a storm.
Manufacturing costs are pegged at $400,000 for a plug, but the plug won't be ready for a couple of years, said Fortune.
Damage to the transit system the MTA manages—which includes the subway system, Metro-North, and Long Island Rail Road—totals $4.8 billion, said Gov. Andrew Cuomo Monday in a storm recovery update. This figure doesn't include costs such as overtime and lost revenue.
The authority expects to receive 95 percent reimbursement, according to an earlier interview with CEO and Chairman Joseph Lhota. A representative said Monday some of the reimbursement money received from the federal government for damages from Tropical Storm Irene was used to protect the system from future storms, but the representative could not confirm how much was spent.
MTA officials will discuss finances and further storm-specific improvements in a conference call with reporters Tuesday, and at a full board meeting Wednesday.
Additional reporting by Amelia Pang
The Epoch Times publishes in 35 countries and in 19 languages. Subscribe to our e-newsletter.
Please send news tips to [email protected]