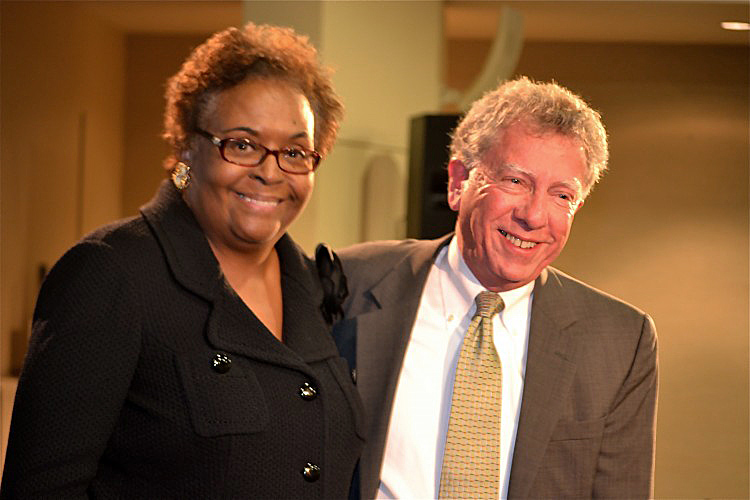 ATLANTA—Nearly 50 European Jewish scholars escaped the Holocaust and came to teach at black colleges in the Deep South. These new immigrant teachers nurtured countless African American artists, leaders, and intellectuals, according to former Howard University president Dr. Joyce Ladner.
"From Swastika to Jim Crow," is a film that explores this little known history of Nazi refugees in the American south. Following a screening of the film at the William Breman Jewish Heritage Museum on Dec. 4, Dr. Ladner—now a senior fellow in the Government Studies Department at The Brookings Institution—recalled her experience of the time.
Enrolled at Jackson State in Mississippi at age 17, Ladner said faculty and even other students were encouraged to report on each other, to ferret out any resistance to the status quo. 
"Jackson State was a prison. I hated it," she said. 
Ladner and her sister organized a "sympathy demonstration" on campus for students jailed for a sit in at the public library. The college president grabbed her sister by the shoulder and threw her to the ground. They were both expelled.
So Ladner moved on to Tougalou College, only a few miles from Jackson State. Upon entering the ornate scrollwork gate, she saw a racially integrated group sitting on the grass. 
They looked happy, she said. They were Freedom Riders; people who opposed segregation.
At Tougalou, Ladner met sociology professor Dr. Ernst Borinski—admissions counselor for prospective law school and medical school students. 
"He'd say, 'come over to the lab and we'll work on your grad school application,"' she said. When she told him she had no money for the application fee, he wrote her a check. 
"He helped produce generations of professionals," Ladner said.
Journalism professor Hank Klibanoff provided further details about Dr. Borinski.
Borinski was originally from the German province of Upper Silesia, near the Polish border. According to Klibanoff, when Borinski spoke of his homeland he said, "I felt stigmatized: personally, linguistically, racially; I decided to enlarge my otherness positively. I engaged in stigma management."
Klibanoff won the Pulitzer Prize for "The Race Beat: The Press, the Civil Rights Struggle, and the Awakening of a Nation," which he co-authored with Gene Roberts. He is the managing editor of the Civil Rights Cold Case Project.
Klibanoff recalls that Borinski was short, a very slow driver, mischievous yet formal, genial yet contemplative. He had no family and never spoke of his past. Ladner remembers him living with panache, paying attention to small comforts: eating a chop topped with a bright peach on a red and white checked tablecloth. 
"I knew Dr. Ernst Borinski purely by coincidence," Klibanoff said. "He was a great inspiration to me." When Klibanoff moved to Hattiesburg, Miss. in the 1960s, he "fell into [Borinski's] orbit and felt adopted by him."
When Borinski arrived in America, he knew little of Mississippi or of African Americans, and when his sponsors asked him what he thought, he said "I don't know anything about that—I just want to be an educator,'" said Klibanoff. 
"By the time he died [in 1974] he identified himself as a Mississippian," Klibanoff said. "He embraced all of them, into his home, into his school." He made friends in all walks of life and of all opinions.
Recalling Borinski's open minded spirit, Ladner expressed concern for how people reject those with whom they disagree in today's America. "If we don't embrace the differences of others we'll wind up in a very bad place," she said.
United Negro College Fund (UNCF) president and CEO Michael Lomax described these German immigrant scholars as "a new generation of Americans with every reason to focus on their own pain. They dedicated their lives to improving the lives of African Americans. It was a triumph of humanity."
Klibanoff reminded the audience that the world is still troubled. "Totalitarianism is not dead," he said. "We have to stay on guard."
The Epoch Times publishes in 35 countries and in 19 languages. Subscribe to our e-newsletter.