News Analysis
It has been a tumultuous time for Bed Bath & Beyond, transforming into a meme trader's favorite stock from a struggling big-box retailer.
Like many other brick-and-mortar retailers, Bed Bath & Beyond has experienced a plethora of challenges in its corporate history.
So, how did the chain of domestic merchandise retail stores, once at the forefront of the superstore craze, get to this point?
A Brief History of Bed Bath & Beyond
In 1971, Warren Eisenberg and Leonard Feinstein began Bed 'n Bath, with the expectation that the retail landscape would transition toward specialty stores, and opened their first store in Springfield, New Jersey. More than a decade later, the two men expanded the number of stores, to 17, launching additional locations across the New York metropolitan area and also in California. The name was changed to Bed Bath & Beyond.
By 1991, the company had opened seven superstores in California, Florida, Illinois, Maryland, New Jersey, and Virginia, in a move that business experts point to as placing Bed Bath & Beyond at the cutting edge of the superstore movement. These stores would offer customers a little bit of everything, possessing an immense inventory of brands, products, colors, and styles.
The number of store locations peaked at 1,142 in 2011.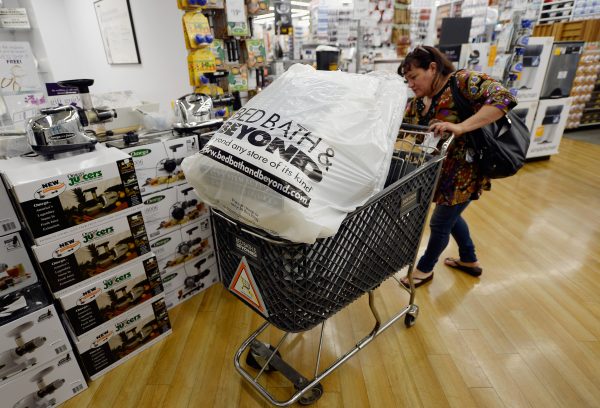 Bed Bath & Beyond would make its initial public offering (IPO) debut on NASDAQ in June 1992, trading at $1.07 per share.
After reaching $1 billion in annual sales in 1999, the corporation would become more aggressive,  expanding its suite of products to include electric appliances. With no debt, it sought to utilize its enormous cash flow to acquire a broad array of other retailers (Buy Buy Baby, Christmas Tree Shops, Harmons, and Cost Plus World Market).
But while it seemed like nothing could go wrong, Bed Bath & Beyond started encountering multiple hurdles over the past 20 years. Some of the corporate wounds have been self-inflicted, while others were caused by challenging economic climates and evolving consumer trends.
Barron's might have sounded the alarm in 2000, when it warned that Bed Bath & Beyond would need to navigate "a treacherous environment requiring astute management" amid an oversaturated market and the possibility of peak earnings.
The Rise of the Digital Economy
As Bed Bath & Beyond was increasing its brick-and-mortar footprint across the United States, Canada, and Mexico, other companies such as Amazon, Walmart, and Wayfair were adapting to the times and investing in their digital infrastructures. Eventually, successful retailers assembled and maintained effective and efficient omni-channel operations: shop and buy products in stores, place orders online, receive shipments at home, and pick up web purchases at physical locations.
However, Bed Bath & Beyond didn't maintain this type of system, observers say. The company eventually invested in e-commerce, but there were other issues that needed to be resolved, from more responsive supply chains to an improved online user experience. Moreover, Bed Bath & Beyond failed to introduce services that its competitors had already integrated into operations, including the buy-online and in-store pickup option.
By the time Bed Bath & Beyond established a web presence, it lagged industry rivals that adopted other strategies, such as selling native digital brands or automating various processes.
But the company's choice to overhaul its mobile infrastructure in 2017 was a terrific step, market experts say. This included introducing mobile devices to store floors, simplifying in-app purchases for users, providing mobile couponing, and bolstering user-generated content. Ultimately, corporate leadership realized that it wanted to personalize the shopping experience, both in stores or online.
Would that be enough to enhance sales, improve financials, and shield executives from termination? Not quite.
A Corporate Shuffle
With more retailers selling similar products as Bed Bath & Beyond, customers haven't been enticed to visit its stores. As a result, sales have been trending downward since late 2017, weighing on its financials.
Year-over-year quarterly revenue growth peaked in February 2013, coming in at more than 24 percent. Bed Bath & Beyond's revenue has been steadily declining for nearly a decade, recording a dozen negative quarterly growth rates since February 2019. The annualized quarterly growth rate for gross profit—the profit a business earns after subtracting cost of sales—has mostly been in the red since February 2014.
The abysmal performance prompted a coalition of activist investors from Legion Partners Asset Management, Macellum Advisors, and Ancora Advisors to pressure then-CEO Steven Temares and several board members into resigning. They argued that he failed to expand the business, particularly when more shoppers were heading online. The efforts were a success, with Temares, who served as CEO since 2003, stepping down from his position in May 2019.
While the company appointed Mark Tritton as president and CEO in November 2019, he was terminated less than three years into his tenure amid terrible sales results at its 771 U.S. stores. In the first quarter, sales plummeted 25 percent year-over-year, and losses ballooned by 600 percent, to $358 million. The company projects a 26 percent drop in same-store sales in the second quarter.
"After thorough consideration, the board determined that it was time for a change in leadership," Harriet Edelman, independent chair of the company's board of directors, said in a statement. "We are committed to addressing the urgent issues that have been impacting sales, profitability, and cash flow."
In June, Sue E. Gove was named interim CEO until an official replacement is announced.
Meanwhile, as part of its strategic update, Bed Bath & Beyond says it will shutter 150 stores, slash 20 percent of its workforce, and transform its merchandising strategy to reverse its misfortunes. In addition, the company received more than $500 million in new financing and plans to raise more money by issuing new shares.
"We believe these changes will have a widespread positive impact across customer experience, inventory assortment, supply chain execution, and cost structure. The customer underpins our decisions, and we are committed to delivering what they want while driving growth, profitability, and financial returns," Gove said in an Aug. 31 statement.
The company was struck by tragic news after it was learned last week that CFO Gustavo Arnal died by suicide.
He was recently named in a class-action lawsuit that alleged he and majority shareholder, Ryan Cohen, engaged in a "pump and dump" scheme that artificially inflated the company's value.
"With control over a significant portion of the public float, Cohen would essentially act as a price support for the stock while Gustavo would act in a similar capacity by controlling the sale of shares by insiders," the lawsuit stated. "Under this arrangement, defendants would profit handsomely from the rise in price and could coordinate their selling of shares to optimize their returns."
Chief Accounting Officer Laura Crossen was named the interim CFO, according to a regulatory filing.
Meme Stock Craze
The stock has been on a roller-coaster ride this year, It's downturn started in early 2015, plunging from nearly $78 to as low as $4.38. While Bed Bath & Beyond shares enjoyed a rebound during the broader 2020–21 market euphoria, it has been extremely volatile this year, fueled by retail meme traders.
The meme-stock faithful sent shares soaring as much as 492 percent, hitting a 52-week high of $23.08. But it slumped after RC Ventures, an investment fund run by Cohen, sold its entire position in the company last month, a filing revealed.
Market analysts aren't confident that the retailer can turn around its business. The current consensus price target is $6.50, nearly all brokerage firms have downgraded the stock or lowered their targets, and 13 analysts have rated the security as a sell.
Bed Bath & Beyond shares fell more than 14 percent in post–Labor Day trading on Sept. 6, sliding below $8. The shares rose 12 percent on Sept. 7 to $7.91.