Temperatures spiked to record highs in many countries in July, and Canada was no exception. Multiple heat warnings for areas like the Maritimes, Ontario, and Quebec were issued by Environment Canada due to the sweltering heat and humidity.
It all came about as a result of an unusual weather phenomenon.
Dubbed a "heat dome," the phenomenon involves a pressurized area that traps warm air like a dome over the land. All the pressure built up in the atmosphere then acts like a lid to seal the heat in and prevent it from escaping.
According to Environment Canada meteorologist Geoff Coulson, the situation that creates these heat events in Canada usually tend to occur "when there's a large area of high pressure just southeast of the Great Lakes."
"What that centre of high pressure acts like is like a 'heat pump,' so it's bringing up that warm, moist air from the Gulf of Mexico, right over the Great Lakes area. And in a heat dome situation, that area of high pressure isn't really moving anywhere—it stays relatively stable and stationary over the east part of the U.S.," Coulson said in an interview.

"And as long as it does that, it allows the air mass to sit over us for multiple days in a row, and that leads [Environment Canada] to issuing the heat warnings that we had a few times in the month of July."
Coulson, who has been working with Environment Canada as a meteorologist for over 32 years, said the "heat pump" situation is a short-term one; eventually, the pattern involved in creating it would break down over time. The one Canada saw in July was "fairly persistent," he noted, but meteorologists still saw it "strengthen and weaken over a few days."
"We would get two or three days in a row of high heat and humidity that prompted the heat warnings, and then we'd get a couple of days where we get a bit of relief, and then the heat would come back again," he said.
"That whole pattern that was giving us the heat dome, and the persistent air mass of heat and humidity on and off through July, has weakened somewhat as we've gotten into the month of August."
Europe's 'Rare Weather Situation'
Canadians haven't been alone trying to cope with the heat—a number of countries in Europe recently experienced their hottest weather in decades. In Paris, France, the temperature hit a record high of 41.6° Celsius, surpassing the previous highest number of 40.4°C from 1947. Belgium also broke a historical record of 40.6°C that was initially set back in 1833, the year when temperature measurements first began.
Coulson said what happened in Europe was a "very rare weather situation."
"This very hot air was coming up directly from Africa into Europe, and then what made it even more unusual was that very warm air also went into the Scandinavian countries, into Sweden and Norway and places that don't normally see that level of heat," he said.
"Even in the United Kingdom, parts of England and Scotland got some incredibly warm temperatures as well—which for them, being close to the ocean, they don't tend to get the same temperature range that other parts of Europe might."
Currently, Environment Canada's public weather alerts page continues to list several heat warnings and severe thunderstorm warnings for areas in B.C., Alberta, and southern Ontario. A province-sorted section on "special weather" also cautions residents about upcoming spells of hot weather.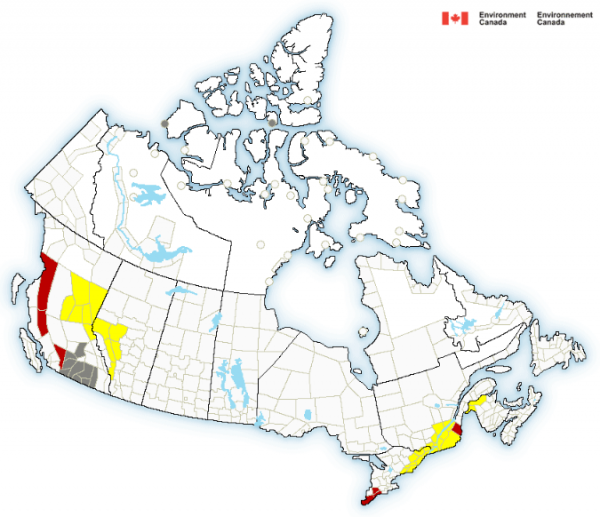 Normal Temperatures for August
As for how the rest of August is looking, Coulson said that based on the weather output model, he predicts that areas of central Canada like Saskatchewan and Manitoba should see temperatures close to average for this time of year. For areas like the Maritimes and the B.C. Interior, though, it wouldn't hurt for residents to be prepared for an August that's warmer than normal.
"It doesn't mean that we still can't get some warm days in the next month or so, it doesn't mean that we won't get some chilly days," he said. "But overall, [the model] is saying temperatures are expected to be normal." 
Because of Environment Canada's work with a wide range of health experts, from Health Canada to provincial health ministries, Coulson also has some advice to offer about staying safe and healthy during serious heatwaves. Unsurprisingly, "stay hydrated" was his most important tip. Drink more water and sports drinks, he advised, and make sure to avoid alcohol.
"Alcohol can actually dehydrate you somewhat, so it is better to be drinking water and fruit drinks and sports drinks," he said, listing some of the most common options for quenching heat-induced thirst. "[Those drinks] replenish some of the things that you're losing through sweat on a hot summer day."
Coulson also advised keeping a close eye on young children and the elderly, since they "don't have as many ways to cope with the humidity as a healthy adult would," and for everyone to take it easy by minimizing time outside, especially in the case of health issues that would make them particularly vulnerable to the harsh heat and humidity.