Commentary
We are fast approaching the two-month anniversary of the John Cena apology. For the uninitiated, in an interview for "Fast and Furious 9," a movie he was starring in, the professional wrestler and actor made the "mistake" of calling Taiwan a country.
Ostensibly, Cena was apologizing to the people of China. In reality, though, he was apologizing to the Chinese regime, which essentially controls Hollywood.
As professor Aynne Kokas, author of "Hollywood Made in China," notes, "Chinese production studios like Alibaba Pictures and Tencent Pictures" now play "a significant role funding films in Hollywood."
Today, American "entertainment platforms" have become so "desperate to access the Chinese market" that they are now willing to "work against their own long-term interests." Take Netflix, for example, the world's largest streaming service. According to Kokas, the company "licensed its content to the Chinese platform iQiyi, which in turn bolstered iQiyi's popularity." Hollywood has made a Faustian bargain with Beijing. In return for its soul, it agrees to keep churning out tepid, franchise-heavy movies.
Although Cena's groveling apology was indeed disturbing, it's important to put it in context. Cena answers to Hollywood executives, and those executives answer to China. The fact that Cena's apology was delivered in fluent Mandarin speaks volumes. The multi-millionaire didn't learn the language for fun; he learned it because it's a job requirement.
More worryingly, the Chinese influence extends well beyond Hollywood. An increasing number of Beijing-backed businesses have invested billions in American land. As the author and farmer Deborah J. Comstock writes, the goal of the Chinese regime is simple: "to invest in agriculture overseas and to gain greater control over oilseed and grain products, to create policies to support facilities, equipment, and inputs for agricultural production, and to create large multinational grain-trading conglomerates." The revenue earned bypasses "the American commodities markets," and the products are "flown through the foreign entities' own distribution channels, directly to the home country."
The influence doesn't end there, either. A damning Fox News report outlines the many ways in which the United States has become dependent on China. Take medical supplies, for example. According to the report, China now "produces 97 percent of U.S. antibiotics" and "80 percent of active pharmaceutical ingredients used in American drugs." In other words, the Chinese Communist Party (CCP) has "absolute control" over "potentially life-saving medicine."
Furthermore, Beijing-backed "firms and investors own a controlling majority" in close to 2,400 U.S. companies.
These include the likes of "AMC Entertainment (entertainment), Complete Genomics (health care), First International Oil (energy), G.E. Appliances (technology), IBM—P.C. division (technology), Legendary Entertainment Group (entertainment), Motorola Mobility (technology), Nexteer Automotive (automotive), Riot Games (entertainment), Smithfield Foods (food)," to name just a few.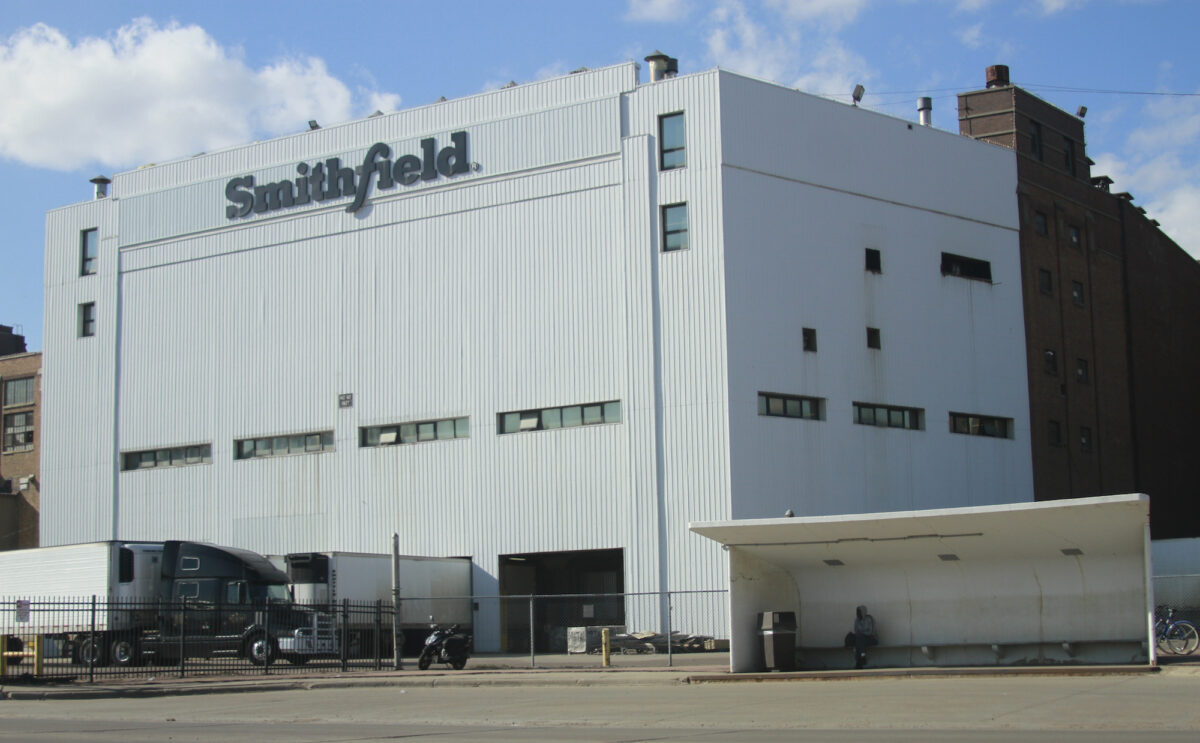 The companies owned are as varied as they are numerous. Take Smithfield Foods, for example, the world's largest producer of pork. In 2013, it was purchased by Shuanghui International Holdings for $5 billion, considerably more than the company's market value. The acquisition, as well as the price paid, raised eyebrows. The Chinese regime was clearly involved in the purchase. As Sen. Debbie Stabenow (D-Mich.) said at the time, "this isn't just an acquisition of a company."
No, she said, the Chinese regime had just bought "25 percent" of America's "pork industry."
There's More
Both MSNBC and NBC, two of the biggest news providers in the United States, are owned by NBC Universal, which appears to have close ties to Xinhua, a propaganda outlet run by the CCP. Other outlets such as ABC and ESPN also appear to have links to the Chinese regime. In 2019, ESPN staff were directly told to avoid discussing Chinese politics at all costs. The warnings came as protests in Hong Kong started to turn violent.
Two years on, one wonders if the influence from Beijing explains why the virus, which most likely originated in a Chinese lab, has been covered so badly—more specifically, so blindly. Malcolm X once called the media "the most powerful entity on earth." They "have the power," he said, "to make the innocent guilty and to make the guilty innocent." All because "they control the minds of the masses."
They most certainly do, and that's because they control the narrative. The narrative isn't just biased; it is, by and large, incorrect.
Is it any wonder that trust in traditional media is at an all-time low? Or that when the comedian Jon Stewart had the audacity to say that maybe, just maybe, the virus came from a lab in Wuhan—you know, a lab that researches novel coronaviruses—he was either ignored, condescended to, or heavily criticized by left-leaning, China-friendly outlets. Stewart was speaking for the masses, yet he was treated like a conspiracy nut. This is gaslighting in its purest form, whereby the manipulator(s) succeed in getting the target(s) to question their own memory and perceptions, and in some cases, their sanity. With the CCP busy opposing fresh investigations into the origins of the virus, the American media, not just Chinese propaganda outlets, have played an instrumental role in preventing the truth from emerging.
This year, Time magazine ran a piece on why America is so divided today. The inability of so many media outlets to report the news in an objective manner is certainly a contributing factor. What we're witnessing today is information warfare, which is intimately associated with psychological warfare in its purest form—and the Chinese regime has played a pivotal role in sowing innumerable seeds of doubt.
How did we get here? What can be done? These are important, even existential, questions that must be asked. More importantly, they must be answered.
In a recent interview with Guancha news, yet another Chinese propaganda outlet, China's vice minister of foreign affairs, Le Yucheng, warned the United States that "the world has changed." The U.S., he said, "needs to see these changes, adapt to them, and reflect upon and correct its mistakes in the past." To see what Beijing-approved reflection and correction looks like, feel free to rewatch that John Cena apology.
If the CCP has its way, we'll all be groveling in Mandarin.
John Mac Ghlionn is a researcher and essayist. His work has been published by the likes of The New York Post, The Sydney Morning Herald, The American Conservative, National Review, Public Discourse, and other respectable outlets. He's also a columnist at Cointelegraph.
Views expressed in this article are the opinions of the author and do not necessarily reflect the views of The Epoch Times.