Friends Celebrate Attorney Gao's Safe Return to Beijing
February 12, 2006 12:00 am Last Updated: February 12, 2006 12:00 am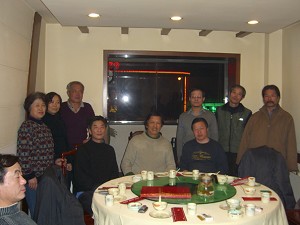 Attorney Gao Zhisheng safely returned to Beijing from his hometown in Shaanxi Province on February 11. More than 20 people from different walks of life held a welcome-back reception for attorney Gao at a restaurant near his office. They celebrated Gao's victorious return to home and freely discussed human rights supporting activities.
Because they are under house arrest imposed by the Chinese communist regime, Beijing public figures Hu Jia, Qi Zhiyong and others were unable to attend. (Please see Qi Zhiyong and Hu Jia Put Under House Arrest for Supporting Hunger Strike Relay )
The welcoming people waited all the afternoon to usher in the safe return of travel-stained attorney Gao. The greeters include artist Yan Zhengxue and his wife, the famous Internet writer Liu Di, (who wrote under the pseudonym of"Stainless Steel Mouse,") democracy activist Li Hai, Ma Wendou, Guan Zengli, Beijing appellants Wang Xuexin, Li Aiyan, Li Guifen, Shangdong Province appealers Qian Lili and others.
It has been confirmed that when attorney Gao returned, the Chinese communist regime's surveillance vehicles were not in view. Attorney Gao stated that the Chinese regime uses similar methods of monitoring and pestering him as it does to people who are regarded as dangerous persons. However, as soon as he passed Hebei Province on his way to his hometown they stopped shadowing him because they felt that there was no longer a danger. Gao describes this kind of behavior as "barbarous yet fantastic."
Video recording (Chinese only.)
Chinese People Support Gao's Hunger Strike Campaign for Human Rights
As the relay hunger strike initiated by attorney Gao Zhisheng sweeps the world, many people in mainland China are enthusiastically signing to support. During interviews, many mainland Chinese claimed that they were unable to access the web page to post their signatures of support; therefore, Gao Zhisheng said that people can call his office at 010-51630281, where they will take signature calls.
Current, more than 2,000 readers have left messages on the homepage of "Support for the Global Relay Hunger Strike for Human Rights to Condemn CCP Violence" on the Epoch Times Forum. Attorney Gao also stated he has personally received signatures from over 400 people.
Most appellants gathered in Beijing have already signed the support form. One appellant said, "What is written on the paper is very good, I signed immediately after I read it."
Sun Xiaodi , a rights activist from the 729 Uranium Mine in Gansu Province who has been secretly held and interrogated for eight months by the national public security forces, has smuggled a message out expressed his gratitude to the media for their coverage of his plight. He hopes the media can sign him up for the relay hunger strike.
Beijing appellant Ma Jiemin has fasted for 24 hours since the morning of February 9. Liaoning couple Liu Hua and Yue Yongjin have also declared their support, as have many appellants from all over the world. Those who work inside China for this relay hunger strike indicated that many signatures are still being sorted out.
All over the world, as in China, concerned citizens are signing up to fast in support of human rights in China. The swiftness with which support of the Global Relay Hunger Strike has snowballed is stunning.