French sports minister Roxana Maracineanu announced Jan. 17 that all athletes, including foreign athletes, will not be exempt from taking the COVID-19 vaccine in order to compete in sporting events in France.
The announcement comes after the French parliament approved a vaccine pass law on Jan. 16, which imposes sweeping restrictions on people who cannot present proof of vaccination against COVID-19.
"The vaccination pass has been adopted. As soon as the law is promulgated, it will become mandatory to enter public buildings already subject to the health pass (stadium, theatre, or lounge) for all spectators, practitioners, French or foreign professionals," Maracineanu announced on Twitter, per a Google translation of the statement.
"Thank you to the sports movement for the work of conviction with the last rare unvaccinated. We will work together to preserve the competitions and to be the ambassadors of these measures at the international level."
Her latest statement, a reinforcement of an earlier statement from the French Sports Ministry on the same day saying there would be no exemption from the new vaccine pass law, puts in doubt whether Novak Djokovic—currently ranked world No. 1 by the Association of Tennis Professionals—can defend his title in the French Open.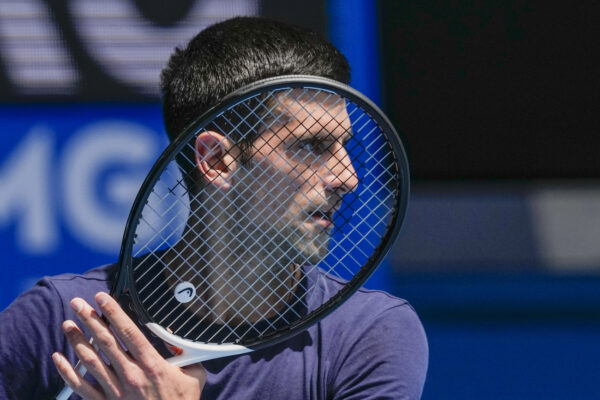 Previously, Maracineanu told radio station France Info that Djokovic had a chance of entering the country under health protocols for major events.
"There are health protocols imposed for major events by the relevant federations which would permit someone like Novak Djokovic to enter the country," she said on Jan. 7, reported AFP.
"In France today we do not have the same regulations as Australia for entry to the country, either for athletes or any citizens from other countries," she said at the time. "An athlete who is unvaccinated can compete in an event because the protocol, the health bubble for these major events, permits that."
Djokovic is unable to defend his title in the Australian Open, which started on Jan. 17. He left Australia on Jan. 16 after his visa was canceled by Australia's Immigration Minister Alex Hawke, and he lost a court appeal to challenge the decision.
Hawke had claimed—despite conceding that the 34-year-old tennis player posed "negligible risk" of transmitting the coronavirus—that Djokovic was a "high-profile unvaccinated individual" who could stir up anti-vaccination sentiment in the country such that people may refuse to get vaccinated or get their booster shots. Attorneys for the Australian government said Djokovic could become an "icon of free choice" if allowed to stay.
Legal experts said the ultimate decision in the case could set a "dangerous" precedent that could further erode free speech.