A French priest who provided comfort to victims during the 2015 Paris terror attack was hailed as a hero after he risked his life by dashing into the Notre Dame cathedral that was engulfed in flames to rescue the Crown of Thorns—a wreath of thorns believed to have been placed on Jesus Christ's head at his crucifixion.
Father Jean-Marc Fournier, the chaplain of the Paris Fire Brigade, also saved the Blessed Sacrament while he joined rescue workers who entered the iconic cathedral to save priceless relics on April 15.
A photo of Fournier also has found its way to Twitter, with many social media users showing appreciation for what he has done.
Le père Fournier, aumônier des @PompiersParis, est allé avec des pompiers dans la cathédrale #NotreDame pour sauver la couronne d'épines et le Saint-Sacrement… pic.twitter.com/4IoLVdoJZW

— Etienne Loraillère ن (@Eloraillere) April 15, 2019
"Father Fournier is an absolute hero," a member of the emergency services told an Irish radio station NewsTalk."He showed no fear at all as he made straight for the relics inside the cathedral, and made sure they were saved. He deals with life and death every day, and shows no fear."
Fournier has displayed this courage in the past. In 2015, he rushed inside the Bataclan music venue to help the wounded after the ISIS terrorist group launched an attack, claiming the lives of 90 people.
The priest is also a veteran of the French Armed Forces and survived an ambush while on duty in Afghanistan, which left 10 soldiers dead.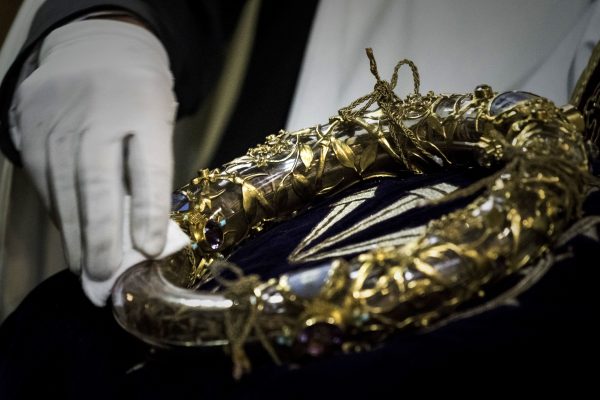 The Crown of Thorns, which has been the object of Christian prayer for more than 16 centuries, was brought to Paris by French King Louis IX in 1239. The artifact is contained in an intricate gold case and is placed in the cathedral's treasury, which is only occasionally displayed to the public, according to the radio station.
Emergency services formed a "human chain" to rescue other artifacts and artwork from the burning building, according to Paris Mayor Anne Hidalgo, The Sun reported.
Les œuvres sauvées de l'incendie de #NotreDame par les pompiers, les policiers et les agents municipaux, mises à l'abri cette nuit à l'Hôtel de Ville, sont à présent prises en charge par les services de l'Etat. Un très grand merci à toutes les équipes qui se sont mobilisées. pic.twitter.com/AZId6ad0NV

— Anne Hidalgo (@Anne_Hidalgo) April 16, 2019
"The Crown of Thorns, the tunic of Saint Louis, and several other major works are now in a safe place," Hidalgo said.
Additional rescued artwork will be transferred to the Louvre museum, the French culture ministry said.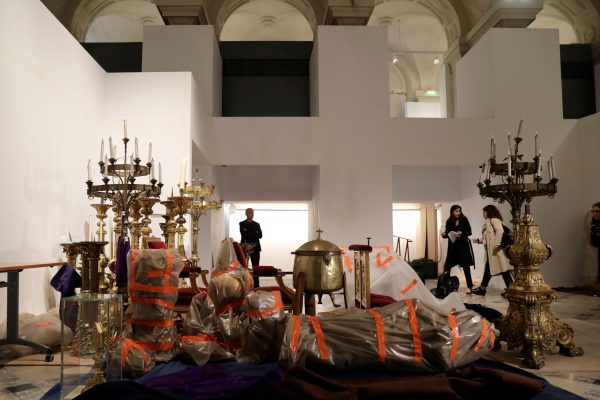 A massive blaze broke out at the 850-year-old cathedral as it was undergoing renovations, threatening one of the greatest architectural treasures of the Western world. The fire, which engulfed the cathedral's spire, causing it to collapse, then spread to one of its landmark rectangular towers. Fortunately, firefighters managed to stop the fire from spreading to the northern belfry, according to Paris fire chief Jean-Claude Gallet.
The 12th-century cathedral is home to incalculable works of art and is one of the world's most famous tourist attractions, immortalized by Victor Hugo's 1831 novel "The Hunchback of Notre-Dame."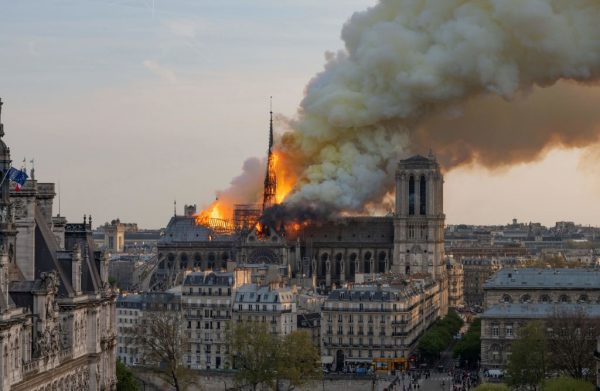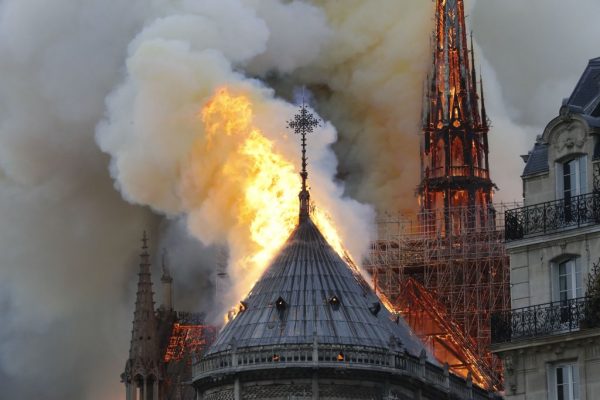 World leaders were quick to respond to the fire that devastated the historic building.
"So horrible to watch the massive fire at Notre Dame Cathedral in Paris," wrote U.S. President Donald Trump in a tweet, later adding, "God bless the people of France."
So horrible to watch the massive fire at Notre Dame Cathedral in Paris. Perhaps flying water tankers could be used to put it out. Must act quickly!

— Donald J. Trump (@realDonaldTrump) April 15, 2019
Two French billionaires have pledged a combined $337 million to help rebuild the cathedral. France's richest man, business magnate Bernard Arnault, promised 200 million euros ($225 million) on the morning of April 16, while billionaire François-Henri Pinault who is married to actress Salma Hayek, pledged 100 million euros ($112 million) on April 15.
"In the wake of this national tragedy, the Arnault family and the LVMH Group pledge their support for #NotreDame. They will donate a total of 200 million euros to the fund for reconstruction of this architectural work, which is an integral part of the history of France." pic.twitter.com/utvJT8xJht

— LVMH (@LVMH) April 16, 2019
Paris prosecutors said they will investigate the incident as "involuntary destruction caused by fire" and have ruled out arson and terror-related motives, Fox News reported.
The Associated Press contributed to this report.