French President Emmanuel Macron won a second term on Sunday, defeating National Rally candidate Marine Le Pen.
With 97 percent of votes counted, Macron was on course for a solid 57.4 percent of the vote, interior ministry figures showed.
Minutes after Macron was projected to be the winner, Le Pen conceded defeat via her social media. She said the election was still a win for her political movement.
"The French showed this evening a desire for a strong counterweight against Emmanuel Macron, for an opposition that will continue to defend and protect them," Le Pen told supporters on Sunday. Macron, meanwhile, said that the result was a victory for "a more independent France and a stronger Europe."
Le Pen broke through the threshold of 40 percent of the vote, which is unprecedented for French nationalist parties. In 2017, Le Pen only won 34 percent of the vote to Macron's 66 percent.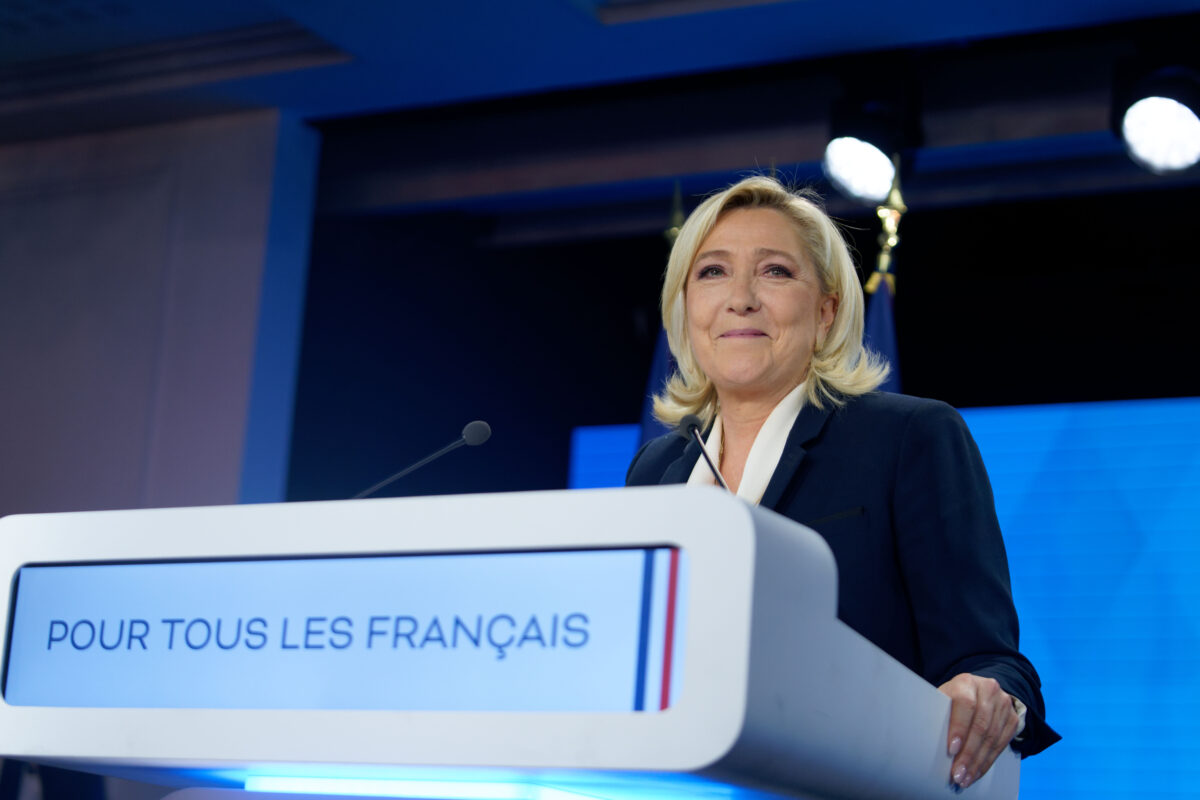 Macron, 44, and Le Pen, 53, have competing visions for France, with Macron seeking to continue introducing neoliberal politics into the country. Le Pen, supported by France's right-wing, has focused her campaign on the rising cost of living in France, while also describing Macron as an elitist with contempt for working people—including his rhetoric last year that targeted unvaccinated French and during the "yellow vest" protests against globalists in 2018.
Le Pen had promised sharp cuts to fuel tax, zero-percent sales tax on essential items from pasta to diapers, income exemptions for young workers, and a "French first" stance on jobs and welfare. Macron had claimed Le Pen had a pro-Moscow stance and said she couldn't be trusted amid the conflict in Ukraine, something she had denied.
Turnout in the second round was low on Sunday, according to figures released through the government, French media reported. As of Sunday, it stood at about 62 percent, the lowest in decades.
Some French voters told local media they decided to abstain from casting ballots in the election. One person, 24-year-old Gaspard Hermann, told EuroNews that voters in his country are often forced to vote against a candidate, instead of one that they actually support.
"I don't see myself in the current presidential system or in the way it works, in particular, its failure to take into account abstention and blank votes, or the choice of candidates," said another who abstained and who was only identified as Louise, 28.
Hugo Winter, a 26-year-old salesman in Paris, said he would be among those who would not bother to cast a vote.
"I don't see the point in choosing between two things that don't correspond to my ideas," Winter told Reuters as he did some morning food shopping. "We live in a parallel world. The politicians don't represent the people."
According to initial polling by Elabe, the vote this year was sharply split by both age and socio-economic status: two-thirds of working class voters backed Le Pen, while similar proportions of white-collar executives and pensioners backed Macron.
Macron won around 59 percent of votes by 18-24 year-olds with the vote almost evenly split in other age categories.
Macron will likely face a difficult second term, with none of the grace period that he enjoyed after his first victory, and protests likely over his plan to continue pro-business reforms, including raising the retirement age from 62 to 65. His first major challenge will be to win parliamentary elections in June to secure a workable majority to implement their policies.
U.S. President Joe Biden congratulated Macron on his re-election on Twitter, calling France a "key partner in addressing global challenges."
"I look forward to our continued close cooperation—including on supporting Ukraine, defending democracy, and countering climate change," Biden said.
Ukrainian President Volodymyr Zelenskyy also congratulated his French counterpart.
"I wish Emmanuel Macron new success for the benefit of the French people," he said on Twitter. "I appreciate the support of France and I am convinced: we are stepping together to new common victories! To a strong and united Europe."
In Germany, Chancellor Olaf Scholz responded by saying that French voters had "sent a strong vote of confidence in Europe today.
"I am happy that we will continue our good cooperation," he said.
European Commission President Ursula von der Leyen echoed the same sentiment on Twitter.
Reuters and The Associated Press contributed to this report.