The pregnant partner of a French jihadi inmate was shot dead by police as they stormed a prison room where the couple had barricaded themselves after he stabbed two guards with a knife she had smuggled in during a conjugal visit.
Michael Chiolo was serving a 30-year jail sentence for murdering a holocaust survivor.
According to local reports, he shouted "Allahu Akhbar" as he attacked two prison guards at the high-security prison in northern France.
"It was truly a murder attempt. There was blood everywhere. The family-visiting unit was a battle scene," a prison staff representative told AFP news agency.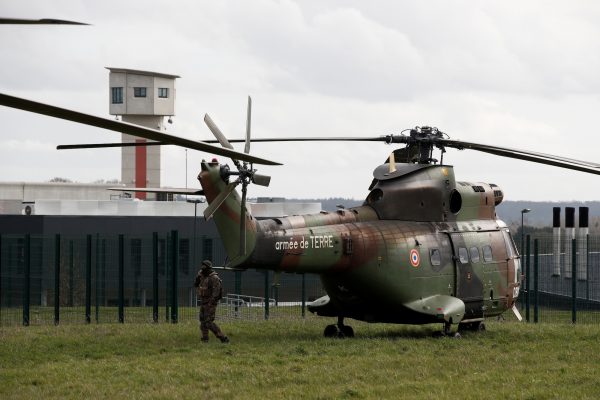 French authorities described the attack as a "terrorist incident."
After the stabbing, the couple then barricaded themselves in a family room at the Condé-sur-Sarthe prison in Normandy.
Ten hours later, the woman was shot when police stormed the room with stun grenades. She later died of her injuries, according to AFP.
According to the Times of London, she was pregnant.
Chiolo was convicted of armed robbery, kidnapping, and murder.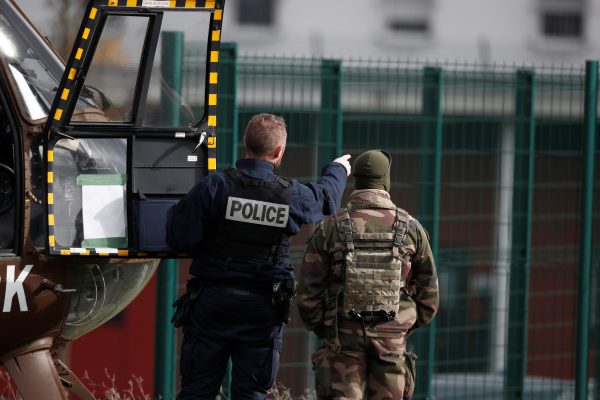 Counterterrorist prosecutor Remy Heitz said he was only slightly wounded in the encounter.
"(He) said he wanted to avenge Cherif Chekatt," Heitz told reporters. "He said he was wearing an explosive belt and threatened to use it." The belt turned out to be fake.
Cherif Chekat carried out the Strasbourg shooting attack in December.  The two men had previously spent 175 days in jail together, according to FranceInfo, and then continued to correspond by mail.
One of the guards was slashed in the face and back, according to local media reports, and the other suffered a serious abdominal wound.
The incident has heightened fears among French prison workers, who have already recently been protesting about the dangers posed by the hundreds of ISIS-aligned extremists in French prisons.
"We are angry and disgusted," said Yoan Karar, deputy secretary general of prison worker's union  SNPF.  "This kind of incident was expected to happen as they already happened in the past."
"I do not think that we can continue holding common law detainees and radicalized prisoners," he told NTD. 
"We are very worried about radicalized prisoners inside our jails. Today we are very worried about jihadis returning from Syria. Unfortunately, we have no solution."
Chiolo's lawyer said he met his partner while in prison and that he intended to marry her.
"He had written to someone after converting (to Islam) for them to find him a wife," the lawyer told AFP.
Justice Minister Nicole Belloubet earlier said she understood the prisoner was on a security agencies watch list of potential threats because of his suspected Islamist sympathies.
"There is no doubt about the terrorist nature of this attack," Belloubet told reporters.
She said an investigation was under way into how Chiolo's companion was able to smuggle a ceramic kitchen knife into the prison.
Chiolo was jailed in 2015 for choking to death an 89-year-old man, whom he and an accomplice had tied up during a burglary in 2012.
While in prison, he was convicted of publicly condoning terrorism, earning him an extra year of jail time.
According to The Times, while in prison Chiolo asked fellow inmates to "re-enact" an attack by ISIS gunmen on the Bataclan concert hall in Paris in November 2015.
Cholio is described by some reports as being fascinated by Nazism.
According to Le Parisien Cholio converted to Islam in 2010.
He was reportedly radicalized during his incarceration following the kidnapping and murder of 2012.
French prisons have been fertile breeding grounds for the spreading of radical Islamist ideas. Most of those responsible for a series of attacks that have hit the country in recent years had spent time in jail before striking, and radicalized inmates have repeatedly attacked guards.
Guards held three weeks of protests last January after one was attacked by a jihadi inmate at a high-security jail in northern France.
Reuters contributed to this report.