PARIS—As centrist French presidential candidate Emmanuel Macron made a visit Monday to Algeria, the country's former colony, his aides claimed that Russian groups are interfering with his campaign.
Offering no evidence, several Macron campaign officials blamed Russian media and Russian hackers for attempting to sway the results of the two-round French presidential vote that takes place on April 23 and May 7.
Campaign chairman Richard Ferrand told France 2 television that Russian state broadcasters were "daily" transmitting "fake news" about the French election and said Macron's campaign site and its databases had seen "hundreds or even thousands" of cyberattacks emanating from Russia.
Experts were not impressed by the vague hacking claims.
"The problem is defining what a 'cyberattack' is," said Gerome Billois, a cybersecurity specialist at Paris-based consulting firm Wavestone. "Today if you connect a computer to the internet, it will be 'attacked' hundreds or even thousands of times in the same hour."
Even if the officials were defining such attacks strictly, Billois said he would need to see far more evidence before linking the intrusions to Russia.
"We don't have the technical information to know whether that's really what's happening," he said. "Today it's really easy to usurp an internet address."
Macron, a 39-year-old former investment banker and former French economy minister, was received by Algerian Prime Minister Abdelmalek Sellal and Foreign Minister Ramtane Lamamra after arriving in the capital, Algiers.
Related Coverage
Macron praised the majority-Muslim country's efforts to fight terrorism during its 1990s civil war, saying that "Islam is not a terrorist religion."
He also declared that bilateral relations are "of fundamental importance." His visit will include a meeting with French citizens living in Algeria.
Macron is among the top candidates in France's presidential election, alongside Marine Le Pen, 48, the conservative National Front's leader. She made headlines Monday for criticizing minority communities who have protested on the streets over the alleged sexual assault of a young black man in Aulnay-sous-Bois by four police officers.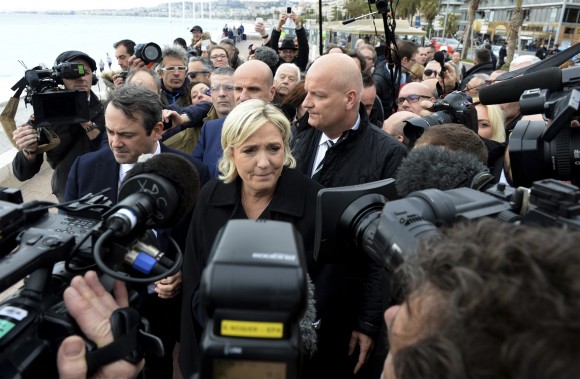 Le Pen paid also homage to the 86 victims of an attack last year in Nice, with a visit Monday to the city's famed seaside promenade where revelers were mowed down by a truck while celebrating Bastille Day, July 14, last year. That attack was claimed by the ISIS terrorist group.
The first French presidential ballot will take place on April 23 and the two top vote-getters from that go into a runoff on May 7.
Conservative Francois Fillon, 62, once the favorite to capture the Elysee Palace, has seen his popularity sink following an national embezzlement probe into paid—but allegedly fake—political jobs that he gave his wife and two children.
Others in the race include the Socialist Benoit Hamon, 49, and the leftist Jean-Luc Melenchon, 65. The current president, Socialist Francois Hollande, is so unpopular that he decided not to seek re-election.