NEW YORK—The eyes take in more than 7,000 orchids displayed in artistic patterns of flowing beauty while the nostrils are greeted by a variety of smells, including the sweet chocolate scent of the Oncidium sharry baby orchid and the light, sweet rose-like scent of Miltoniopsis orchid. A visit to the New York Botanical Garden's 10th annual Orchid Show is a treat for the senses to behold.
The exhibit was meticulously designed by award-winning French botanist and artist Patrick Blanc, who has created vertical gardens and "green walls" for 150 projects in 20 countries. Blanc's attention to detail has set this show apart from years past, according to Marc Hachadourian, curator of Orchids for the New York Botanical Gardens and manager of the Nolen Greenhouses.
Hachadourian—whom most just call "The Orchid Guy"—has put together the orchid show for each of the 10 years it has run at the Botanical Gardens. He gave The Epoch Times a tour of the exhibit on Friday, revealing how excited he was for this exhibit and in working with the world-renown Blanc.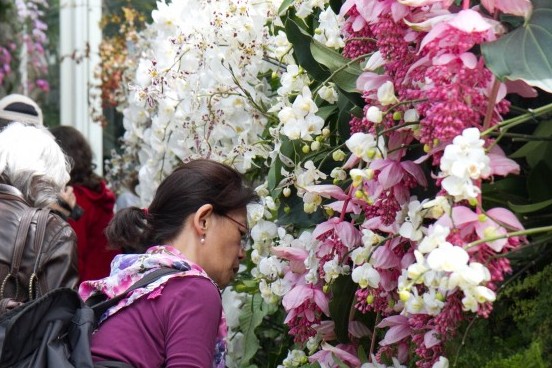 "I really like this year. It is beyond just coming to just see pretty blooms. This year is one of the most detailed in terms of design installation," Hachadourian said.
"Essentially [Blanc] is using these walls like giant canvases. He is painting the surface with plants." Hachadourian said.

Unlike a two-dimensional painting, the canvases Blanc creates are living and changing as the weeks move on. What started as small, tight plants, which Hachadourian described as having a "polka-dot feel" when the exhibit first opened on March 3, has filled out. Most of the flowers have grown six to eight inches in height and many of the flowers, which were just buds, have fully blossomed. Even the moss has filled in, hiding the structure they are attached to.

Hachadourian pointed out that none of that was by accident. Blanc is a research scientist at the French National Center for Scientific Research.
"With his background in science and knowing all the plant material, there is a reason things are where they are," Hachadourian said, adding, "A lot went into his designs other than 'I want a red thing here and a yellow thing there.' A lot of it was chosen on how it also feels in terms of the natural habit of the plant."

While people are used to seeing single orchids in a pot at the local flower store, Hachadourian said orchids are epiphytes, meaning they attach themselves to something else—usually a tree—to grow. Instead of keeping the orchids in pots, Blanc wrapped them in moss and placed them into the display walls. Consequently the orchids feel more at home, are growing quickly and even requiring less water than anticipated.
"They are not staked straight up like little soldiers in a row," Hachadourian said. He pointed to an Oncidium and said, "That is exactly what they would look like, hanging out of a branch of a tree in Brazil."
Visitors can enjoy the sights up close, admiring each bloom up close, or step back and enjoy the huge panels of flowers as a whole.
Hachadourian said while the exhibit is art, visitors can easily get it. "It is not a concept of abstract art that is beyond them. They can still appreciate the beauty of the flowers and the beauty of the design without having to take an art history class. There are no hidden meanings here. It is just about the beauty of plants and flowers."
The Orchid Show will be at The New York Botanical Gardens though April 22.