France's ambassador to Australia, Jean-Pierre Thebault, has suggested the decision to scrap an AU$90 billion submarine deal with France was politically motivated, according to local media.
His address to the National Press Club comes as bilateral tensions between Paris and Canberra soured this week after French President Emmanuel Macron, in an unprecedented move amongst allies, accused Prime Minister Scott Morrison of lying about Australia's intentions. Morrison denied this.
Australia in September cancelled a deal with France's Naval Group, which Paris said came without warning, opting instead to strike a deal with the United States and the United Kingdom for nuclear submarines.
The Daily Telegraph on Monday night reported that an anonymous source provided text messages as evidence to prove that Macron knew ahead of time that the submarine deal was in trouble.
"Macron messaged the Prime Minister to say that he was not available at the time Australia was seeking for a call and said, 'Should I expect good or bad news for our joint submarine ambitions?''' the Daily Telegraph reported.
According to The Daily Telegraph, Morrison dodged questions by Australian reporters in Glasgow about whether he or his office leaked the messages.
"What I will simply say is this. We were contacted when we were trying to set up the call. [The French President] made it pretty clear he was concerned that this would be a phone call that could result in a decision by Australia not to proceed," Morrison said.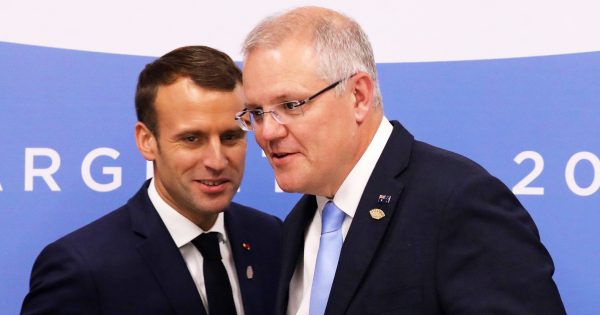 Morrison then, according to The Daily Telegraph, appeared to effectively confirm the accuracy of the leaked text message when he said that he had responded to it.
Meanwhile, addressing the National Press Club, Thebault said that it was "fiction" that Paris should have been "able to read in coffee grounds" to predict the cancellation of the Naval Group contract, the ABC reported.
Thebault questioned why Australia had "never consulted" France about a possible nuclear-powered option.
"Was there a hurry to jump into what is widely acknowledged is the total unknown, with so much spin, spectacular marketing, but no concrete answers?
"Maybe, as mentioned by [a] prominent and knowledgeable Australian specialist, there were the elections looming," he said, according to ABC.
Thebault was recalled to Paris in September in protest of the scrapped deal. He has since returned to Australia with a mission to determine the trustworthiness of Australia.
While acknowledging that Australia had every right to make deals in its national interest, the ambassador said that the way Australia handled the situation was "just out of this world."
He also questioned how any partner could "value of Australia's signature and commitment?" The Guardian reported.