BANGKOK – After exactly one month behind bars at the Bangkok Immigration Detention Center, Mr. Huang Guohua and his 4-year-old daughter Huang Ying have been released to resettle in New Zealand following negotiations by the United Nations High Commission for Refugees (UNHCR).
Father and daughter flew to Auckland the evening of January 15. Approximately 40 supporters came to see them off at Don Muang International Airport and held an impromptu press conference.
On December 15, Thai police arrested Huang, a Chinese citizen and Falun Gong practitioner, along with his daughter while they were demonstrating peacefully across from the Chinese Embassy in Bangkok. Six other practitioners were also taken into custody that day, including two other children. All of the children were eventually released. The detainees are all refugees officially recognized by the UNHCR, who came to Thailand to escape persecution for their beliefs in China, their homeland.
According to a press release, the demonstration at the embassy was to protest the forceful abduction and violent rape of two female practitioners by a Chinese police officer in Hebei province, China, and the arrests in Thailand were at the behest of the Chinese embassy in Bangkok.
While UNHCR officials and the New Zealand government helped to secure Huang's resettlement, local practitioners felt the Thai government should have done more.
"[The officials in] Thailand should have done the right thing and allowed the practitioners to leave as free people, not have the police escort them to the airport directly from detention," said 29-year-old Teresa Vilaidaraga, a Thai Falun Gong adherent and Bangkok resident.
"They did nothing wrong and were exercising their rights as individuals. Freedom of belief and right to a peaceful assembly are fundamental human rights. As a sovereign and democratic nation, Thailand should uphold this," added Vilaidaraga.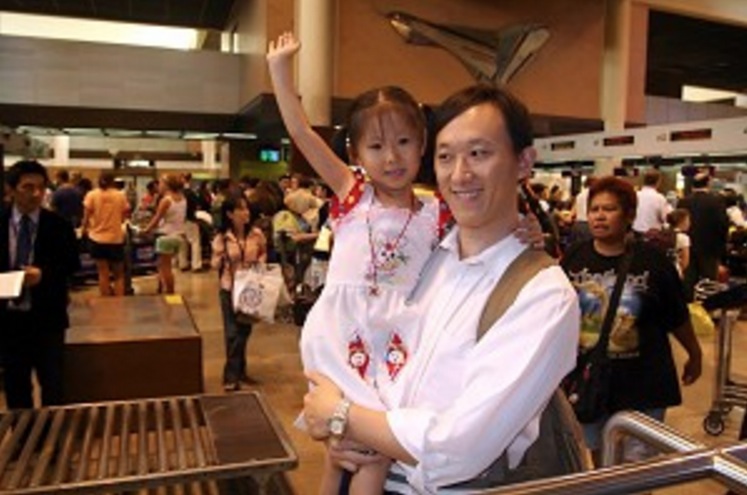 While Huang was very pleased to finally find a home again in New Zealand, he delivered a message similar to Vilaidaraga's at the airport press conference.
"I did not expect that [the] Thai government would so totally support the Chinese Communist Party fascist regime. For any individual, organization or country, whoever they are, cozying up to an evil regime is a pity and a shame… I hope that the Thai government can stand on the side of righteousness and bravely release the four Falun Gong practitioners still detained," he said.
Huang's experience of severe persecution and torture by Chinese authorities, including losing his wife who was three-months pregnant at the time of her death, has been well documented by several international human rights bodies including the UN Human Rights Commission.
Despite previous hopes that the UNHCR could secure their release in Thailand, the four Chinese practitioners who remain in custody have been given no indication by Thai authorities that they will be given their freedom on Thai soil. The UNHCR is currently seeking a home for them in a third country.