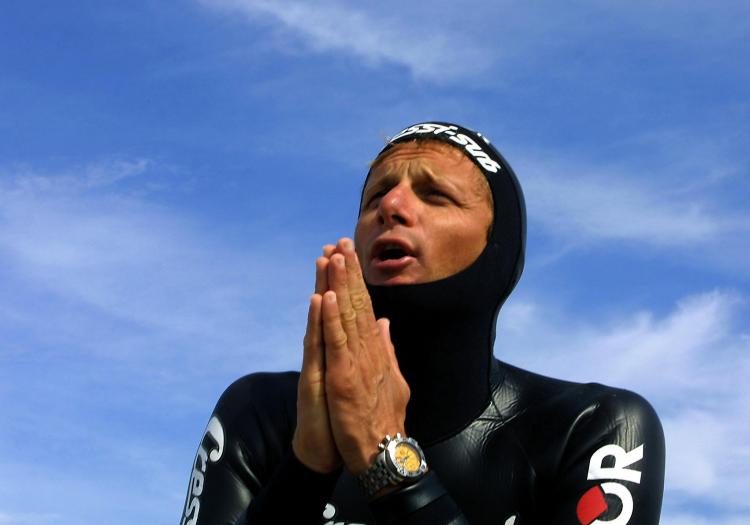 The 43-year-old Italian, Umberto Pelizzari, pushed the boundaries of human possibilities in an unbelievable way. He demonstrated one example of his abilities on July 9, 1991 in Hawai, where he held his breath under water for 7:02, setting a world record at the time.
How to describe Umberto Pelizzari most briefly? The biggest freediving legend in the world.
Freediving includes all kinds of underwater diving without the use of an oxygen tank, that is to say, holding your breath for as long as you can. The competitive discipline is dominated by competitive apnea, where the participants have to hold their breath for the maximum amount of time or dive to the greatest depth.
Pelizzari radiates modesty and serenity.
"Freediving competitions are like a friendly meeting. In such an atmosphere it's easier to achieve better performance," smiles Umberto.
He started with diving because, as he said, training for swimming became very boring to him. He learned swimming technique at the age of five. "I love just to walking by the sea, fishing or picking up shells. Now I'm done with competing, but I still feel freediving is my passion, my job, and what I like to do."
ET: You quit your sporting career when you were on the top. Have you ever thought about returning to this "business"?
UP: Yes, sometimes I think about it. Last year I was spending some time at the Red Sea for my clinics. At the same time there was an individual freediving championship taking place there and I found out that my performances are not very far from the best two to three top participants.
That is to say that sometimes I feel I want to return and compete again. I finished with accruing all the records in so many disciplines after so many attempts. There is actually no reason for me to start again. I quit when I was at the top. It was the most difficult way to stop, but also the most beautiful way.
ET: Do you have any kind of personal achievement you regard as most valuable?
UP: No, I love all my records, their stories; there is a great amount of training behind every one of them. The first one was absolutely important for me because it represented my entry into the world of freediving. So is the last one, because I finished my career as a sportsman with 150 meters dive in apnea no limits absolute variable weight. You probably know that 50m record was made by Enzo Majorca, 100m by Jacques Majol, and 150m record is mine. It makes an important point in a history of freediving.

ET: It is obvious that freediving is a very special sport. You yourself speak about humility, courage, determination, or deep concentration. It is not easy to learn these abilities and reach the standard…
UP: Freediving itself is not a simple matter. It is a moral discipline rather then a sport. It does not involve just your body, but also your mind. The mental part of this discipline is absolutely important. If you want to start with freediving, first of all try to relax, to breathe in a correct way, to reach a certain harmony with the water. Spend all of your free time in the water and get a stronger sensation of water.
ET: This sport or some of its disciplines could be viewed as very hazardous. Have you ever got in a situation that would put your life in danger?
UP: No. But I know that freediving can be dangerous. You should never freedive alone. I usually freedive with the top security conditions and this is what everybody has to do if one dives deep on his own breath. Freediving never really endangered my life and my team has never been involved in an emergency situation. I think that if you regard this issue seriously, if your safety team consists of high-level professionals, you can reduce a percentage of risk in this sport.

ET: In recent years, the competition became very tough. Is there any kind of doping for the freedivers?
UP: My personal opinion is: if you want to be a freediver, meaning a high-level freediver, you have to be 100 percent yourself. You have to believe in yourself. If the sportsman starts using dope, it means that he fails to be himself. In this sport, if you don't trust yourself, the base for your improvement is missing and you cannot reach a higher level. So this is why I think it's not necessary to use dope, because the mental part is much more important than the physical one. I don't think that medicine may help you in trusting yourself better.

ET: After your retirement you started to work as a reporter. How has this new job changed your life?
UP: I have been lucky in freediving and also in my work for a TV program. I basically just travel all over the world and present this program, so I visit and discover some of the most beautiful seas of the world. Naturally I have great experiences with a dolphins, sharks, whales—that's probably the best part of my job,
ET: And what was the most beautiful experience?
UP: It's the dolphins. They dive with you, and just like humans they have to come to the surface and breathe. Any diving is beautiful, because there is always some new sensation. When you dive with a whale you get shivers all over your body and all of a sudden you feel how little you actually are as a part of nature. Or being in the middle of sharks, I dived with the white sharks in South Africa and it turned out to be a very good experience.
ET: You are a founder of the Apnea Academy (academy for freediving instructors following his methods). Do you have students from all over the world? Is it possible for our readers to sign up and study there too?
UP: Yes, my academy has instructors from many countries. If you visit our Web site www.apnea-academy.com , you will find there the list of instructors, so people from basically any country can get in contact with them and learn how to freedive according to my philosophy.

ET: Thank you for the interview. We wish you the sea as tranquil as your mind.
Interested readers can check out the following Pelizzari freediving videos on Youtube:
http://www.youtube.com/watch?v=w3XL04xEXws
http://www.youtube.com/watch?v=fhyj2VZGcFw