A woman of a minority group from northern Iraq, the last remaining community of its kind in the world, is going back to find the men of the ISIS terrorist group who captured and tortured her.
Heiza Shankal was freed from slavery under ISIS in Raqqa, to find there were forces still trying to protect her hometown in Iraq.
Shankal spoke to media of her three-year captivity under ISIS before she was eventually rescued.
Like many women of the Yazidi minority group, Shankal was captured by ISIS when they invaded Sinjar, in northern Iraq. Thousands of Yazidis were massacred in brutal ways when ISIS took over Mount Sinjar in 2014—around 50,000 others fled into the mountains. The international community and the United States helped to airdrop supplies to the starving population, as they had no access to food and were surrounded by terrorists.
The ones that couldn't flee and weren't killed were kidnapped by the terrorists and held in a market where non-muslim women were sold as sex slaves. Shankal said she had more than one owner before she was liberated. She has now joined the military force that freed her to confront ISIS.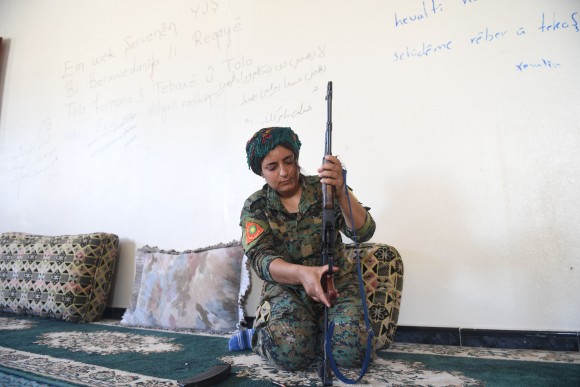 "I was surprised to see a military force for protecting Sinjar, so I decided to join the unit and take revenge," she told CBS.
She listed her captors by name—the ones she will be searching for on the battlefield. "I am carrying this weapon to take revenge on Abu Hassan, Abu Yusuf, and Abu Sa'ad, who tortured me and tortured many mothers."
The Yazidi practice a 4,000-year-old religion and once had communities across Iraq, Syria, Turkey, Georgia, and Armenia. They hold monotheistic beliefs that are said to have branched from ancient Zoroastrianism, along with elements of Christianity, Judaism, and Islam.
Many Yazidis have since fled into Kurdish controlled regions for protection, or other nearby areas that ISIS has not reached. Many also fled to Europe.
From NTD Television