Freed Activist Marks Tiananmen Anniversary in Canada
June 8, 2006 12:00 am Last Updated: June 8, 2006 12:00 am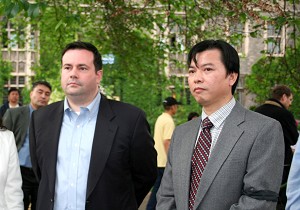 Seventeen years ago, Lu Decheng was jailed by the Chinese authorities for lobbing paint-filled egg shells onto the portrait of Communist Chairman Mao Zedong during the student-led democracy protests in Beijing in 1989. This week, just months after arriving in his new home in Calgary, Lu was on hand at the University of Toronto for a June 4 memorial for those killed in the state-ordered massacre that brought the '89 protests to a bloody halt. In his speech, Lu said the Chinese Communist Party (CCP) was the real barrier to democracy in China, as well as the biggest threat to the world's democracy and peace. Only when the CCP falls, he said, could atrocities like the Tiananmen Massacre be prevented in the future.
"Currently there is a very abnormal phenomenon: that is, merely talking about democracy without mentioning anti-communism; that is, merely talking about anti-totalitarianism without mentioning anti-CCP," Lu said.
He warned: "only when the iron house of CCP's totalitarian rule has been melted down can China take the first step of democratization, which is an important precondition for protecting the world's peace. This is because terrorism and totalitarianism are always brothers."
Lu called on Taiwan, Hong Kong, and Western democracies to be courageous in standing up to the CCP.
"Nowadays, many democratic countries are appeasing the Chinese Communist Party. It is like drinking poisonous water to quench one's thirst," Lu said.
Lu closed his speech by calling for the world to end its illusion about the CCP and strengthen cooperation in battling tyranny.
"Let us push down the last Berlin Wall in the world and have the equality and freedom bestowed to the nation of China," Lu said.
Attendees at the memorial included Conservative MP Jason Kenney, parliamentary secretary to the prime minister. In his statement, Kenney lauded those "who bravely stood for freedom in Tiananmen Square seventeen years ago."
"They were – and they are – living witnesses to the inalienable dignity of the human person, a dignity which no tank, no gulag, no power can destroy," Kenney said.
Kenney hailed Canada's generosity in providing a home for political refugees from China. He quoted the words of Conservative Prime Minister Brian Mulroney immediately following June 4, 1989: "Indiscriminate shootings have snuffed out the precious human lives, but they can never snuff out the fundamental urge of human beings for freedom and democracy."
The Tiananmen Square Massacre in the early hours of June 4th, 1989, capped off a month and a half of massive student-led protests in Tiananmen Square calling for increased political freedoms and press freedoms. After gaining the sympathy of many Beijing residents, the Central Government called in troops from other areas of the country to put down the protests. On June 4th, troops opened fire on the protesters, mowing others down in tanks. The Chinese regime has never made known the number of causalities, but estimates range from 2,000 – 5,000 dead.
Lu was already in police custody by the time of the massacre, having been arrested for defacing Mao's portrait in May, along with Yu Zhijian and Yu Dongyue – together called "three honourable men of Tiananmen." Yu Zhijian was sentenced to 20 years of imprisonment and Yu Dongyue was handed a life sentence. Both were released early thanks to international pressure, but Yu Dongyue has suffered a mental breakdown as a result of prolonged torture in prison.