ORANGE, Calif.—A free health clinic in the city of Orange has expanded its medical services for uninsured and low-income residents to include COVID-19 vaccinations, making it easier for them to get the shot if they desire.
The Lestonnac Free Clinic is preparing to inoculate up to 500 patients a day, depending on vaccine availability in Orange County. The program began earlier this month, when over 100 people were scheduled to receive the Moderna vaccine on the first day it was offered there.
Constance Klein, an elderly patient at the clinic, told The Epoch Times she felt fortunate to receive her vaccination that day.
"I actually like shots. I much prefer them to pills. You get it over with, and can just go about your day," Klein said.
Letty Rojas, the clinic's operations manager, told The Epoch Times the program had been added to the many other health care services the center provides to the needy on a daily basis, augmenting an already busy schedule.
"From one end of the clinic to the other, we also had regular patients coming in for their appointments, and doctors treating patients as they normally would. This, along with COVID testing, made for a productive day," said Rojas.
"We are always keeping busy here, but we stay organized. When you love what you do and you love your staff as much as I do, it does not feel like work—especially when you know you are doing what you are called to do."
She said the clinic is able to provide free services thanks to the contributions of many, including medical professionals and Orange County officials.
"We have a lot of volunteers giving out the shots, and we have the county that was generous enough to donate the shots to us to be able to give the vaccines," Rojas said.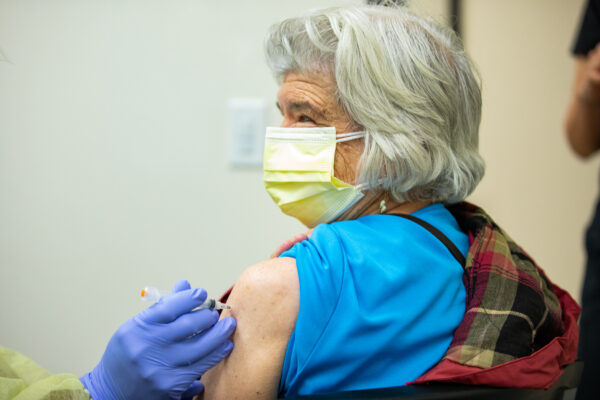 Thinking About the Future
Executive Director Ed Gerber, who has been with the clinic for 27 years, said he first became connected with the clinic while looking for treatment for his young son.
"I was afraid to come and ask for help—I know many people today are afraid to come and ask for help—but when I got here, all those fears were relieved, because I was treated with such dignity and respect. And nobody made me feel like I was getting something handed out to me," Gerber told The Epoch Times.
"So they took care of my son, and then said on top of that, 'You know, be assured that your wife and you can come here if anything goes wrong. It's like, we are now your medical home.' And that made me feel very warm inside."
The clinic was founded in 1979 by Sister Marie Therese, a member of the Sisters of the Company of Mary, after she noticed that many people in her under-served community could not afford health treatments, including mothers about to give birth. Ten years later, Carl Karcher—founder of the Carl's Jr. fast food restaurant franchise—raised money for the clinic's 8,000-square-foot home base.
"Carl thought about the future," said Gerber. "And if this clinic was to grow, Carl's notion was to have your own rent-free space. So he was good about donating the money and raising the money to buy this building that we're in."
Gerber said the company gets no support from the state of California for what they do; physicians, dentists, and mental health providers all volunteer their time. "Everything that we do is purely from the generosity of private funders," he said.
In order to receive treatment, a patient needs to be uninsured, a resident of Orange County, and entered into the clinic's system prior to making an appointment. Along with COVID-19 treatments, the clinic also provides all forms of health care, including women's issues, life-saving surgeries, and epilepsy treatments.
"This free clinic has become a gem to the county of Orange," said Gerber. "The impact on the community is … amazing. And you know, I think as a community, this clinic shows what people working together can do to make a difference."
For more information or to schedule an appointment, visit www.lestonnacfreeclinic.org