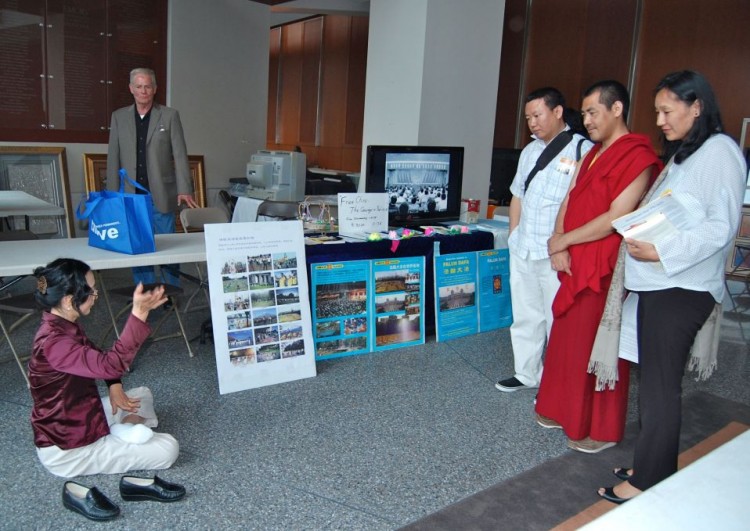 ATLANTA—The documentary Free China: The Courage to Believe made its Atlanta debut at the Global Humanitarian Summit at Emory University on April 15. The screening was met with applause, and followed by a discussion that lasted well over an hour.
The film examines human rights inside China through the remarkable true stories of Jennifer Zeng and Dr. Charles Lee, a Chinese-American businessman.
In addition to both being members of the Chinese Communist Party, Lee and Zeng are also Falun Gong practitioners who survived detention and torture. In the film, they each describe the abusive treatment they endured, designed to force them to renounce their spiritual beliefs. Both of them also spoke about the government propaganda campaign that serves to justify the violent suppression of a peaceful, traditional spiritual practice guided by the principles of truth, compassion and forbearance.
Bringing the issue closer to home, the documentary named U.S. corporations that import products made by prisoners in China's labor camps. The film offered a window into China that Americans haven't seen, and prompted several questions.
One audience member wanted to know how companies could be held accountable for this unlawful behavior. Another asked for specifics about the Communist nation's one child policy and its resulting forced abortions. A third person commented on the gruesome practice of the Chinese government using organs harvested from unwilling prisoners of conscience.
Dr. Frank Xie, assistant professor of marketing at the University of South Carolina-Aiken, moderated the discussion. He said that, since the persecution began, more than 114 million people have resigned from the Communist Party and its affiliated organizations. Xie said that when he met Zeng and Lee, he was deeply moved by their compelling stories. He also described how and when the first witness to forced organ harvesting in China recalled what he had seen in a military hospital.
In the last row, a group of young Chinese people sat together. A man from this group introduced himself and his wife as Chinese doctors affiliated with Emory. He did not believe the facts presented in the film, and offered criticism of Falun Gong that was remarkably similar to government propaganda.
The man argued that there are two sides to every story, and complained that the film did not address what he called the bad side of Falun Gong.
"You are here in this free country. You have access to information you cannot see in China. Do some research, and then decide for yourself," replied Xie with a smile.
Xie said that Falun Gong books are available for free download, and encouraged the doctor to read it to get a fair and true picture of the practice.
One audience member remarked that the idea that there are two sides to every story reminded her of Holocaust denial. She said that when people claim the historic German genocide against Jews did not happen, it shows that factual truth can sometimes meet with an evil lie.
As the discussion ended, audience members left for the exhibit area, where a group of Tibetans visited the Falun Gong table. Emory has a program to teach science to Tibetan Buddhist monks, and they are often seen on campus, wearing traditional red robes. They watched a demonstration of the Falun Gong exercises, and asked questions about the practice.
Free China premiered at the 2012 Palm Beach International Film Festival April 14–16. According to director Michael Perlman, festival organizers told him that the Chinese consulate in Houston repeatedly asked them not to show the film.
"I am grateful that the festival has stood strong, citing the First Amendment rights of all Americans and has refused to cave in to Chinese Communist government's demands," said Perlman, quoted on the film's website.