France will invest 3.6 billion euros ($4.2 billion) to renew and upgrade its military satellites to shield its network from potential spying by rivals, its defense minister said on Sunday, Sept. 9.
"We will install surveillance cameras on our satellites so we will know who is approaching us," Defense Minister Florence Parly said on French TV station CNews.
France last year detected attempts by Russia to intercept transmissions from a military satellite used by the armies of France and Italy for secure communications, Parly said on Friday.
The French investment plan comes weeks after U.S. President Donald Trump announced a plan to create a Space Force, a new branch of the U.S. military by 2020.
'American Dominance in Space'
President Donald Trump signed an executive order on June 18, which directed the Department of Defense to create the new military branch focused on defense and security of space.

During the signing, Trump stated that America's "destiny beyond the earth is not just a matter of national identity, but also a matter of national security."
"When it comes to defending America, it's not enough to merely have an American presence in space," Trump said. "We must have American dominance in space."
France Renews Focus on Military
Parly also said the French government was evaluating the construction of one or two aircraft carriers to replace its existing one.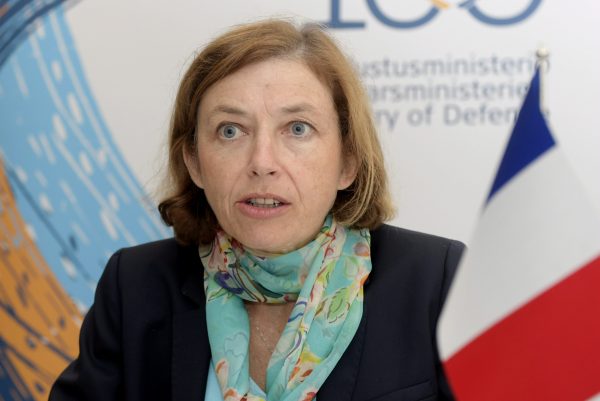 French President Emmanuel Macron signed into law on July 13 a new multiyear spending plan that increases military spending by over 40 percent, according to Defense News.
In line with the new plan, expenditures on the armed forces will go up from 34.2 billion euros ($42 billion) in 2018 to 50 billion euros ($57.9 billion) in 2025, France24 reported.
The move would take France's current defense budget from 1.82 percent of GDP, and bring it up to the NATO target of 2 percent.
Trump has called on European NATO members to relieve the burden on the United States, which currently foots about 70 percent of combined NATO defense spending.
A portion of France's increased military spending will be spent on replacing ageing armored personnel carriers, adding more refueling aircraft and ships, and upgrading France's nuclear arsenal, according to France24.
Troops are also expected to benefit from more funding, with better training and new equipment, including new bullet-proof vests and night-vision goggles.
Compulsory Military Service
The French government also announced in June that it will reintroduce national service for teenagers, in an effort to build social cohesion and national pride.
Called the universal national service, the scheme is a diluted version of the military service that French President Emmanuel Macron promised during his 2017 election campaign. According to French news network France24, Macron saw it as a major project to allow the country's democracy "to be more united and increase the resilience of our society."
Compulsory military service in France was phased out in 1996 under former President Jacques Chirac.
Macron, who was 18 years old at the time, is the first French president who has not done military service.
Epoch Times reporter Jane Gray and Reuters contributed to this report.