French Prime Minister Edouard Philippe has announced plans to punish people who hold unauthorized protests after weeks of anti-government unrest, including acts of violence.
Philippe made the comments on TF1 television after rioters in Paris's upscale Boulevard Saint-Germain torched motorbikes and set barricades ablaze on Jan. 5.
His government wants to draft new legislation similar to that used to combat football hooligans. The new law would ban troublemakers—who Philippe called "casseurs," or thugs—from protests and crack down on people at demonstrations who conceal their faces with masks.
"We need to preserve the right to demonstrate in France and we must sanction those who break the law," Philippe told TF1 television.
"That's why the government favors updating the law in order to sanction those who do not respect this obligation to declare protests, those who take part in undeclared protests, those who arrive at protests with balaclavas."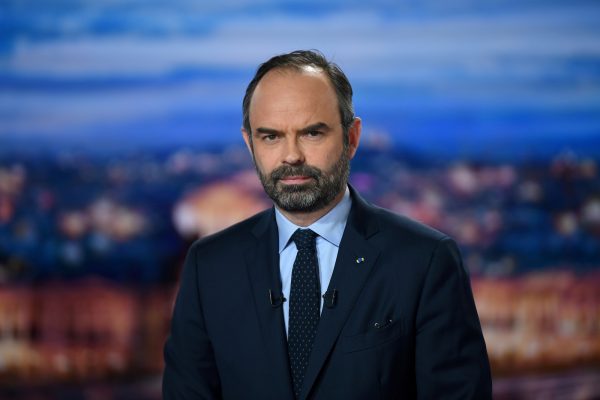 Philippe said 80,000 members of the security forces would be deployed for the next expected wave of protests, adding that "those who question our institutions will not have the last word."
Marred by Violence
Unrest in Paris this past weekend saw rioters starting fires on the prestigious Boulevard Saint Germain, engaging in running battles with the police, and running a forklift into a government building to smash down its gates.
⚡SUIVI – Les images de l'engin de chantier qui a défoncé la porte du ministère tournent sur les réseaux sociaux. Le porte-parole du gouvernement Benjamin #Griveaux a été évacué au moment des faits. (📹NC) pic.twitter.com/8cJyXTdRmf

— Brèves de presse (@Brevesdepresse) January 5, 2019
A video shared on social media shows someone driving the forklift at speed toward the gates of the building, while a small crowd cheers as the gates are broken open.
Ils utilisent un engin de chantier pour défoncer la porte de Benjamin G… https://t.co/KRP3ddTGsd via @YouTube

— Helalfehmi (@helalfehmi) January 5, 2019
The incident forced government spokesman Benjamin Griveaux and his aides to be evacuated, according to The Local.
"I was at my department this afternoon when 'yellow vests' smashed the gate with a construction machine found in the street," Griveaux was quoted as saying, before adding, "They also broke some windows and the ministry's cars are unusable."
Disturbing footage emerged showing police beating protesters in the southern city of Toulon, with multiple media reporting that the incident is now under investigation for brutality.
Mobilisation des #GiletsJaunes :

Un commandant de police filmé en train de frapper des manifestants à #Toulon

Le préfet du Var saisit l'#IGPN #LE20H pic.twitter.com/kBcsNbi3ZP

— TF1LeJT (@TF1LeJT) January 6, 2019
Protesters demonstrated in multiple French cities over the weekend, with the BBC estimating that around 50,000 people took to the streets across the country.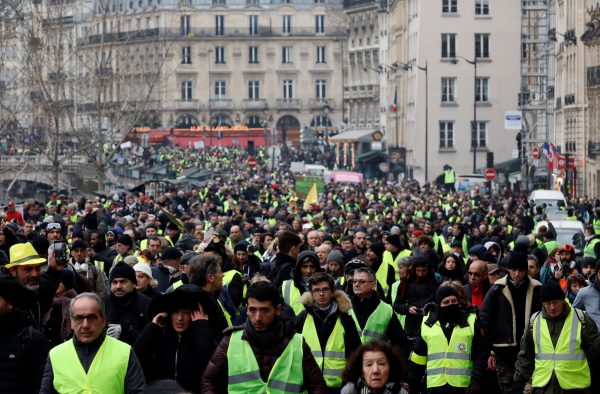 French President Emmanuel Macron posted on Twitter his condemnation of the weekend's most violent incidents, decrying "extreme violence" against "the Republic, its guardians, its representatives, and its symbols."
Une fois encore, une extrême violence est venue attaquer la République – ses gardiens, ses représentants, ses symboles. Ceux qui commettent ces actes oublient le cœur de notre pacte civique. Justice sera faite. Chacun doit se ressaisir pour faire advenir le débat et le dialogue.

— Emmanuel Macron (@EmmanuelMacron) January 5, 2019
French Sen. Bruno Retailleau welcomed the prime minister's announcement of the new legislative proposal, writing on Twitter that "hooded" troublemakers who took part in protests "must be severely punished."
Republican party head Laurent Wauquiez wrote in a tweet that the move was too little, too late, as it would not take "immediate effect."
He added his party proposed over a month ago that a state of emergency be imposed, lamenting that the call remained unheeded as "the situation degenerates."
Who Are the 'Yellow Vests'?
Protests against a new fuel tax erupted on Nov. 17 when people across France took to the streets to voice their opposition by organizing traffic blockades.
The protesters have been dubbed the "gilets jaunes" ("yellow vests") because they don high-visibility vests mandated by French law to be carried in every vehicle.
Members of the movement cut across age, region, and social class. One thing they all initially seemed to have in common was reliance on cars to get around, many living away from the high-cost urban heartland.
The protests have since morphed into a broader expression of discontent with government policies, seen as favoring the needs of "elites" over those of "ordinary citizens."
Members of what has been called a "leaderless movement" have mainly organized via social media, online petitions, videos, and calls to action. Lack of clear leadership of the "yellow vest" movement has fueled concern that it might be infiltrated or hijacked by violent radicals.
At least six people have died and at least 1,400 have been injured in the unrest.
Reuters contributed to this report.