French people working in the medical sector are required to be vaccinated against the CCP virus or risk a suspension from their jobs without pay under President Emmanuel Macron's new vaccine mandate that went into effect on Sept. 15.
Two months ago, Macron ordered hospital staff, ambulance technicians, nursing home workers, doctors, fire brigade members, and people caring for the elderly or infirm in their homes—some 2.6 million employees in total, to get a COVID-19 vaccine by Sept. 15, though hundreds of thousands haven't yet complied with the new rule.
According to the country's health authority, 300,000 French employees active in the medical field aren't vaccinated and some hospitals fear staff shortages will add to their challenges, The Associated Press reported. It isn't clear if those workers will be fired immediately as a top court has forbidden staff to be laid off outright.
Health care workers who have received only one dose of a vaccine will have to take a COVID-19 test every three days until they have completed their second dose—Oct. 15 is the deadline for both vaccines to be administered.
As of Sept. 7, about 84 percent of staff in care homes and health care facilities had received two vaccine shots, according to the French government.
Firms and employers are subjected to penalties if they fail to comply with Macron's order and receive fines of $160 (135 euros) that can climb to $4,430 (3,750 euros) after being fined three times in one month, Les Dernières Nouvelles d'Alsace reported. The penalties can also be accompanied by six months in prison.
'It's Not Ethical'
Emmanuel Chignon managed to keep his nursing care home in western France running through the worst of the CCP (Chinese Communist Party) virus pandemic, but now he's confronting a new crisis: staff who would rather quit than comply with a government mandate that they be vaccinated.
"We feel like we're living through a third wave, but this time it's a human resources wave," Chignon said Sept. 14 at the nursing home he runs in Bordeaux, southwest of Paris.
Chignon explained that Macron's new rules will leave him short of staff to care for residents: six or seven staff hadn't had their shots by the time the mandate took effect, so would have to be removed from the work schedules.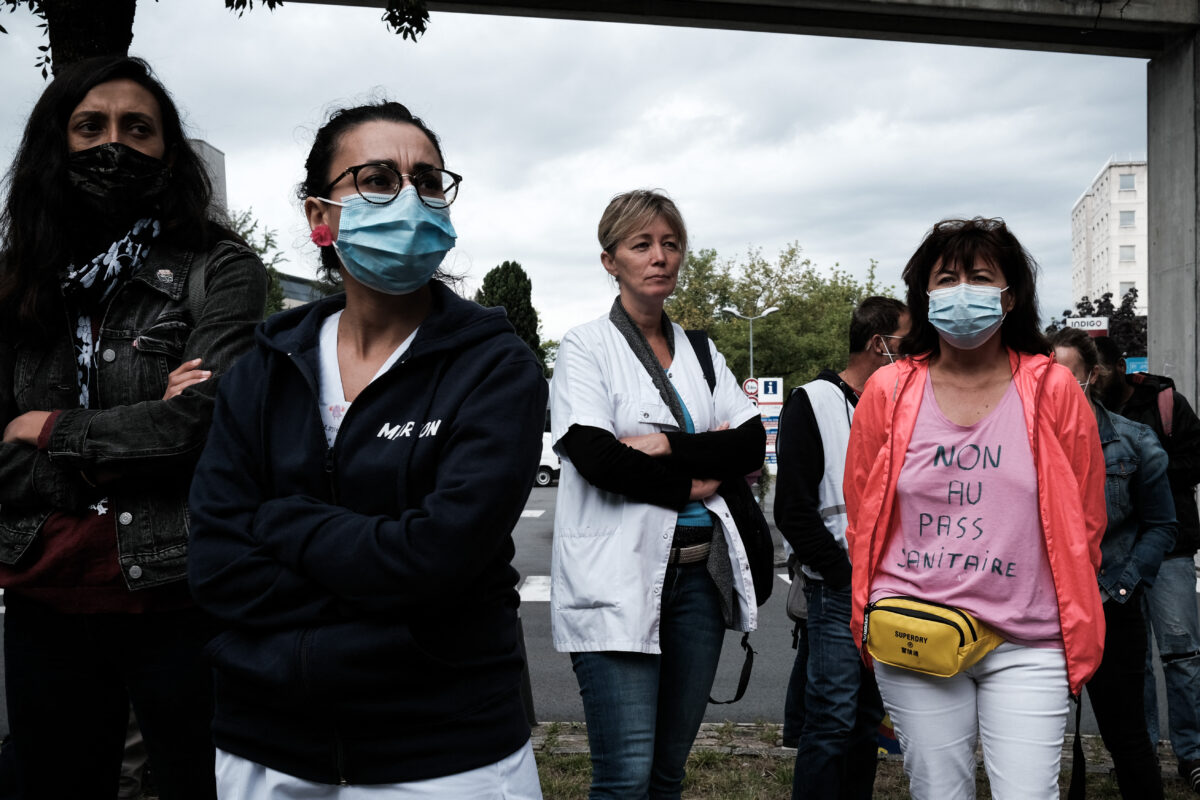 Vanessa Perotti, a health care worker at "Hopital Beaujon" in Clichy, a working-class Paris suburb, is also among workers who decided not to get vaccinated and instead quit her job in the medical field.
"I'm disgusted. In any case, there's nothing I can do. I just have to accept it," she told Reuters during a union-led protest.
"I'm not going to force myself to get injected with something just to work," said Perotti. "Maybe it's harmful, maybe it's not, but I don't want anyone to impose it on me. It's not ethical, we're free to do what we want with our bodies."
'No Health Pass'
The vaccine mandate and France's "health pass" system prompted massive protests for nine consecutive weekends, with another demonstration on Sept. 15 in Paris.
The French Ministry of Interior said that 120,000 people joined the latest nationwide protests, France24 reported. Last week, about 140,000 demonstrated.

The vaccine passport, which is dubbed a health pass by the government, is required by people to enter restaurants, clubs, and a number of other public places. While some media outlets have attempted to characterize the demonstrations as "anti-vaccine," many protesters have said they're against vaccine passports and mandates, not the vaccines themselves.
"Whether we're vaccinated or not, we're against making it compulsory," a nursing assistant in her 50s, who wished to remain anonymous, told AFP.
Vaccine passports have been flagged by a variety of organizations, including civil liberties groups, as creating a two-tier society of vaccinated and unvaccinated.
Jack Phillips and Reuters contributed to this report.
From NTD News