NEWPORT BEACH, Calif.—Though complaints about short-term rentals in Newport Beach had led to more regulations, the city still doesn't yet know how to deal with fractional homeownership—a new and growing trend where multiple individuals pool their money together to buy a shared home that each of them can use throughout the year.
Many Newport Beach residents have complained about short-term rental operations due to loud noises, partying, trash, and other issues related to their tenants, who are largely out-of-town visitors.
The complaints prompted the city to impose new regulations on short-term rental since October, including a minimum three-night stay requirement, a cap of 1,550 citywide short-term lodging permits, and a new minimum tenant age of 25.
However, for months, nothing has been done about fractional homeownership, though its emerging issues were brought up in a city council meeting back in November.
There are several companies specialized in facilitating fractional homebuying, with Pacaso as a prominent example.
With Pacaso's model, the company acquires a house, markets it on the multiple listing service, and establishes a limited liability company (LLC) that owns the house. The house can then be sold to between two and eight buyers who—as a group—retain 100 percent ownership, and Pacaso is employed as a property manager to streamline the experience.
While it's unclear how many houses in the city are under fractional ownership, 56 percent of single-family homes in the city are owned by an LLC or trust, according to the city.
This new type of homebuying is becoming more popular among people wanting to purchase a second home, since it allows them to spend less money by splitting the cost with other co-owners.
While co-ownership makes second-home-buying more affordable and cost-effective, some people are not so happy with it.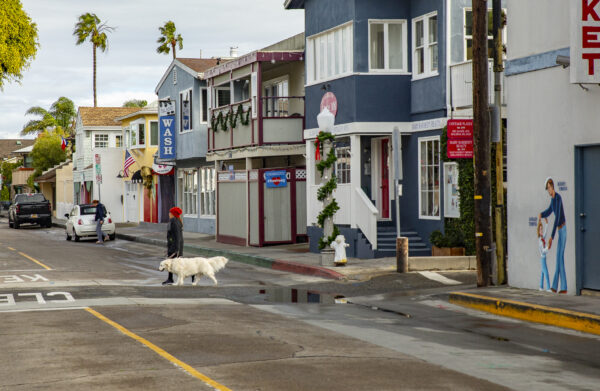 In Newport Beach, neighbors have made frequent complaints about the noise, parking, and party-style behavior coming from people occupying the co-owned houses.
Despite the co-owners having property ownership over such homes, councilmembers said many people compared fractional homeownership to short-term rentals since the growing complaints in the city about these two types of home occupancy have been similar.
"We didn't know there were problems with short-term rentals until they became very prolific," Councilwoman Joy Brenner said during the November meeting. "I'm already getting complaints from some people about [co-owned homes]. … They're behaving like short-term rentals, and there's a lot of coming and going and … a lot of noise."
Brenner said the council should be more "proactive" about the issues surrounding fractional homeownership and "certainly look at every protection that we can offer to our residents in the future."
One member of the public said that because co-owners can choose to stay for only a short period of time—as little as two days—the operation of home co-ownership is indeed similar to that of short-term rentals.
"There is an app where you book no more than two weeks at a time," said Russell Doll, a Newport Beach resident who lives next to a Pacaso-managed house, during public comment. "So these are short-term stays, it starts to behave like a mini hotel, people check in, people check out, you have a lot of turnover. … It's not only eight people, it's the extension of their friends and family that then occupy these properties."
Other public commenters who co-owned a home through Pacaso said they have been very pleased with the experience and try to be great neighbors when they're visiting their property.
Ellen Haeberle, a representative from Pacaso who spoke to the city council during the November meeting about how their system works, said the operation of fractional homeownership is much different from that of short-term rentals, where homeowners in Newport Beach need to have a business license and rental permit in order to rent out their property to short-term tenants.
"The families that we serve are owners, not vacation renters, these co-owners make a large financial investment in their home and return to their home throughout the year just like any other second homeowner," she said.
Haeberle also said the company takes neighbor relations very seriously and has been enforcing good neighbor conducts that go beyond the city's own ordinances, including quiet hours between 9 p.m. and 7 a.m.
"Each home is supported by a local home manager," she said. "We have one dedicated to Newport Beach, who is available to neighbors seven days a week. And if Pacaso learns that policies have been violated, we take action, and our owner agreement gives us the right to suspend owner stay rights as an enforcement mechanism."
While Pacaso is only a little over a year old, the company said it has had minimal complaints from neighbors.
When purchasing a fractional home, all co-owners must also agree to a code of conduct, which prohibits holding large events or parties or renting out the property for any length of time.
On the other hand, while co-owners are not allowed to rent out their shared property, their friends and family are allowed to use the house without any co-owner on site.
Co-owners can also choose to part ways with Pacaso and opt for another company's management service, or they can manage the property sharing themselves.
Councilman Noah Blom said during the meeting that he was concerned about how far the city should go in potentially banning fractional ownership.
"In this regard, I don't see four to eight owners of a single house really destroying our city. I feel like those people have actually put in $500,000 or a decent amount of money, but [this type of ownership] is not ideal, I get it," Blom said.
He also noted that this way of getting a vacation home may just be the way of the future though traditional homeownership is easier for the city to regulate.
"We would love it if it was a single-family owner for every house, and that's the old way," Blom said. "But I also think that we have to look towards what the reality of the future may be. And a lot of people that are trying to create this life for themselves and maybe this is the best way they get to do it."
At this point, the city hasn't taken any further action on the matter.
John Pope, the city's public information manager, told The Epoch Times via email that the council so far has no current plans to discuss the issue in upcoming meetings.