Fourth of July Fireworks Moving to the East River in NYC
April 14, 2014 7:34 pm Last Updated: April 15, 2014 6:55 am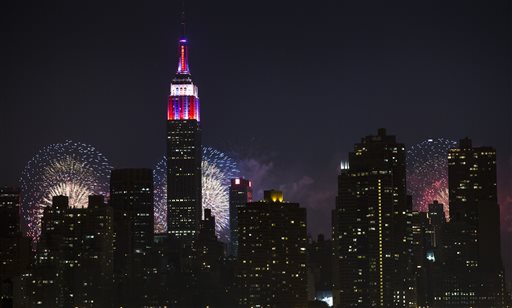 NEW YORK—The annual spectacle of light, color, and explosions will return to the East River this Independence Day thanks to an extra push from Mayor Bill de Blasio.
For the first time ever, part of the artillery will be launched from the Brooklyn Bridge. The rest will launch from three barges in the East River.
Macy's, the show's organizer, moved the fireworks to the Hudson River in 2009 to commemorate 400 years since Henry Hudson's voyage there. The show remained there till last year.
As public advocate, de Blasio and several other officials had called for the fireworks to move back to the East River. They argued that the Hudson River made it easy for New Jersey and Manhattan residents to view the show, while leaving out the other boroughs.
"What this means, the fact that the fireworks come back to the East River, means that countless more New Yorkers will now be able to enjoy what is really the greatest annual fireworks show in the country," de Blasio said at the Brooklyn Heights Promenade on Monday.
Macy's plans to alternate the location of the fireworks show between the two rivers every year. De Blasio nevertheless indicated that he will continue to push for the fireworks to stay on the East River.
The number of July Fourth fireworks displays is split almost evenly between the two rivers over the decades, according to Amy Kule, executive producer of Macy's 4th of July Fireworks.
"When asked to move to the East Side we thought, what would that look like? How can we make it bigger and better? And not just move the barges but tell a completely different story. And no story could be told without using this awesome Brooklyn Bridge as a canvas," Kule said.
The Brooklyn Bridge will be shutdown at least for the duration of the fireworks. Kule's team has been walking the bridge to determine launch locations.
This year marks the 200th anniversary of "The Star-Spangled Banner," the U.S. national anthem. The fireworks theme will reflect the symbolic birthday.
"I have a view at my place that we haven't seen fireworks from since whenever they stopped," said Anna Dunbar, a Williamsburg resident. "Amazing! It's about time that New Yorker's get to see the fireworks."
"I'm really looking forward to it because I've heard great things," said Nick Taylor, 56, who moved from London to a Brooklyn apartment with waterfront views eight months ago.
"I'm a photographer as well so I'm looking forward to that aspect," Taylor said.
For some long-term residents, the excitement of the fireworks has faded with time.
"I've lived here for some 60 years and I've seen so many fireworks," said Robert Morrisey, 87. "So, whatever."