Four Supreme Court justices were absent during President Joe Biden's State of the Union speech on Tuesday night in front of both houses of Congress.
A review of footage of the area where Supreme Court justices sat during the speech show that Justices Sonia Sotomayor, Clarence Thomas, Neil Gorsuch, and Samuel Alito weren't present. Sotomayor was appointed by former President Barack Obama, whereas the other three were appointed by former Presidents George H.W. Bush, Donald Trump, and George W. Bush, respectively.
There were no public comments from the court or the individual justices about why they did not attend the event. The Epoch Times has contacted the Supreme Court for comment.
In Thomas's case, the longtime justice has not been to any State of the Union speech since 2006. Thomas in 2010 explained his reasoning why during a speech to students.
"I don't go because it has become so partisan and it's very uncomfortable for a judge to sit there," Thomas said at the Stetson University College of Law in Gulfport, Florida, in 2010, reported the Washington Examiner. "There's a lot that you don't hear on TV."
Justices Brett Kavanaugh, Elena Kagan, Amy Coney Barrett, and Ketanji Brown Jackson were in attendance. Chief Justice John Roberts also attended the event.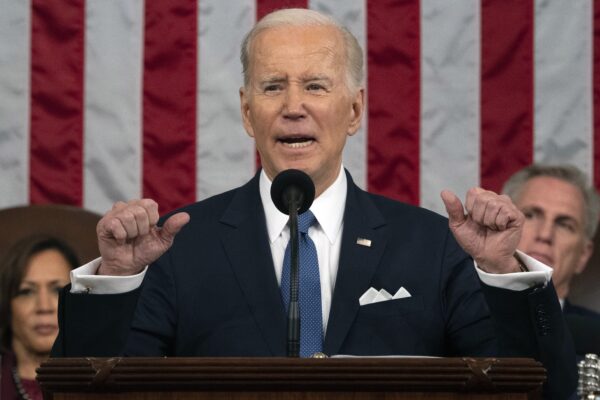 Biden looked at Roberts during the speech and attempted to make a joke that the justice should issue a "court order" to allow him to attend the Super Bowl with First Lady Jill Biden later this month. "By the way, chief justice, I may need a court order. She gets to the game next week, I have to stay home. We have to work something out here," he said.
During his speech, Biden again called on Congress to pass legislation that would legalize abortion at the federal level and to "codify" Roe v. Wade. Last summer, the high court overturned the ruling, triggering numerous attacks on pro-life and pregnancy centers across the United States that led to the FBI issuing a $25,000 reward for information about those attacks.
"Congress must restore the right the Supreme Court took away last year and codify Roe v. Wade … the vice president and I are doing everything we can to protect access to reproductive health care and safeguard patient privacy," Biden said Tuesday. "Make no mistake: If Congress passes a national abortion ban, I will veto it," he added.
After the speech, a reporter captured footage of Biden speaking with Kagan, telling her: "Sorry you guys had to sit there."

Biden sought to to portray a nation dramatically improved from a year ago, claiming the U.S. economy is now prospering. Arkansas Gov. Sarah Huckabee Sanders, who gained a national profile as former President Donald Trump's press secretary, gave the GOP response to the president's speech.
The speech came days after Biden ordered the military to shoot down a suspected Chinese spy balloon that flew brazenly across the country, captivating the nation and serving as a reminder of tense relations between the two global powers. Republicans and some Democrats had called on the U.S. military to shoot down the aircraft last week.
"Make no mistake: As we made clear last week, if China's threatens our sovereignty, we will act to protect our country," Biden said. "And we did."
The Associated Press contributed to this report.