Iraqi and U.S. officials confirmed at least four missiles landed near the U.S. Embassy in Baghdad, Iraq, on Saturday night.
Three Katyusha rockets "landed inside the Green Zone," a heavily fortified area that includes the embassy, and the fourth Katyusha rocket "fell in the crowd's logistical support headquarters next to the Police College building on Palestine Street," said Iraqi security officials in a statement.
The fourth rocket caused "severe wheel damage," the officials said. No casualties were reported.
A U.S. military spokesman for the anti-ISIS coalition in Iraq confirmed that small rockets were fired at the "international zone" area at around 3:24 a.m. local time.
"No casualties. Investigation ongoing," said Myles Caggins, the spokesman, on Twitter. Further details were not provided by him or Iraqi officials.
The Coalition confirms small rockets impacted the Iraqi base hosting @CJTFOIR troops in the International Zone, Feb. 16 at 3:24 a.m. (Iraq Time). No casualties. Investigation ongoing. Follow @OIRSpox & @SecMedCell for updates.

— OIR Spokesman Col. Myles B. Caggins III (@OIRSpox) February 16, 2020
The rocket attack is the latest in a series of incidents involving Iraqi military bases housing U.S. troops. Last week, a missile was fired at the K-1 base in Kirkuk, Iraq, causing no injuries or deaths.
سقوط ٤ صواريخ نوع كاتيوشا في العاصمة بغداد ليل أمس، حيث سقطت ثلاثة منها داخل المنطقة الخضراء، فيما سقط الرابع في مقر الدعم اللوجستي للحشد الشعبي بجانب بناية كلية الشرطة في شارع فلسطين، مما ادى الى اضرار بعجلة وخيم ومواد احتياطية، دون خسائر بشرية.

— خلية الإعلام الأمني🇮🇶 (@SecMedCell) February 16, 2020
And in early January, Iran claimed responsibility after a barrage of missiles was fired at two airbases holding U.S. troops, causing minor brain injuries to more than 100 soldiers, according to the Pentagon. It came after the United States authorized the killing of top Iranian commander Qassem Soleimani, who was traveling near the Baghdad airport, days earlier.
Top White House officials said Soleimani was plotting attacks on American assets in the region while adding that forces loyal to him in Iraq killed an American contractor in late December.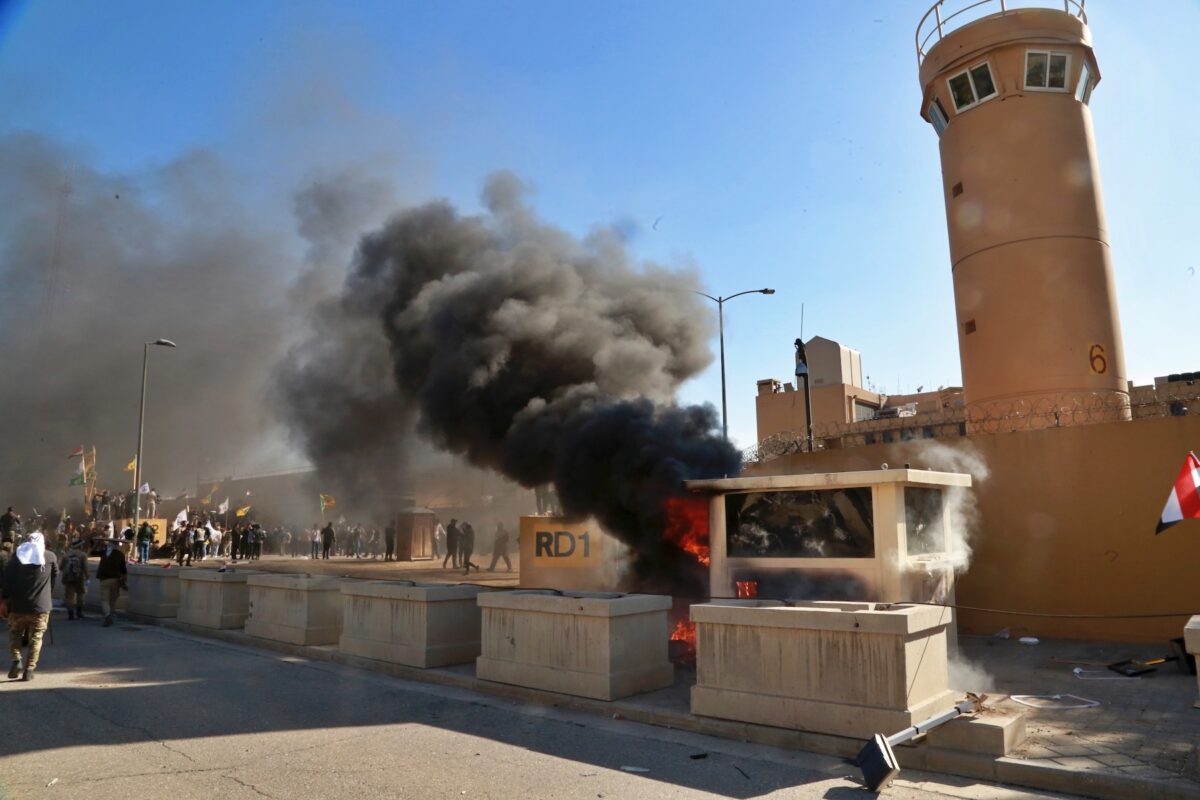 Iran-backed militias also attempted to storm the U.S. Embassy in Baghdad ahead of the Soleimani airstrike. Photos also suggested that those fighters were attempting to set the facility on fire, and photos showed them waving flags belonging to Iran-aligned terrorist group Kataib Hezbollah.
Last year, the U.S. State Department designated the Iran Revolutionary Guards Corps, Soleimani's Quds Force, and Kataib Hezbollah all as terrorist organizations.