British police arrested four protesters for breaching CCP virus restrictions on Monday outside a court in Bristol where suspects were attending a hearing in relation to the toppling of a statue during a Black Lives Matter protest last June.
Two men aged 43 and 68 and two women aged 59 and 60 were detained for attending an unlawful protest outside Bristol Magistrates' Court after refusing to disperse, Avon and Somerset Police said in a statement.
Formal warnings were also given to four other people who subsequently left the area, the police said. Police had previously warned people not to attend any protests. An online event was organised instead.
"We fully recognise the important right to freedom of expression and right to assemble but there is a deadly virus which has killed more than 90,000 people in the UK which simply cannot be ignored," Inspector Rob Cheeseman said in a statement.
The protesters were there to show support for four people who were in court accused of damaging the statue of Edward Colston, a 17th-century merchant, which was toppled during a Black Lives Matter (BLM) protest in Bristol in June 2020, following the death of George Floyd in Minneapolis police custody.
The four defendants—Rhian Graham, 29, Milo Ponsford, 25, Jake Skuse, 32, and Sage Willoughby, 21—were charged in December with causing criminal damage and made their first appearance in court earlier on Monday.
They pleaded not guilty and asked for a trial before a judge and jury in a crown court, according to the solicitors for three of the defendants.
Impacts of Protests
During last summer's BLM riots, protesters in the UK defaced a statue of Winston Churchill in London's Parliament Square, taping a "Black Lives Matter" sign to it and spraying it with graffiti.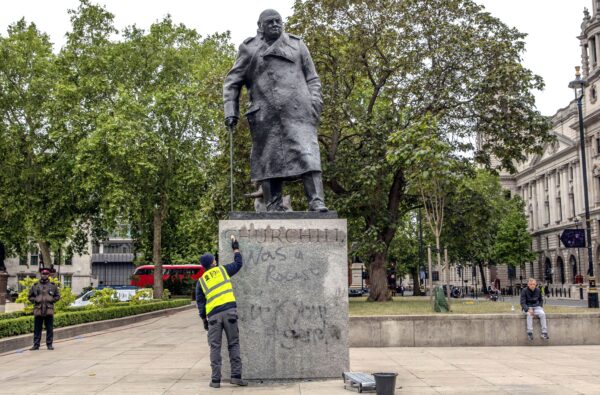 The protests triggered a series of acts of cultural revision in the UK, including the renaming of Gunga Din House, a senior boys' boarding house at an independent Oxford school over perceived racist connotations; and the renaming by the University of Edinburgh of a campus building over 18th-century philosopher David Hume's 260-year-old comments on race.
The British Museum reorganized displays to reflect the "exploitative context of the British Empire," prior to its reopening in August.
In September 2020, the British government wrote to several museums and cultural institutions warning that their public funding could be called into question should they remove statues or other historical objects that have become the focus of protests or complaints.
On Jan. 17, Britain's Communities Secretary Robert Jenrick announced new laws to protect England's cultural and historic heritage, which said historic statues should not be destroyed but should be "retained and explained" for future generations.
Writing in the Sunday Telegraph, Jenrick said, "Any decisions to remove these heritage assets will require planning permission and councils will need to do so in accordance with their constitution, after consultation with the local community."
Mary Clark and Tom Ozimek contributed to this report.