Republican House members circulated a memo on Nov. 12 outlining "four key pieces of evidence" from the impeachment inquiry against Republican President Donald Trump.
Republicans say the pieces of evidence undercut the claim by House Speaker Nancy Pelosi (D-Calif.) that the president "jeopardized U.S. national security by pressuring Ukraine to initiate politically-motivated investigations that could interfere in U.S. domestic politics."
The claim was made concerning Trump's July phone call with Ukrainian President Volodymyr Zelensky.
"Stripping away the hyperbole and hysteria, these indisputable pieces of evidence show that there was no 'Treason, Bribery, or other high Crimes and Misdemeanors,' as required by the U.S. Constitution," the memo stated.
"These facts are:
"The July 25 call summary—the best evidence of the conversation—shows no conditionality or evidence of pressure; President Zelensky and President Trump have both said there was no pressure on the call; the Ukrainian government was not aware of a hold on U.S. security assistance at the time of the July 25 call; and President Trump met with President Zelensky and U.S. security assistance flowed to Ukraine in September 2019—both of which occurred without Ukraine investigating President Trump's political rivals."
Democrats have alleged Trump tried to interfere in the 2020 election by asking Zelensky to "look into" allegations of corruption surrounding former Vice President Joe Biden, who intervened in Ukraine's political sphere by threatening to withhold $1 billion in aid unless the country's leadership ousted a prosecutor investigating the energy company Burisma, which employed Biden's son Hunter Biden from 2014 to 2019.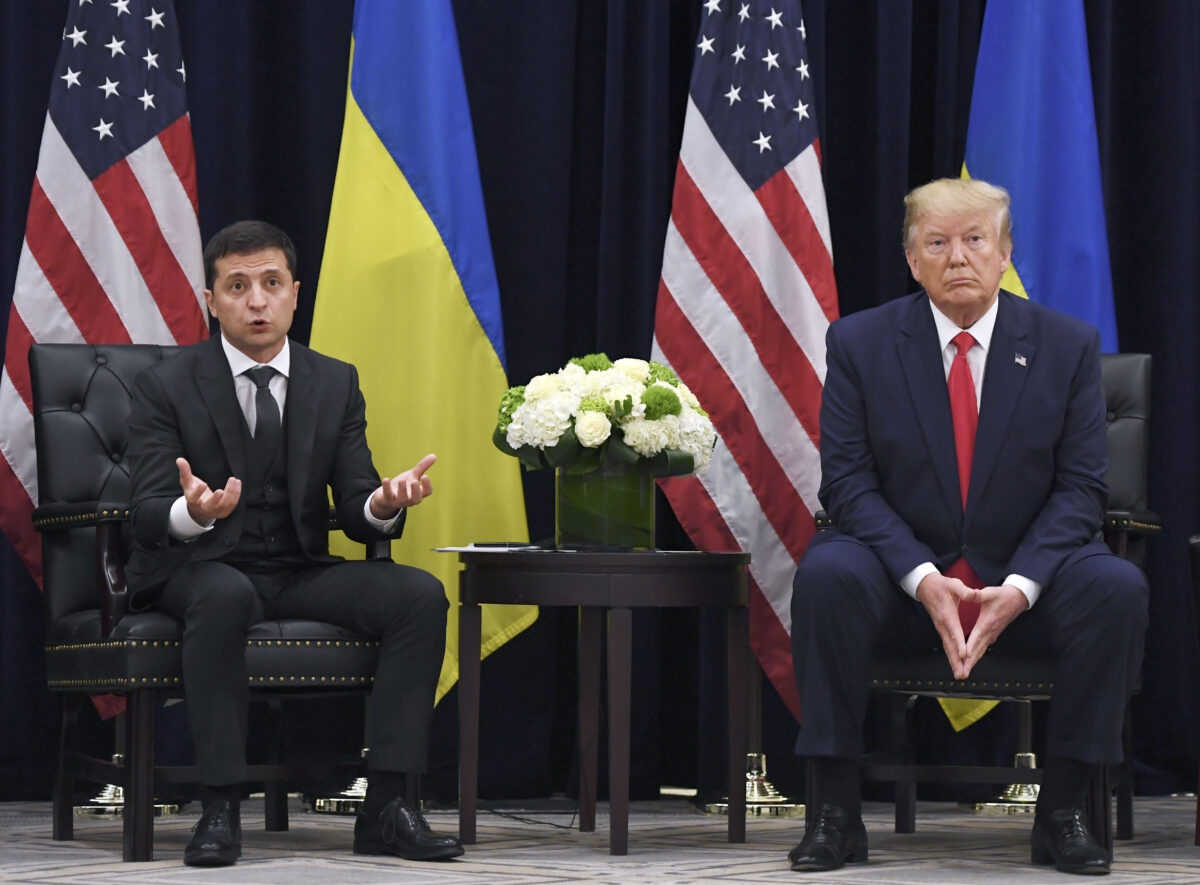 Joe Biden is running for the Democratic presidential nomination.
Trump also requested Zelensky probe what his country did to interfere in the 2016 American presidential election.
Republicans noted that Ukraine has a "history of pervasive corruption," a reason cited by the president for reviewing military aid poised to be sent to Ukraine after being approved by Congress.
"Public reporting shows how senior Ukrainian officials interfered in the 2016 U.S. presidential campaign in favor of Secretary Clinton and in opposition to then-candidate Trump—including some officials who President Zelensky retained in his government," Republicans wrote in the memo.
"Seen in this light, any reluctance on the President's part to meet with President Zelensky or to provide taxpayer-funded assistance to Ukraine is entirely reasonable."
The memo also dismissed the diplomats who have testified behind closed doors, some of whom expressed disagreements over Trump's foreign policy goals, saying: "Democrats want to impeach President Trump because unelected and anonymous bureaucrats disagreed with the President's decisions and were discomforted by his telephone conversation with President Zelensky."
The Democrat impeachment narrative flips our system of government on its head. The federal bureaucracy works for the President. The President works for the American people. And President Trump is doing what Americans elected him to do."