Four Big Offseason Decisions for Yankees
September 27, 2013 6:16 am Last Updated: September 26, 2013 9:56 pm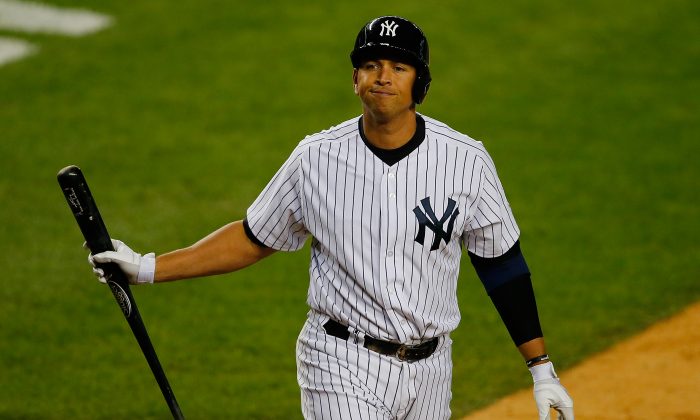 Now that the Yankees are out of the playoff race it's time they get cracking on how to get the team into contention again.
It won't be easy.
What all has to be done? Let's take a look. Here are the four biggest decisions to deal with:
1. Should they break the bank to re-sign Robinson Cano?
With Rivera and Pettitte retired, Jeter injured, and A-Rod ousted, Cano is the biggest star in the Bronx. And apparently he knows it.
With his contract up this offseason, the 30-year-old Cano (he'll turn 31 in October) will have no shortage of suitors for his services—should they be able to afford him. After all, the market for a Gold Glove-winning second baseman that can hit for average and power is virtually limitless.
So what does Cano want?
Per ESPN's Buster Olney, Cano is reportedly asking for a 10-year $305 million deal to sign on the dotted line.
Such a deal would have already been signed, sealed, and delivered by Yankees brass (namely George "The Boss" Steinbrenner) a few years back under the old regime.
But times have changed.
Not only is the late Steinbrenner's former team being run by his more fiscally responsible kids, there is also the Alex Rodriguez lesson.
A-Rod signed his current 10-year, $275 million contract at age 32 after his MVP season of 2007—at the height of his star. Six years into that albatross of a deal, it has almost become the poster child for why franchises should never guarantee a high-salaried, 10-year contract to someone past the age of 30.
Fortunately for New York, all the other teams have seen how that contract has panned out (as in not well,) as well as how Albert Pujols's similar franchise-killing 10-year deal has handcuffed the now-mediocre Angels the past two seasons.
With Boston having already signed second baseman Dustin Pedroia to a $110 million extension, the market should be such that the Yankees would only have to beat out the Dodgers for Cano's services.
They should stick to an eight-year deal with the expectation that he'll no longer be an asset in the field when the contact is up—while hoping the free-spending Dodgers finally show some fiscal restraint.
2. Who will replace Mariano Rivera?
Okay you're not going to just replace the greatest closer of all-time without skipping a beat, but they still need someone to close out the games.
This is where the Yankees can save a little money. It rarely pays to bring in a closer for top dollar. Look at Jonathan Papelbon in Philadelphia or Heath Bell in Miami. Both were good closers that made a lot of money on non-playoff teams.
The exception was the Yankees having the greatest ever to close the door and the roughly $170 million they paid him over the years was worth it.
New York should simply promote reliever David Robertson and come up with a makeshift bullpen for next season. There are bigger holes to fill here.
3. Speaking of holes, what about A-Rod at third?
Whether A-Rod is suspended or not is out of the Yankees hands at this point. Either way, the Yankees are in a lose-lose situation.
If A-Rod's suspension is upheld over the offseason, then he'll probably be gone for all of 2014 and into the 2015 season. But he'll probably perform better next season than he will in 2015–17, which is what he would likely have left, should he be suspended.
If he is gone next season, the Yankees would then be off the hook for the money he would have been paid during that time, but finding a replacement star third baseman isn't easy. Just look at Kevin Youkilis's line (.219 average in 28 games) this past season. Of course, that's why Youkilis was available on a one-year deal for $12 million.
The Yanks will have a hard time offering more than that to any potential free agent, knowing that there will be another $20-plus million per year (A-Rod's remaining average annual salary) back on the books when he returns.
If A-Rod somehow pulls a Ryan Braun and beats the system, the Yankees pipe dreams of ever getting rid of the remaining $80-plus million left on his contract will be gone forever. While he may be serviceable for the next year or two, his declining production will be even more of an eyesore in a couple of years when the 40-year-old will be bringing in $20 million a season for no All-Star production.
At this point, signing former third baseman, and soon-to-be-free agent Michael Young (now a Dodger) to an offseason deal might be the best bet. Young, now 36, would most likely take a one-year deal because of his advanced age, which is a better bet than Youkilis's injury problems.
4. Starting rotation question marks
The all-important starting rotation loses Andy Pettitte to retirement though, unlike at third base, the Yankees have some in-house options.
Ivan Nova, now 26, has performed well (9-5, 3.13 ERA in 19 starts) and should be counted on for next year. In addition, prized arm Michael Pineda (acquired in the 2012 Jesus Montero deal) has also performed well in the minors after his shoulder injury last year. The 24-year-old has a 3.32 ERA in 10 starts at three different levels and should get a long look at the rotation for next season.
Nova, Pineda, and Sabathia, along with Hiroki Kuroda, who should come back on another one-year deal, give the Yankees a nice one-through-four in the rotation.
To fill out the rotation, the new Yankees regime should open the checkbooks and sign the top free agent starter, Ervin Santana, of Kansas City. Though it will probably take $50 million–$60 million to sign him, Santana has looked like his old self this season (9–10, 3.24 ERA in 32 starts.) More importantly it will show some goodwill to the fans who are used to an unlimited free-agent checkbook.