Arizona officials suspect that foul play, and not harsh weather, resulted in a pair of double-stacked shipping containers being toppled last week days after contractors installed them as a makeshift border wall initiated by Gov. Doug Ducey.
Ducey (R-Ariz.) on Aug. 12 ordered dozens of shipping containers to be placed in border fence gaps near Yuma, the state's busiest illegal border crossing area.
Claudia Ramos, a correspondent for the digital platform of Univision Noticias, posted on Twitter a photo she took on Aug. 15, showing the containers on their side, noting that they fell on the U.S. side of the border.
Construction workers in the area told Ramos that they believed the containers, which reach about 22 feet high and weigh 8,800 pounds, may have been blown over by strong winds, a hypothesis Ducey's spokesman rejected.
"The idea that it was a weather-related event seems unlikely," C.J. Karamargin said on Aug. 17, the Washington Examiner reported. "These things weigh 8,800 pounds. There were two of them together—8,800 pounds is basically the weight of a Ford F-450.
"We have a lot of strong winds in Arizona," the spokesman added. "You don't see a lot of Ford F-450s flying around when we have strong winds."
By early Aug. 15, workers had righted the dislodged containers, which had not been bolted down and welded like the others. The stacked shipping containers are now linked together and welded shut.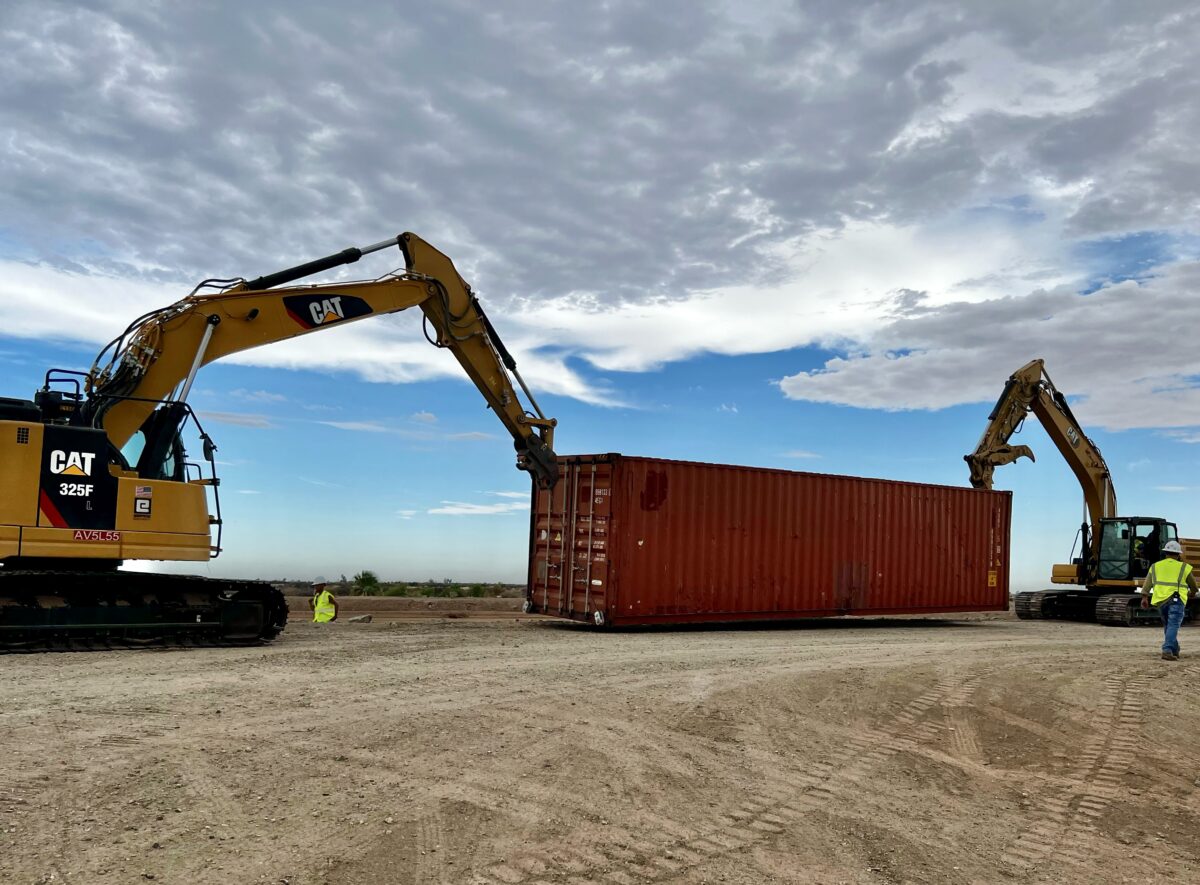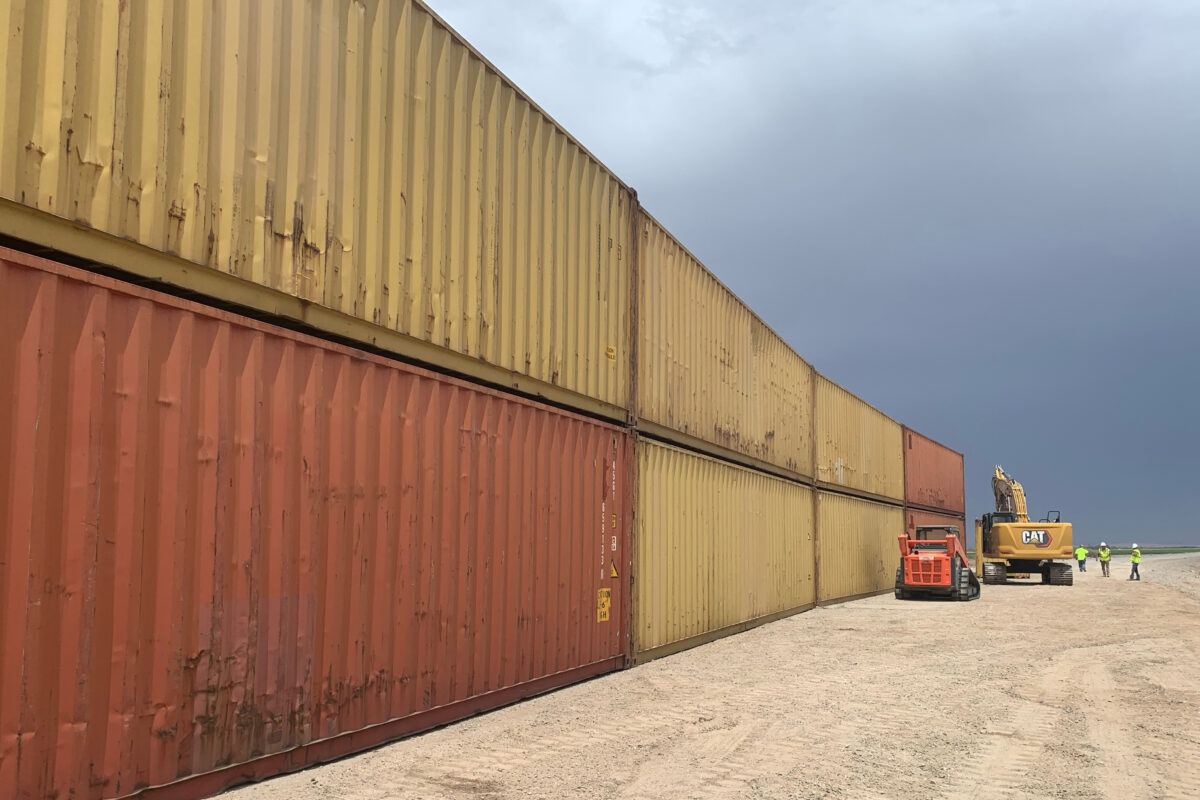 Photos obtained by the Washington Examiner show a dent and hole on the side of the bottom container, marks that were not present at the time of installation and could not have been made by the wind.
Karamargin said nobody witnessed the incident, so it remains unclear how exactly the containers fell onto their side.
Border Patrol agents in the Yuma Sector have experienced the largest spike in apprehensions along the southern border since President Joe Biden took office.
Ducey issued an executive order on Aug. 12 to immediately complete the 1,000-foot gap in the wall, saying the state "has had enough" and cannot keep waiting for Biden to take action. The initiative was estimated to cost $6 million.
"The Biden administration's lack of urgency on border security is a dereliction of duty," the governor said at the time. "For the last two years, Arizona has made every attempt to work with Washington to address the crisis on our border. Time and time again we've stepped in to clean up their mess. Arizonans can't wait any longer for the federal government to deliver on their delayed promises."
The gap is a "notorious opening" in U.S. border security through which thousands of illegal immigrants and massive amounts of lethal narcotics pass daily, the governor said.
During fiscal year 2022, minus three months yet to be reported, border agents have arrested more than 162,700 illegal crossers, according to Customs and Border Protection data. In fiscal 2021, the total was more than 184,500, while in fiscal 2020 Border Patrol agents apprehended just over 8,700 illegal crossers.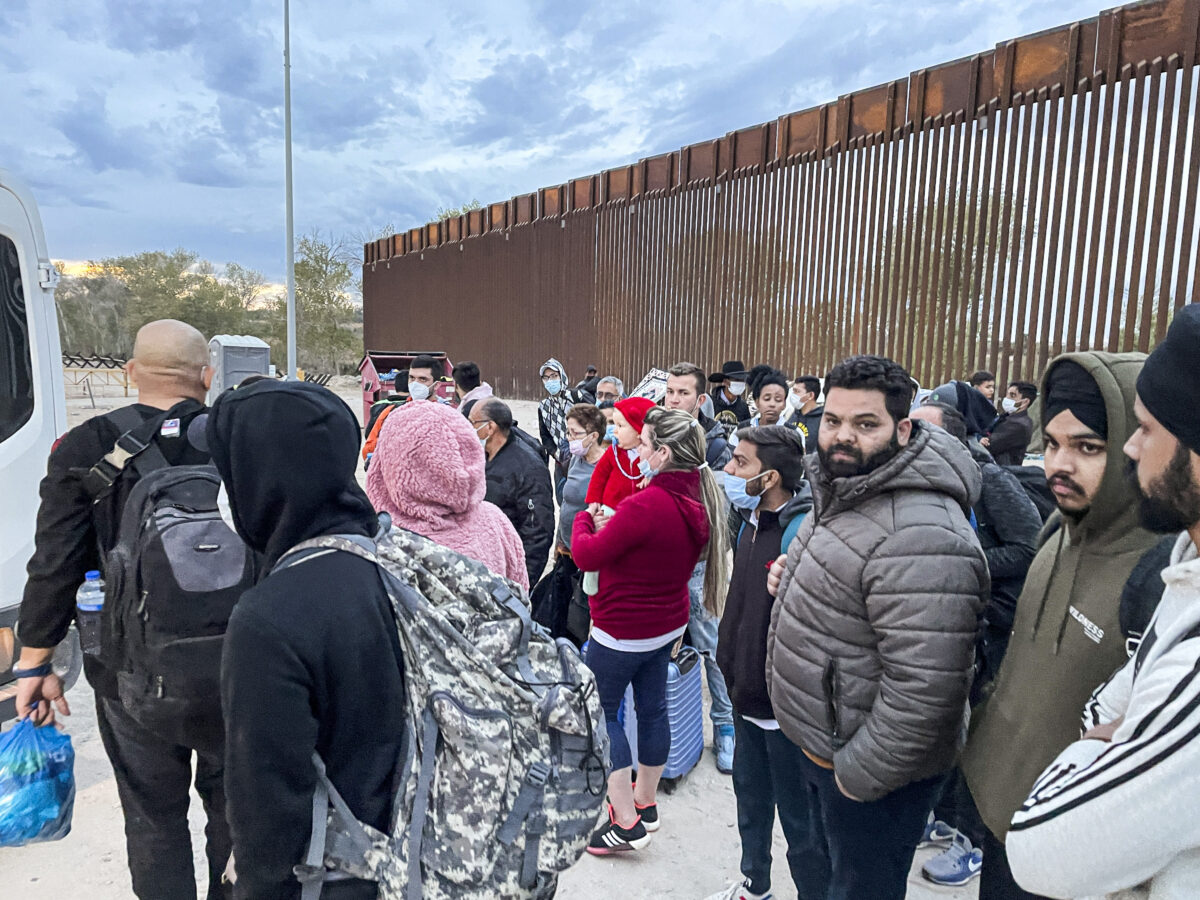 Yuma Mayor Doug Nicholls declared an emergency in his city on Dec. 9, 2021, due to an overwhelming influx of illegal aliens.
During that influx, the local 911 dispatch center was tied up for hours with calls from illegal aliens asking for transport, food, and clothing, Yuma County Sheriff Leon Wilmot told The Epoch Times.
Nicholls said Yuma—which has nearly 100,000 residents—doesn't have the resources to handle the thousands of people now crossing.
"The surge of migrants the federal government has allowed to trek over the border has the grave potential to greatly impact and strain our community," Nicholls said on Aug. 12 in a press release. "Washington must send a clear message that this is not the way to immigrate to our country."
Ducey's office said it has had "minimal" contact with Washington before installing the double-stacked shipping containers last week and that that level of communication had not changed in the days since.
Department of Homeland Security Secretary Alejandro Mayorkas has repeatedly said the "border is closed."
Epoch Times reporter Charlotte Cuthbertson contributed to this report.
From NTD News