Luxury retailer Fortnum & Mason have launched a tea blend that combines two of our favourite drinks in a very elegant way—and it won't leave you with a hangover.
This booze-inspired blend combines green tea with real juniper berries, coriander, fennel, and lemon balm—ideally topped off with fresh lime and cucumber. Yes, it's a G & tea.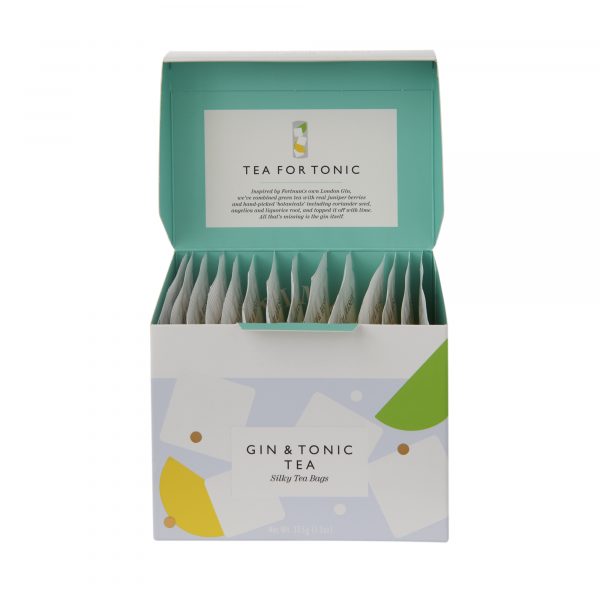 While it doesn't actually contain gin, it does mean you can have a swig at any time of day.
Fortnum & Mason describes the brew as a Gin and Tonic "without the consequences."
Plus, it means gin lovers can now have a taste of G&T during the tea-round. Going by reactions on social media, people are excited.
"Absolutely spiffing!" wrote one user. "A cup of tea that tastes like gin and tonic—now you're talking," another excited person wrote.
It comes in a box of 15 individually wrapped silky teabags that will put you back £6.95.
The full range of tea flavours include: Bloody Mary, Lemon Curd, Sundae, Summer Cocktail, Chocolate Violet, Vanilla Nougat, Chilli & Ginger, Pistachio & Clotted Cream, and Gin & Tonic.
Goodness! G&T tea. Absolutely spiffing!

— Hazel Gaynor (@HazelGaynor) October 1, 2017
And gin flavour is not just limited to cups of tea.
Earlier this month, budget supermarket Aldi launched its luxurious gin-flavoured mince pies. The sumptuous tarts have a flaked almond topping and are filled with mincemeat and sloe gin filling.
And Roberts bakery created happy hour baked into a teacake with its Gin & Tonic flavoured "fun buns". The company's "jazzy cocktail teacakes" are sold at supermarkets online including Waitrose, Sainsbury's, and Asda.
Or if you just want it straight, the Scottish craft distillery, Pickering's, has made gin-filled Christmas baubles. Each colourful bauble is filled with 50ml of gin and sold in packs of six.
Co-founder of the company, Marcus Pickering, told the Scotsman that the baubles started out "as a bit of fun for a Christmas fair" but they became so popular they had to release them in stages to keep up with the demand. According to its website, last year's batch sold out in 82 seconds.
From Google: Aldi launches gin and tonic flavoured mince pies for Chri… https://t.co/L2EBIsaEK1 #mincepie | ? by https://t.co/qmqn4sKZNY pic.twitter.com/0N7eXuM5WL

— Mince Pie Club (@mincepieclub) October 13, 2017