Formula One: Vettel Outruns Competition, Transmission Trouble to Win at Monza
September 8, 2013 10:42 am Last Updated: September 8, 2013 10:55 am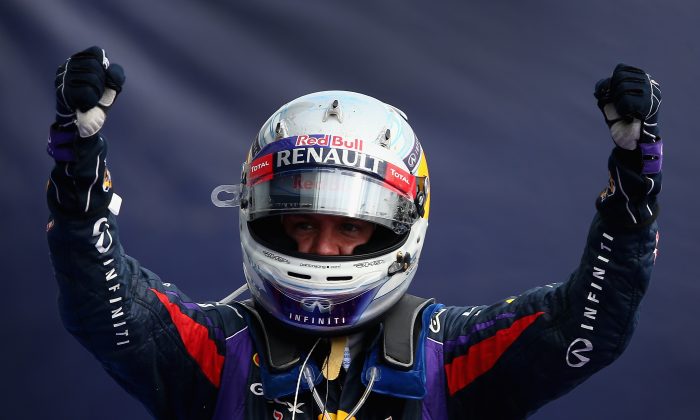 Red Bull's Sebastian Vettel started from the pole, opened a big gap, and never looked back at the Formula One Italian Grand Prix Sunday, his third win at Monza.
No one in the field had anything for the Red Bull driver; some worrying telemetry from the transmission caused Vettel to slow in the closing laps so his twelve-second gap shrank to 5.4 seconds at the finish, but the issue was never in question. Vettel managed the gap, and brought the car home first with the transmission still working.
Ferrari's Fernando Alonso briefly took the lead when Vettel pitted on lap 23 but couldn't one enough of a gap to hold it through his own pit stop. Alonso did finish second after qualifying fourth, again proving himself to be one of the very best drivers in the sport. His Ferrari chassis is nothing as good as Red Bull's but the Spanish driver has the skill and will to make it work.
Red Bull's Mark Webber finished third in his last F1 race at Monza. The 35-year-old Aussie is headed to the Porsche LMP-1 team in 2014; he will be leaving his last Italian Grand Prix with good memories.
The win gives Vettel a huge lead in the points. He leads Fernando Alonso by 53, 222–169. With a win worth 25 points, Vettel would need to finish out of the points twice while Alonso won both race, for Alonso to have a serious chance for the championship.
With seven races left on the schedule, it is not impossible, but it is highly unlikely. Much more likely is that the young German superstar will win his fourth consecutive World Drivers' Championship.
Vettel is now tied with Fernando Alonso for overall F1 wins; both are fourth behind Ayrton Senna, Alain prost, and of course Michael Schumacher with 91.
Vettel, only 26, has scored his 32 wins in only 113 races; Schumacher got his in 309 races. Vettel might—just might—one day unseat the king.