Formula One Spanish Grand Prix: Four Wins for Hamilton, Four Sweeps for Mercedes
May 11, 2014 10:37 am Last Updated: May 11, 2014 7:08 pm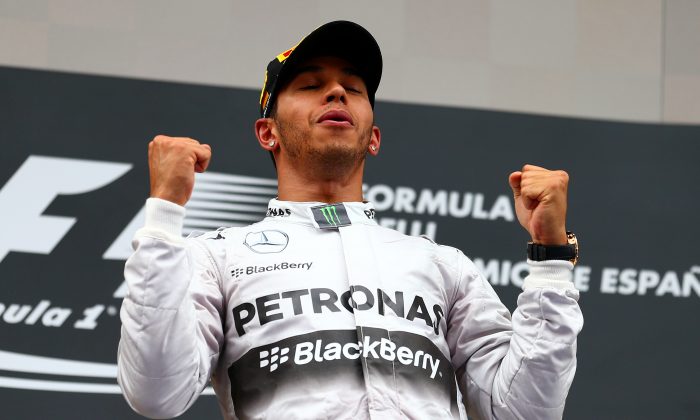 After four years of Red Bull and Sebastien Vettel dominating Formula One, there is a new ruling team and driver: For the first time in his career, Lewis Hamilton of Mercedes won the Spanish Grand Prix, and for the first time teammate Nico Rosberg Rosberg took second.
This marks four wins in a row for Hamilton and four sweeps for Mercedes.
"It's very difficult to really put into words the feeling when you come to a race and have a result like this. Never have I had a car like this and obviously we've never had a gap like this to anyone before," Hamilton told Formula1.com. "Nico did a fantastic job today, it was a struggle to keep him behind, but I'm grateful that I was able to.
"I just feel that it is such a huge blessing, for not only me but for all the guys in the team, because of all the hard work they've done for many years now, but finally they are starting to see the fruits of their labor."
Although it was clear from the early laps that the Mercedes were quickest, which Mercedes driver would win was in question until two-third of the way through the final lap. Mercedes split strategies, putting Hamilton on Hard tires in the final stint and Rosberg on Mediums—Hamilton had a four-second lead after the final pit stop, but Rosberg cut that to six-tenths of a second by the final lap.
Hamilton had to fight oversteer throughout the race, and was constantly haranguing his engineer about his strategy; on top of that, both of Hamilton's pit stops were extremely slow (by F1 standards) at 3.8 and four seconds. Rosberg, however, used up his tires trying to catch his teammate.
When Rosberg got within DRS range of Hamilton in the final three laps, he couldn't take advantage. Rosberg cut the gap to six-tenths on the final lap, but locked up a tire braking for Turn Ten, his last overtaking opportunity; Hamilton kept it together and took the win.
Red Bull made it to the podium, even if they were nowhere near the leaders: Daniel Ricciardo finished third, 48 seconds behind Hamilton. Sebastien Vettel, who started in 15th after a five-lap penalty for changing a broken gearbox after qualifying, showed his four-time championship-winning style to drive all the way back to fourth, 28 seconds behind his teammate.
Williams driver Valtieri Bottas drove an excellent race, finishing fifth, 2.5 seconds behind Vettel. Vwettel's drive to the front and his chase of Bottas was one of the highlights of the race—after the fight for the lead—which wasn't resolved until lap 64, when Vettel outbraked Bottas in Turn Ten.
Next came the two Ferraris, with Fernando Alonso just ahead of Kimi Raikkönen. These two fought hard throughout the race; Raikkönnen also had oversteer, but he drove hard—not hard enough to hold of Alonso, However. The Spanish driver thrilled his Spanish fans by overtaking Raikkönnen also on lap 64, two from the finish.
There had been some complaints about the 2014 F1 regulations; fans and journalists alike said the new cars were too quiet, and not sufficiently powerful. Lewis Hamilton agreed, saying he wanted a car which was "a beast" to drive. At Circuit de Barcelona-Catalunya, however, drivers had their hands full—sliding and fishtailing was the order of the day. The race couldn't have been much more exciting, even for fans who didn't want to see another Mercedes sweep.
Formula One heads to the streets of Monte Carlo next for the Grand Prix de Monaco on May 25. Here at last might be a track where Mercedes won't dominate: the slippery, well-handling Red Bull RB-10 won't be hampered by its slightly underpowered Renault motor on the narrow, twisting city streets.
Visit Formula1.com for tickets and travel packages.