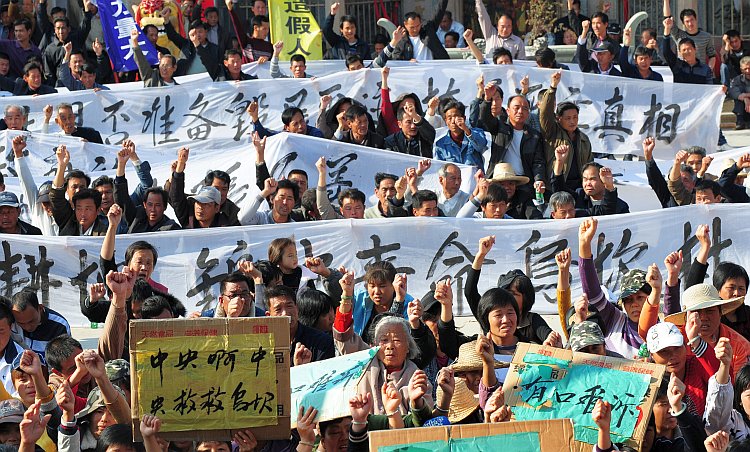 Chinese communist authorities have punished eight of the nine members of the previous Wukan village committee, according to a recent announcement. The self-dealing and corruption of the officials, common in Chinese villages, led to a local revolt that gained international media exposure late last year.
The eight were detained on April 20 by the Lufeng Commission of Discipline Inspection, the agency that deals with internal Party corruption, for illegal land sales and financial mismanagement. Lufeng is the administrative area that Wukan is situated in, in the southern coastal province of Guangdong.
Former village Party Secretary Xue Chang had $30,000 in illegal income confiscated, according to Xinhua, the state mouthpiece. The head of the former village committee, Chen Shunyi, was also expelled from the Communist Party. Six other officials were also punished. All eight were put under "shuanggui," a secretive, internal Party procedure for dealing with problematic officials.
---
Click www.ept.ms/ccp-crisis to read about the most recent developments in the ongoing power struggle within the Chinese communist regime. In this special topic, we provide readers with the necessary context to understand the situation. Get the RSS feed. Get the Timeline of Events. Who are the Major Players?

---
Shuanggui is itself illegal, though, according to experts. Hao Jingsong, founder of the Public Interest Lawyer Center in Beijing, told Voice of America that shuanggui—which includes detention and interrogation—is not a legal measure, but a disciplinary measure used by the Chinese Communist Party (CCP). Unless authorized by law, any restriction of personal freedom is illegal, he said. The Central Discipline Inspection Commission recently did the same thing to disgraced Party cadre Bo Xilai.
Beginning in September last year residents of Wukan began protesting against the land sales by the former village committee. They had sold collective land for personal gain, villagers said. Villagers eventually revolted, expelling their former leaders from the village and creating their own village committee. That village committee was later dissolved by Communist Party officials, who made the village conduct an election to form yet another new village committee.
Commentary has centered on whether the Wukan experience, where villagers now appear to have their own, clean, elected committee governing at least a portion of their affairs, may set a standard for democracy at the grass-roots level in China—and even whether the process could be replicated at higher administrative levels. Wukan villagers, however, have yet to resolve their land concerns. Alongside every village committee, too, is a Party committee, which controls the village committee and is not subject to any popular oversight. And in the Wukan case, the violent death of one former village leader, Xue Jinbo, has yet to be redressed.