A former aide to Republican President Donald Trump has asked a federal judge to rule on whether he has to testify to select House members in the Democrat-run impeachment inquiry into Trump.
House Intelligence Chairman Adam Schiff (D-Calif.) has been running the inquiry, which has not been formally approved by the full House and is vehemently opposed by the White House on grounds it hasn't been voted on. Schiff has brought in a slew of witnesses for closed-door testimony.
Charles Kupperman, who was deputy national security adviser at the White House until last month, filed a lawsuit on Oct. 25 asking a federal judge to rule on whether he has to testify before the House.
Kupperman is slated to appear on Monday to give testimony.
"Plaintiff is faced with irreconcilable commands by the Legislative and Executive Branches of the Government and, accordingly, seeks a declaratory judgment from this Court as to whether he is lawfully obliged to comply with a subpoena issued by the House Defendants demanding his testimony 'pursuant to the House of Representatives' impeachment inquiry,' or he is lawfully obliged to abide by the assertion of immunity from congressional process made by the President in connection with the testimony sought from Plaintiff," the lawsuit stated (pdf).
White House counsel Pat Cipollone sent a letter to House Speaker Nancy Pelosi (D-Calif.) earlier this month saying that neither Trump nor anyone in his administration would participate in "your partisan and unconstitutional inquiry" because of the lack of due process, among other issues.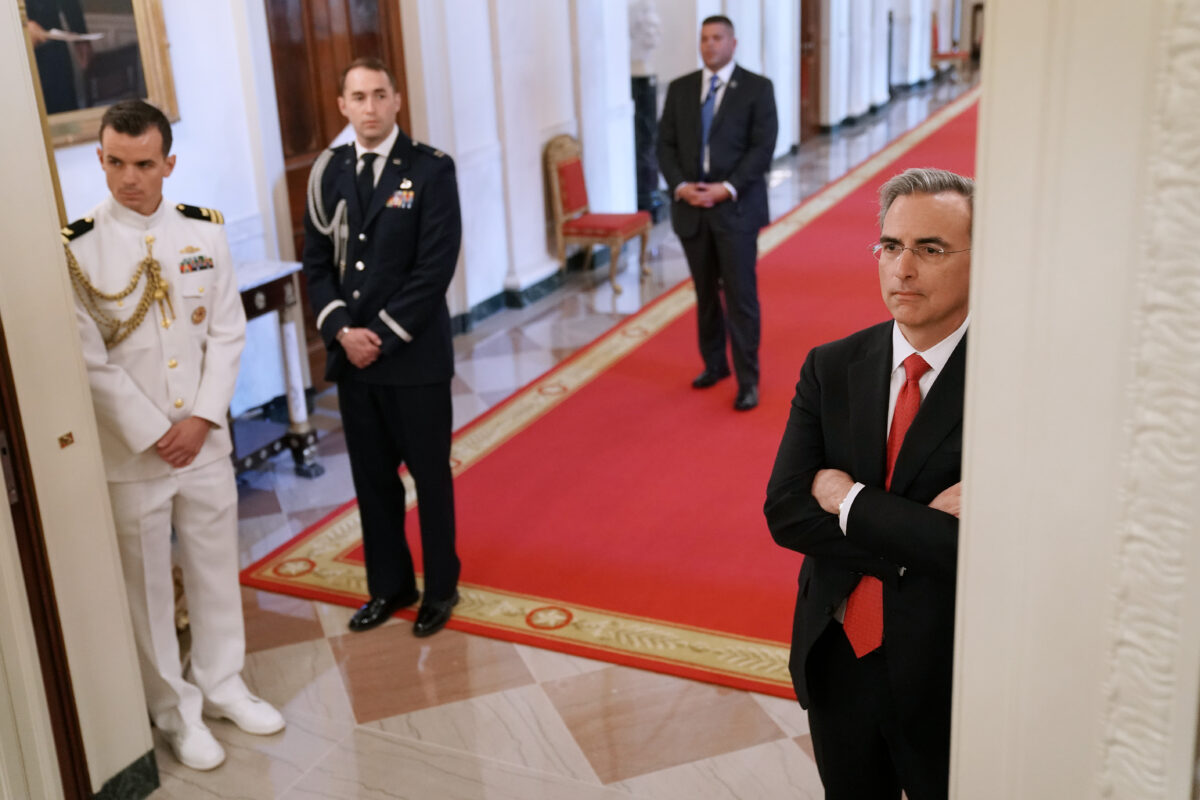 Cipollone sent a letter this week to Kupperman's attorney Chuck Cooper, Cooper noted in the filing. Cipollone said Trump was directing Kupperman not to honor the subpoena issued by the House. Kupperman is "absolutely immune" from testifying because he regularly spoke with Trump, Cipollone said.
"The president … acting through the White House counsel, has asserted that plaintiff, as a close personal adviser to the president, is immune from congressional process, and has instructed plaintiff not to appear and testify in response to the House's subpoena," Cooper wrote in the lawsuit.
"Absent a definitive judgment from the Judicial Branch … Plaintiff will effectively be forced to adjudicate the Constitutional dispute himself, and if he judges wrongly, he will inflict grave Constitutional injury on either the House or the President."
The request is the latest potential snag in the inquiry, which was temporarily derailed this week when Rep. Matt Gaetz (R-Fla.) led dozens of House members into a closed-door impeachment hearing in the basement of the U.S. Capitol, bringing the hearing to a halt.
The filing came on the same day a federal judge said the House's impeachment inquiry is legitimate despite no vote occurring authorizing it.
District Judge Beryl Howell ruled that the Department of Justice must turn over grand jury material from special counsel Robert Mueller's probe.
"Even in cases of presidential impeachment, a House resolution has never, in fact, been required to begin an impeachment inquiry," Howell said in he ruling.