As the Ukraine crisis escalates, Taipei welcomed a high-level visit by former top U.S. defense officials, which indicates "rock-solid relations" between Taiwan and the United States, a Taiwanese official said.
The unannounced delegation arrived in Taipei at 4:13 p.m. local time on March 1, according to Taiwan's state-run Central News Agency (CNA). The group, led by retired Admiral Mike Mullen, former chair of the Joint Chiefs of Staff, will meet President Tsai Ing-wen in the following morning, and attend a banquet later that day.
The two-day visit underscores bipartisan support from Washington and "will even more clearly highlight the rock-solid relations between Taiwan and the United States, especially at a time of the Ukraine crisis," Taiwan's presidential office spokesperson Chang Tun-han said a day earlier, CNA reported.
Mullen, a former top U.S. military officer, will be accompanied by Meghan O'Sullivan, a former deputy national security adviser, Michèle Flournoy, former undersecretary of defense, and Mike Green and Evan Medeiros, both of whom were senior directors for the Asia affairs office of the National Security Council.
A senior official of the Biden administration told Reuters that the selection of the five flagged "an important signal about the bipartisan U.S. commitment to Taiwan and its democracy."
The two sides are also looking to exchange views on bilateral cooperation, Taiwan-U.S. relations, and regional peace and stability, said Chang.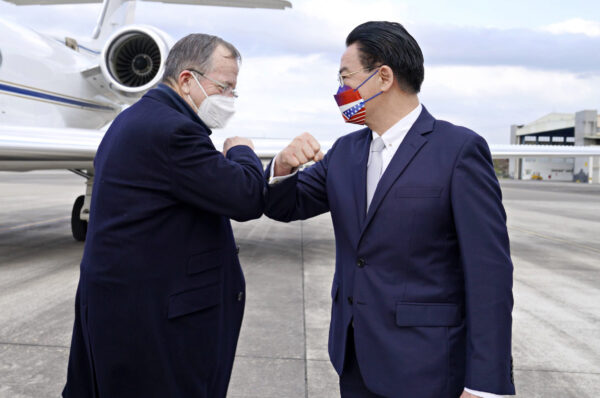 Taiwan has stepped up its alert levels since Russia attacked Ukraine, wary of China taking advantage of its distracted Western allies and moving against the self-ruled island. Nine Chinese aircraft entered Taiwan's air defense identification zone in the hours following Russia's invasion of Ukraine on Feb. 24. Taiwan quickly mobilized its military aircraft in response, according to its defense ministry.
Concerns mounted as to whether Taiwan will meet the same fate as Ukraine, as Russia's aggression is compared to that of China. Beijing has long been eyeing and harassing the democratic country, which the communist regime claims as its own.
Yet Taiwan's government has repeatedly said the island's situation and Ukraine's are fundamentally different due to the island's geographical and geopolitical advantages, and its key role in the global high-tech supply chain.
"In all areas, the two cannot be compared," said cabinet spokesperson Lo Ping-cheng, in a Feb. 28 statement.
It has been less than a year since the previous delegation, led by Sen. Chris Dodd (D-Conn.), visited Taiwan last April.
Taiwan's Foreign Affairs Ministry said last week that former U.S. Secretary of State Mike Pompeo and his wife will visit Taiwan from March 2 to 5 and meet with Tsai.
Reuters contributed to this report.