Former "Today" show host Tamron Hall, at age 48, welcomed her first child in April 2019, but she chose to keep it a secret for eight months.
Hall explained to People magazine that she waited until she was 32-weeks pregnant to share the news.
"I was high-risk, not just because of my age, but there were other medical factors, too," Hall told the news outlet. "I was terrified I would lose this baby and I would have to go back and tell everyone that now it was bad news and after this pregnancy had gone so far."
Why Tamron Hall Kept Her Pregnancy at 48 a Secret: 'I Was Terrified I Would Lose This Baby' https://t.co/qZeaGA0Cad pic.twitter.com/M9mMmFP40x

— People (@people) May 22, 2019
Elaborating further, the TV personality said her doctor told her: "'This is your body, your health. You share of your journey what you want to share.' I just wasn't mentally prepared to deal with that. That's why I waited. And trust me – if I could've gone the whole way to delivery, I would've."
Hall and husband, Steven Greener, named the child Moses.
Tamron Hall opens up about pregnancy complications at 48 https://t.co/tHkIZNnBkf via @Femail last of the gossip

— Asha Flingai (@AshaFlingai) May 22, 2019
She said that after years of trying to get pregnant, having unsuccessful treatments in her 30s, and she had an unusual experience at a fertility clinic.
"I knew that the clock was not on my side," People quoted her as saying. "When I tried in my 30s, I still felt like I had some time, and the fertility clinic felt like a bright room. In my 40s, I saw all the gray: The faces looked gray, the walls were gray, nothing seemed shiny and optimistic."
Former "Today" show co-host Tamron Hall announced on social media Thursday she's given birth to a baby boy named Moses. https://t.co/xKy2vTW9Po

— NBCWashington (@nbcwashington) April 25, 2019
Hall continued, "Just like with my job search during that time, there were so many frustrations: I'm putting in the work, I'm taking care of my mind and my body and I'm being rejected. I'm thinking, 'Wait a minute. What have I done wrong here?' Somehow, like Rocky, I kept getting up."
More Common
According to government data released last year, USA Today reported, more women in their 40s are having babies.
But, according to Health.com, "The number of women giving birth into their 40s and 50s and beyond is at record highs, according to the Centers for Disease Control and Prevention. In 2007, 105,071 women aged 40-44 gave birth, the highest rate since 1968; the birth rate for women 45 to 54 was 7,349, an increase of 5% in just one year."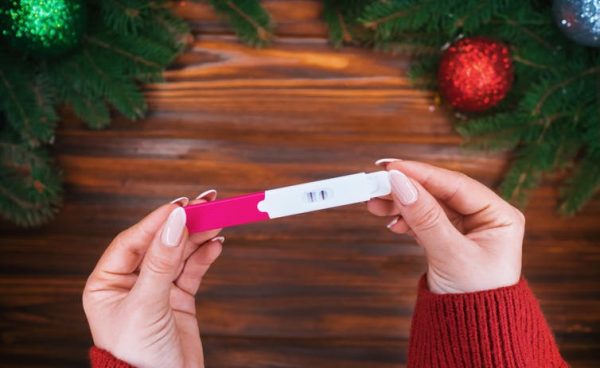 "The numbers have really skyrocketed over the last two decades, as research has increasingly shown that older women are able to carry pregnancies and deliver babies safely," Mark Sauer, MD, chief of reproductive endocrinology at Columbia University Medical Center, told the website.
"A healthy 42-year-old with no medical problems who is in good physical shape and conceives naturally is likely to have just as nice a pregnancy as a woman who is a decade younger," stated Dr. Laura Riley, MD, with Massachusetts General Hospital. "But there are a fair number of women in their mid-40s getting pregnant through IVF who have a 'touch of hypertension, are a little overweight, or are prediabetic, and that's where we start running into problems."